ABC MONTHLY NEWSLETTER
JULY 2016
Welcome to Our Monthly Newsletter!

We hope you will enjoy this month's articles.  
This month's topic is:
DO-IT-YOURSELF GREEN CLEANING
DIY Green Cleaning,
Green Cleaning Solutions,
10 Green Cleaning Hacks.
If there is a topic you would like us to cover in one of our upcoming newsletters, please call us at 607-272-1566 or contact us by clicking here.

Don't forget to scroll down to the bottom for your special coupon savings!
---
---
DIY GREEN CLEANING
'DIY green cleaning', 'environmentally friendly', 'non-toxic,' etc., have become watchwords for today's savvy consumers. 

The toxic chemicals that can be found in so many of our commercial cleaning solutions and sprays have been suspected of causing serious problems from allergies to cancer. Babies, young children, and older adults may especially be at risk.
Why Use Toxic Chemicals?
So why use these toxic chemicals if a combination of some everyday household ingredients will produce the same or better results?

At ABC, we are committed to cleaning with non-toxic, plant-based cleaning solutions because we care about our customers and their families, our employees, and the environment.

As part of this commitment, we wish to make our customers aware of ways they can reduce their use of toxic chemicals when it comes to everyday cleaning chores.
An Interesting Article
A very interesting article was posted online from Penn Jersey Building Services. The article states...'Most household cleaning products are harmful to children. According to research done by the University of Minnesota, several chemicals found in the home are linked to allergies'.
The article goes on to say...'They cause birth defects, cancer, and psychological disorders. The Consumer Protection Safety Commission states that since 1970, asthma cases have increased by 59 percent. Children under 15 years of age have suffered asthma at a higher rate of 41 percent. The data is alarming to healthcare professionals'.
The article suggests avoiding chemicals such as formaldehyde and sodium laurel sulphate and cautions about our common use of chlorine bleach.

To find out more about this article and find links to studies and other articles, please click here.
Please check out our video about DIY Green Cleaning by clicking here. The video gives complete directions for using our ABC Spotting Guide in a whiteboard presentation.
---
Is It Really Possible to Clean with Green Cleaning Solutions and Still Get Results That Equal or Surpass Cleaning with Today's Commercial Cleaners?
Yes, it is most definitely possible! Toxic chemicals such as formaldehyde, phosphates, ammonia, sulfuric acid, and chlorine bleach, which can be found in those bottles of commercial cleaners, are not healthy.  The fumes emitted from these cleaners not only affect those cleaning but are also released into the area being cleaned, impacting the health of the rest of the occupants.
You Can Stop Using Toxic Chemicals to Clean!
One of the best things we can do for our children and our planet is to stop using toxic chemicals to clean.  We all need to find viable solutions for green cleaning. 
At ABC, we regularly use non-toxic and bio-degradable solutions to clean the rugs and upholstery that come into our plant as well as the wall-to-wall carpets, upholstery and tile and grout we clean on our clients' properties.  
Our equipment is very powerful and toxic chemicals are not normally needed. If more aggressive cleaning is required, we always choose the least toxic method and make sure our rinsing process removes any and all residues.
How can ABC Help?
As part of our commitment to help our customers find ongoing information and tips on how to clean 'green' in their homes, businesses, and vehicles, (or wherever
their belongings may be), we regularly offer helpful suggestions on how this can be accomplished.

The majority of these suggestions will use common (and usually inexpensive) items. (Please note: The green cleaning solutions you find on our website will be from trusted sources but we may not have individually tried all of them in our own homes.)
We will periodically post these solutions to our Facebook page as well.  We welcome your comments and any additional information you would like to submit. 
Together we can spread the word about green cleaning solutions and really begin to make a difference in our world.

CAUTION
Because we are offering suggestions for cleaning with common 'natural' cleaners vs. commercial cleaners which may contain toxic chemicals, it is EXTREMELY IMPORTANt to be aware that certain of those 'natural' cleaners should NEVER be used together or dire health consequences could occur.
One such example we have all probably been warned about is the DANGER OF MIXING BLEACH AND AMMONIA TOGETHER!
READ LABELS FIRST
It is also extremely important to realize that many other household cleaning products may contain bleach, (one such example is pool chemicals) and window and glass cleaners may contain ammonia so it is extremely important to carefully read the labels of all products before using.
For more in depth information about using natural ingredients properly, please continue reading here...

You will also find tips on cleaning naturally, as well as 27 green cleaning solutions using vinegar and green cleaning with baking soda. 
---
10 Green Cleaning Hacks
Listed below are 10 of our favorite green cleaning hacks. These sprays and soaks are examples of how natural household ingredients can successfully deal with some of our least favorite cleaning chores just as well, if not better than, toxic commercial chemical cleaners.
#1. All Purpose Cleaner
This mixture works especially well on built up soap scum on glass shower doors and also works well on fiberglass. It can even lift oil stains off a concrete driveway. It will work on walls too.
Ingredients
White Household Vinegar
Liquid Blue Dawn (not ULTRA) or Liquid Joy
Directions: 
Heat the vinegar in the microwave until hot and pour it into a spray bottle. (NOTE: Only use heat when mixing the ingredients, not every time you use the spray.)
Add the Dawn in a ratio of 2 parts vinegar to 1 part Dawn. If all you have is Ultra Dawn, use it in a ratio of 3 parts vinegar to 1 part Dawn.
If you would prefer Joy Dishwashing liquid (not Ultra) use it in a ratio of 1 cup vinegar, ½ cup water, ½ cup Joy. Shake the mixture gently. Spray it on, scrub, and rinse.
For really tough soap scum buildup, spray the mixture on and let it sit for up for at least an hour, up to overnight. You may need to scrub a little with a small brush. Wipe off with a microfiber cloth rinsed in warm water.
Caveats:
If the area is too sudsy during rinsing, sprinkle a little bit of salt on the suds and they will disappear. Especially in a bathtub, you may want to sprinkle some baking soda on the tub after spraying this on to make it a little more abrasive to prevent slipping and falling.
Do not use on brushed nickel faucets.
Could cause possible damage the caulking around the shower and tub after a few months.
#2  Bathroom Mold Spray
This is a very easy to make and use spray which will erase mold from your bathroom! It is also great for cleaning wood surfaces in the kitchen and bathroom.  
Ingredients:   
Hydrogen Peroxide (Not Chlorine Bleach) Water Directions: Mix 1 part Hydrogen Peroxide to 2 parts water in a spray bottle. Spray on affected areas. Allow to sit. Then rinse with a damp microfiber cloth.
#3  Toilet Bowl Cleaning
TIP: Dump a bucket full of water inside the bowl before cleaning. Gravity will make the water go down without refilling. This allows you to clean the bowl without the water getting in the way!
To clean and deodorize any toilet bowl, put ½ cup of baking soda in the toilet and then put in a cup of vinegar. The solution will foam and clean at the same time. Scrub well with a toilet brush, then flush.
#4  Messy Refrigerator Spills
Spray a solution of ½ water and ½ vinegar. Let sit. Wipe clean with a damp microfiber cloth. No scrubbing needed!
#5  Removing Water Rings from Wood
To remove those nasty white rings from wood, rub a solution of equal parts vinegar and water with (not against) the grain of the wood.
#6  Cleaning Baby's Toys
Instead of wiping down toys with commercial chemical cleaners, try cleaning with vinegar instead. Adding a good amount of white vinegar to warm, soapy water will disinfect and clean baby toys.

Use an old toothbrush for hard-to-reach places. Rinse with clear water and dry.
Vinyl baby books and larger toys can be wiped clean with a damp cloth that has been soaked in vinegar.
#7  Soak for Cleaning Fresh Fruits and Vegetables
1/4 cup vinegar

2 tablespoons salt
Fill a clean sink with cold water. Add in vinegar and salt and swish around with your hands. Place produce in and let soak for approximately 30 minutes. You will find this soak will draw out bugs, dirt, and even some wax. 


An added bonus...Your fruits and vegetables will last longer!
Please read our article, Wash Fruits and Veggies Before Cooking or Eating? for more information on this subject.

#8  Fabric Softener
Use white vinegar to whiten and soften your clothes. The recipe is 1 cup of white vinegar to each load.
#9  Cleaning Scorched Iron Plate
Heat equal parts white vinegar and salt in a small pan. Rub this solution onto the cooled iron surface to remove the stains.
#10  Bug Repellent Spray
Bugs are attracted to us because they like the way we smell! The toxic chemicals in commercial bug repellents work by masking our odor.
But apple cider vinegar does the same thing! The same goes for Witch Hazel, just in case you don't like the smell of vinegar (which diffuses rather quickly anyway).
Ingredients:
1/2 cup distilled water
1/2 cup apple cider vinegar or witch hazel
40-50 drops of a pleasant smelling essential oil

Directions:
Add the ingredients together in an 8 oz. spray bottle and it's ready to use. 
Caution: You will need to reapply every hour or so if you plan to be outside for a long period of time.
For more cleaning hacks, see Green Cleaning Solutions and other articles on our website.

---
ABC is on Facebook
We offer tips, trends, useful info, and
more for our Fans.
We also offer special 
Facebook only discounts. 
Like us on Facebook and receive a $10 Certificate off your next cleaning order. 
(Note: If you don't receive your certificate, please call our office so we can send you one!)
ABC Oriental Rug & Carpet Cleaning Co. 
Since 1971 
(607)-272-1566
DID YOU KNOW  WE NOW TAKE RUGS ON CONSIGNMENT TO SELL?
Do you have a rug you no longer want?


Are you looking for a rug to buy
at a reasonable price?


Check out out Rugs for Sale here.

Keep checking back and visit our plant at 130 Cecil Malone Drive in Ithaca to view our rugs in person.
DID YOU KNOW...


IF YOU HAVE HAD YOUR CARPETS CLEANED IN THE MONTH OF JULY OF ANY PAST YEAR...


YOU ARE ELIGIBLE FOR A 15% DISCOUNT OFF CARPET CLEANING 
THIS JULY!
CALL NOW...

272-1566  
ABC Oriental Rug & Carpet Cleaning Co.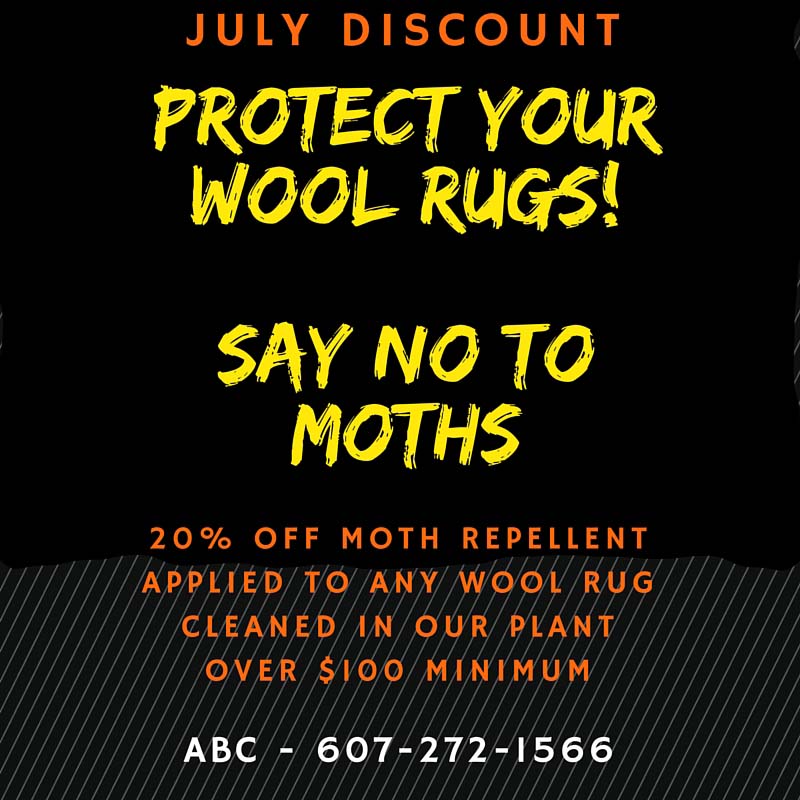 THANK YOU!!  WE LOOK FORWARD TO CONTINUING TO SERVE YOUR TEXTILE CLEANING AND REPAIR NEEDS!
---
---
Get New Posts Right To Your Inbox!
Get our monthly newsletter, just like this one, delivered right to your inbox each day. Just sign up and we will send you the best new articles and videos as they become available.
Your email address will NEVER be spammed, sold, or shared. You are welcome to unsubscribe at any time with the link in the email.
---
---
---
"The Cleanest Clean You've Ever Seen."
by
ABC Oriental Rug & Carpet Cleaning Co.
130 Cecil Malone Drive Ithaca, NY 14850
607-272-1566