ANTI-ALLERGEN
GREEN CLEANING
ABC believes in the concept of 'anti-allergen green cleaning.' Actually, green cleaning is really what all cleaning is or should be. After all, we are removing allergens and dirt, grime, soil, and toxic substances, etc. from our customers' home and business environments and safely disposing of the waste material in the proper location.
As part of our commitment to our anti-allergen green cleaning policy, ABC uses cleaning agents based on natural elements rather than harmful chemicals for the majority of its cleaning methods. Examples of these natural elements include citrus, vinegar. and salt. Even when we must use more aggressive compounds, we chose those that are safer and much less toxic than others.
We care about our customers and our employees and the environment as well. We believe in putting health, safety, and the environment first as a primary business objective. With our anti-allergen green cleaning, we are able to meet that objective.
ANTI-ALLERGEN CLEANING OFFERS RELIEF FROM ALLERGY and ASTHMA SYMPTOMS
If you are one of the 70 million Americans that suffer from allergies or allergic illnesses such as asthma or sinusitis you already know how miserable they can be. What you may not know is that dust mite and pet allergens found indoors are one of the leading causes of allergic diseases.
ABC can provide relief by reducing pet and dust-mite allergen levels by 90% or more. Cleaning alone is not enough because it is impossible to clean away dust-mites.
We use specialized cleaning agents followed by an application of an allergy relief treatment. This treatment actually changes the shape of allergens, making them unrecognizable to the body and thus preventing them from causing an allergic reaction!
When properly applied, our allergy relief treatment will provide a residual effect for up to six months. In severe cases, treatment may be required every three months.
Our allergy relief treatment is safe for you, your children, your pets and the environment. As with our other hypoallergenic products, it is non-toxic, dye, and perfume free, contains no volatile organic compounds (VOC's), phosphates or other hazardous materials and is biodegradable and environmentally safe. This product is derived from renewable fruit and vegetable seeds as well.
The treatment is virtually odor free and has been specially formulated for use around people with allergic illnesses and chemical sensitivities. It contains no benzyl benzoate and is NOT A PESTICIDE OR MITACIDE.
ANTI-ALLERGEN GREEN CLEANING for DUST MITE ALLERGENS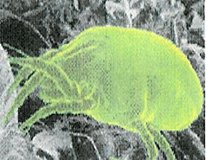 Dust mites are microscopic, eight-legged creatures that are 0.3mm in length (7,000 can fit on a fingernail) and are invisible to the naked eye.
A male dust mite has an average life cycle of 10 to 19 days, while a mated female dust mite can last as much as 70 days. She may lay 60 to 100 eggs in the last 5 weeks of her life alone.
It is the dust mite feces that is the main cause of the development and aggravation of allergies. A dust mite will produce 200 times its own body weight in feces during its short lifetime! Our dust mite treatment changes the makeup of the feces so that the body no longer recognizes it as an irritant.
Dust mites can survive in any climate. They especially love the bedrooms and kitchens of our homes. They cohabit with us in our mattresses, carpets, furniture, and bedding. In dry climates, the mites survive by deriving moisture from the humidity generated by human breathing, perspiration and saliva.
Itchiness, sneezing, inflamed or infected eczema, watering and reddening eyes, sneezing repeatedly and frequently, runny nose, and clogging in the lungs are typical symptoms of dust mite allergy sufferers.
Please click here for more information on dust mites.
ANTI-ALLERGEN GREEN CLEANING for
PET ALLERGIES
15% of the U.S. population is allergic to pets and other animals. Many people are unaware that they suffer from pet allergies. Symptoms include watery and itching eyes, hives, sneezing, coughing, wheezing, and difficulty breathing.
Between 75% and 90% of families with pet allergies do not take their physician's advice and remove their pets from the home.
Our anti-allergy green cleaning treatment is so effective, WE GUARANTEE IT! When anti-allergen green cleaning and treatment is used in the homes of allergy sufferers, it is guaranteed to provide a noticeable improvement in allergy symptoms within three days or we will refund the portion of the charges for application of the treatment only.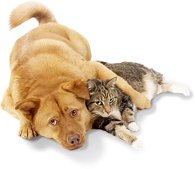 If you are experiencing allergy symptoms, please call or text our office at 607-272-1566 to discuss what we at ABC can do to help you.
CHEMICAL SENSITIVITY CLEANING
We have cleaned for a number of customers who have extreme sensitivity to any type of odor and many different chemicals, even though our cleaning solutions are non-odorous, non-toxic, and bio-degradable. 
When we clean the wall-to-wall carpets in the home of a customer with extreme sensitivities, we have the capability to clean with no cleaning solution in our trucks. The extremely hot water and the powerful extraction alone can suffice, though it is not an optimal solution. In a situation such as this, we cannot sanitize (other than hot water sanitization) and the resultant cleaning will not be helpful if animal dander or animal or human urine is present in the carpet.
If we are cleaning area rugs in our plant belonging to customers with extreme sensitivities, our process for cleaning rugs is so thorough that no residue or odor can remain.  This is because the process addresses both the back and front sides of the rugs, something that cannot be done with wall-to-wall carpet.
Please let us know when scheduling a carpet cleaning in your home or business if you have extreme sensitivity to any kinds of chemicals and/or odors.  We will be happy to adjust our cleaning methods for you.
---
Top of Anti-Allergen Green Cleaning
Back to Articles

Back to Homepage
---
---
"The Cleanest Clean You've Ever Seen."
by
ABC Oriental Rug & Carpet Cleaning Co.
130 Cecil Malone Drive Ithaca, NY 14850
607-272-1566