CUSTOMER REVIEWS
What Our Customers Say About Our Work:
---
---
For More Customer Reviews, Please Click Here.
---
ANGIE'S LISTS MEMBERS CAN POST A REVIEW HERE...
From our Email...
"Hi, It's still refreshing to read your newsletter as a break from doomscrolling through the COVID news. I learn a lot about new things and I'm still laughing about the urine sample cartoon.  Thanks. "
Louise M.
Homeowner

---
From our Website...
"I'm an enthusiastic and novice in the field of Oriental and Persian Carpets. A long interest with a few pieces.
However, thought it best to learn more about it and how to care for carpets.
The pandemic lockdown has given us time to spend doing the stuff we like.
Again, thanks and really appreciate it.
Take care, stay well and safe."
Winnifred K.

Business Owner

From a 5-Star Google Review...
"An East coast treasure. I traveled 300 miles for their service."
Jim. S.

Retired
---
From Mail:
"Dear Edie, Jamie, and Vanessa, 
Thank you so much for your extraordinary customer service and communication! We couldn't be happier with our rugs and will definitely be using you folks again!"
Hannah V.
STAP-Program Asst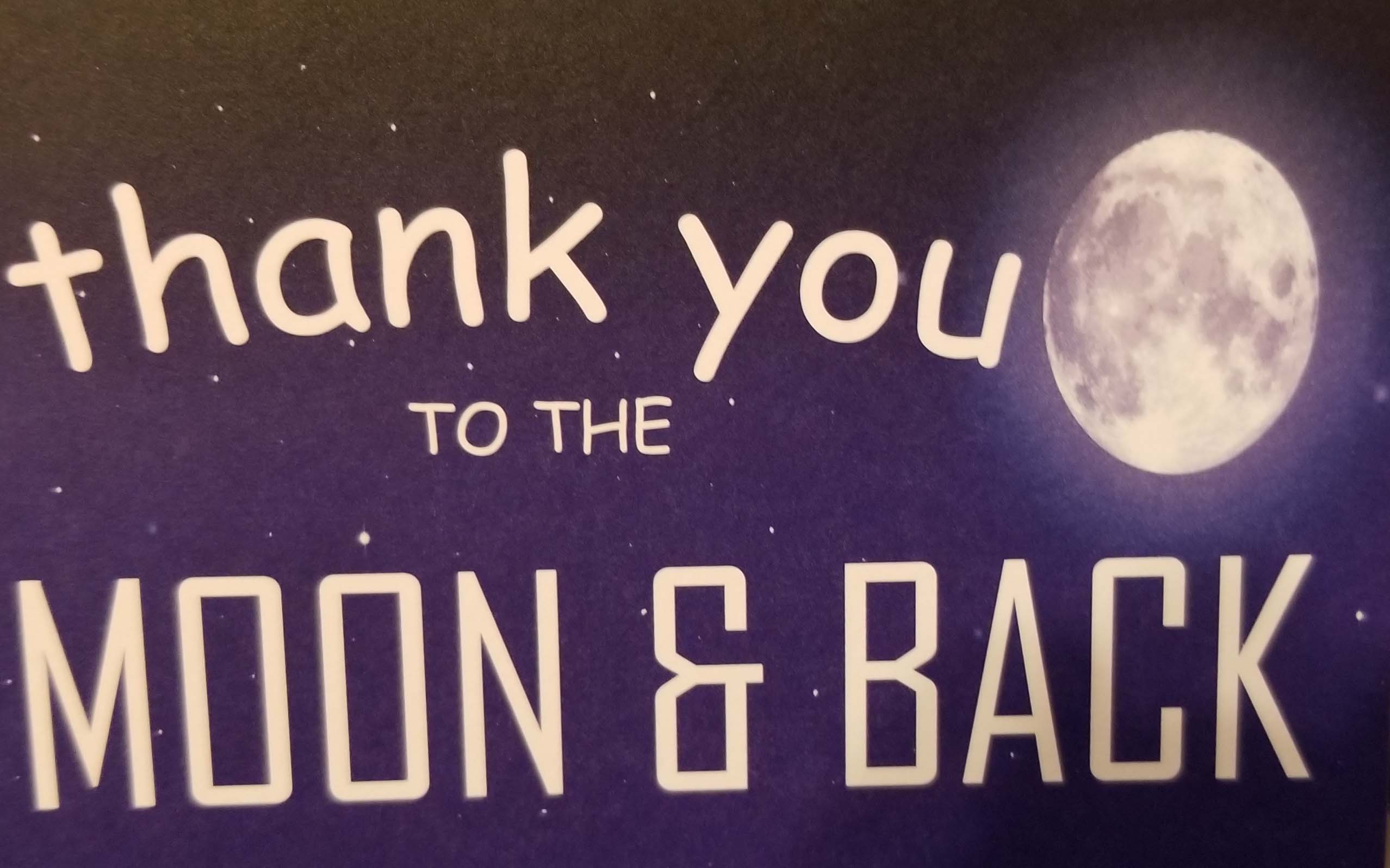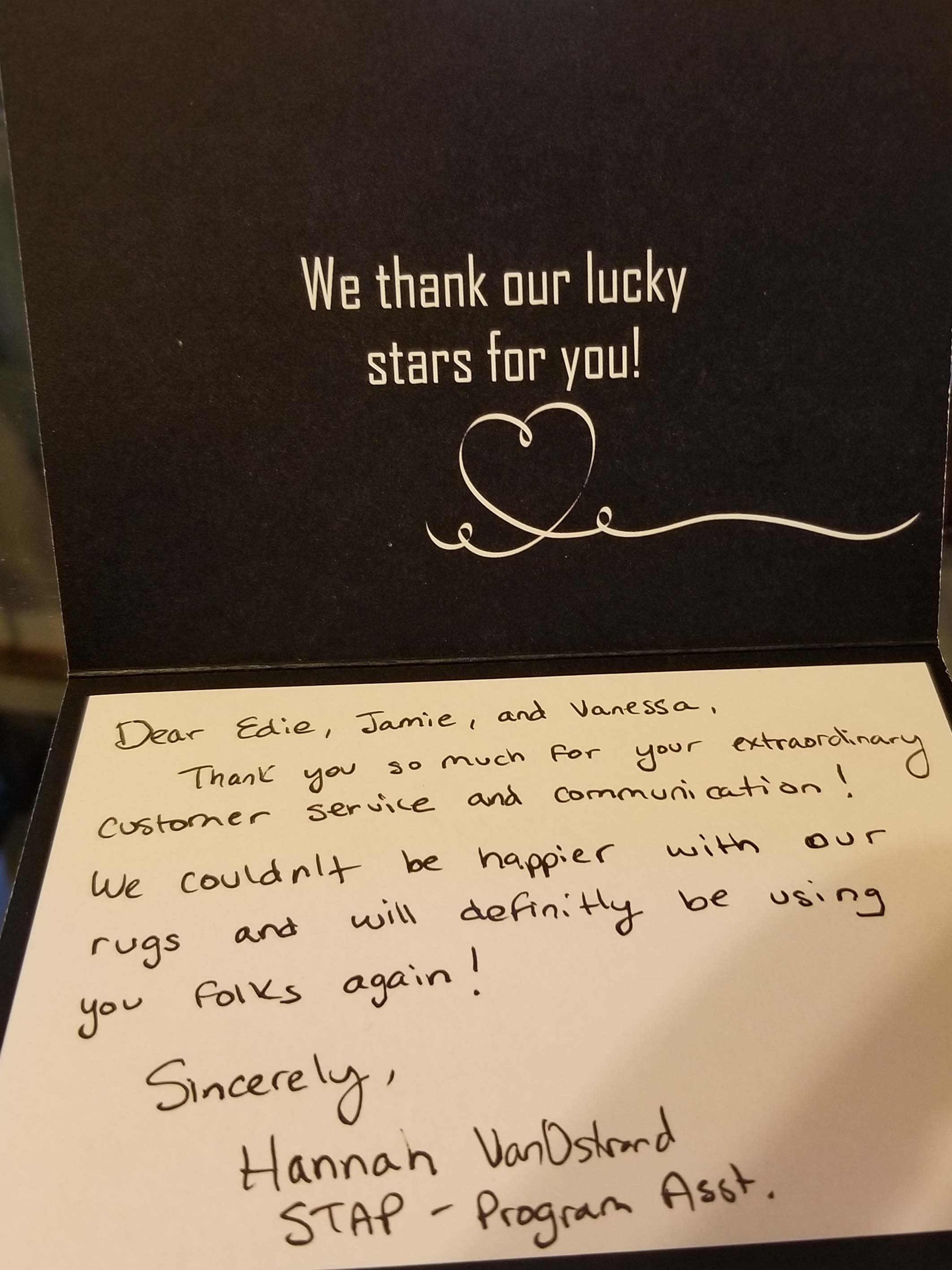 ---
From a Facebook post...
"I have gotten a wonderful mix of advice and service from Ken and Harriet over the years.
Time for my rugs to visit you after a 6-7 years absence! (I'm moving May 1st). I'll probably bring them in for cleaning in April. Even though I am moving into a fully carpeted apartment, I can't live without my oriental rugs!
Thanks for all the good care you've shown my rugs over the years."
M.M.
Happy Customer
From a Facebook post...
"I always get helpful and friendly advice even when I don't pay for services! But one day soon I will need service!"
E. R.
Homemaker
Brought in by a happy customer for all our staff to enjoy. Thank you so much.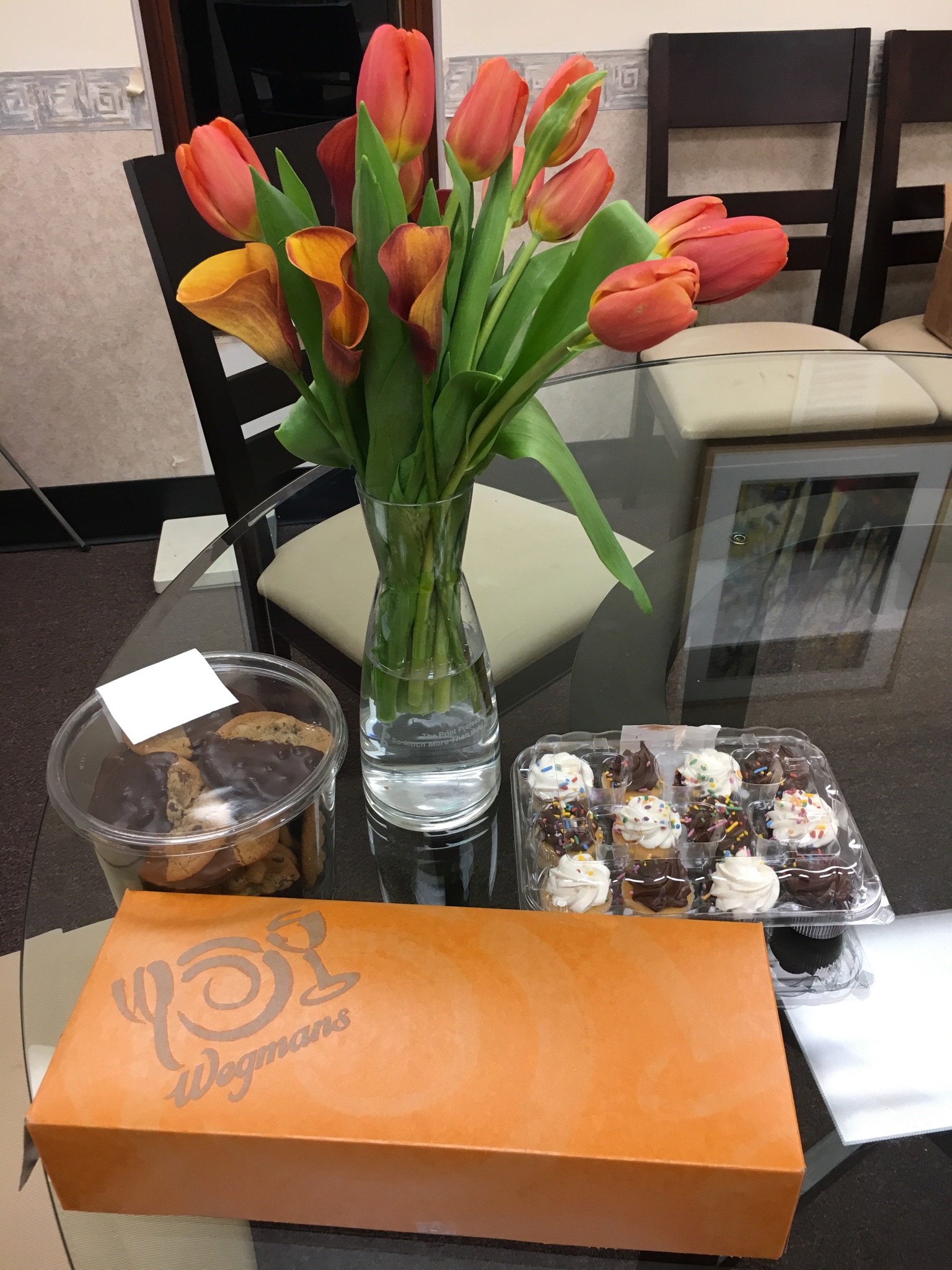 ---
From a valued customer via email...
"Just wanted to say thank you for the service of pick up and delivery of the carpets (rugs). It's a convenient perk. The carpets (rugs) look great, soooo clean".
B.Y.
Homeowner
---
An email we received recently:
Good Morning,

Thank you for all the green cleaning information in your e-mail.  It looks like we should be buying vinegar by the gallon.  I will use some of your suggestions.
I love your e-mails.

J. C.
Homeowner
---
A note from a happy customer...
The carpets (rugs) are back in place and look beautiful.
I am so glad you support WSKG so I could find you.
L. W.

Homeowner
---
From Angie's List...
Crew came to pick up rug, evaluated padding under rug and told me I didn't need to get a new one. They brought rug to the shop, it was ready in the time frame I expected, and based on the quality of the rug the cost for cleaning and wrapping it was even less than the original estimate. Very happy with the service.
F. C.
Homeowner
---
From ABC email:

Hi,
I keep meaning to call! The guys did a fabulous job on our rugs (wall-to-wall carpets)!
As usual, the technicians are very polite, careful, and thorough.
Thank you!
I. L.

Homeowner
---
From Angie's List:

ABC cleaned an area rug I had recently purchased.
They took the rug, gave me an idea of what kind of cleaning it needed, and did the work. They gave me a time frame for its completion, finished early, and let me know promptly when it was ready for pickup.
This is not my first experience with ABC. They always do quality work, explain exactly what they feel is the best way to repair or clean my products, and are courteous and professional. The best in the neighborhood. I have recommended to others, who are also pleased with their service.
W. C.
Homeowner
---
From an Email About Our Monthly Newsletter:

Dear Harriet

Appreciated your last email very much. I've never been one to use much in the way of commercial cleaners and often use vinegar and baking soda. Now I see I can use both even more! The piece was well done for the many suggestions and for its important reminders/cautions about mixing cleaners--of any type.
Thank you for your excellent rug services and for your environmental and public service sensibility.
Happy summer.
V. P.

Homeowner
---
From Angie's List:

Carpet cleaning for 3 bedrooms, foyer, and living room.
Incredibly professional and efficient. Called on Sunday, got an in-home quote on Monday, and our carpets were cleaned on Friday afternoon.
They moved and replaced every piece of furniture, and completed the job within 3 hours. Our carpets look brand new with zero trace of stains. Make sure to ask for the 20% off coupon on the company website, and receive a little extra off by paying with cash or check.
We received quotes from a few different companies, and ABC was by far the most affordable Next time we need our carpets cleaned, the only call we make will be to ABC.
J.H.
Homeowner
---
From Angie's List:

Cleaned five rugs of various sizes, including special hand treatment on a small heirloom braid.Very responsive, gave initial estimates in a timely way, performed the work efficiently and at a very reasonable price, communicated via email at my request as to status of the work.
First rate, friendly and helpful.

Sue T.
Homeowner
---
Hi Harriet,

Please express my sincere appreciation to whomever it was at ABC who cleaned my two alpaca rugs. I thought one of them (the larger round one) was beyond hope and was cautioned that it might not be possible to get it clean given that the dog vomit had soaked through to the skin and then had dried.
I was very pleasantly surprised when I got them home and saw how great they both looked. Someone at ABC clearly put a great deal of effort and skill into cleaning it. GREAT WORK!!!

Nadia R.
University Professor
---
Hi Harriet,

This is just to thank you for making my carpets "shine" like new! Stephen was great and tried a way of soaking first to get rid of the soiled parts. I was so impressed - the result is great! And that on the hottest day so far.
Thanks to you and All-

Fran M.
Homeowner
---
Dear Harriett and Ken.

You are fortunate to have Steve as a member of your team! He cleaned all the carpeting in my home recently, upstairs and down, as well as all the tile and grouting in my bath.
I am going to recommend him highly to my sister and friends because he did a superb job! Besides being a fine gentleman, he was very energetic, careful handling furniture and furnishings, smart, friendly, anxious to please me, and to make the best!!
Steve, I believe, is the quintessential workman for you and me!! He was responsible for "The Cleanest Clean You've Ever Seen!" Yes. Yes. Yes. Thank you.
Yours truly,

Mrs. O. R.
Homeowner
---
From Angie's List:

Steve C. cleaned master bedroom, little bedroom, hall, living room. They charged by the square foot, and it was very fair.
Steve was extremely knowledgeable and forthcoming with tips and information. He was quick and efficient and clean, and it looked beautiful when he finished. He came at the appointed time. I saved some money by moving most of the furniture and books, etc., myself.
Harriet, who booked the appointment, was also polite and helpful. I'd use them again in a heartbeat.

Ann R.
Homeowner
---
Dear Harriet and Ken:
You know how much we like and you and your business but we need to mention that we were so impressed with the professionalism of Tim and Steve when they came out to Halsey House to provide an estimate and later to do the actual cleaning.

Top notch gentlemen who answered all our questions and offered good suggestions for future care. They are real "keepers" and do your company proud.

David B. and David W.
Business Owners
---
For More Customer Reviews, Please Click Here.
---
Top of Customer Reviews

Back to Homepage

---
"The Cleanest Clean You've Ever Seen."
by
ABC Oriental Rug & Carpet Cleaning Co.
130 Cecil Malone Drive Ithaca, NY 14850
607-272-1566