ABC News and Events
THANK YOU TO ALL WHO VISITED OUR BOOTH at the
The Syracuse Home & Garden Show  (CNY Home & Garden Show) which will be held at the NYS Fairgrounds March 15th through the 18th.   
This show offered a "convenient one-stop shopping for fresh ideas to add comfort, beauty, and energy efficiency to your home."
This was one the largest of the home shows in the northeast with more than 400 exhibitors.
Thank you to all who stopped by and said hello, saw our displays, got their free gift, and participated in our special raffles.

We enjoyed meeting you and hope to be serving you in the near future!
---
Thank you to all our customers who donated toys or came to our special fundraising event for Cops, Kids, and Toys on Saturday, November 18th!
The event was a big success and Officer Colin, the youngest member of The Ithaca Police joined us!
Congratulations to Josh, the winner of our Kids' Coloring Contest.
Thanks to all our ABC family and employees for working so hard to make this fundraiser such a great event!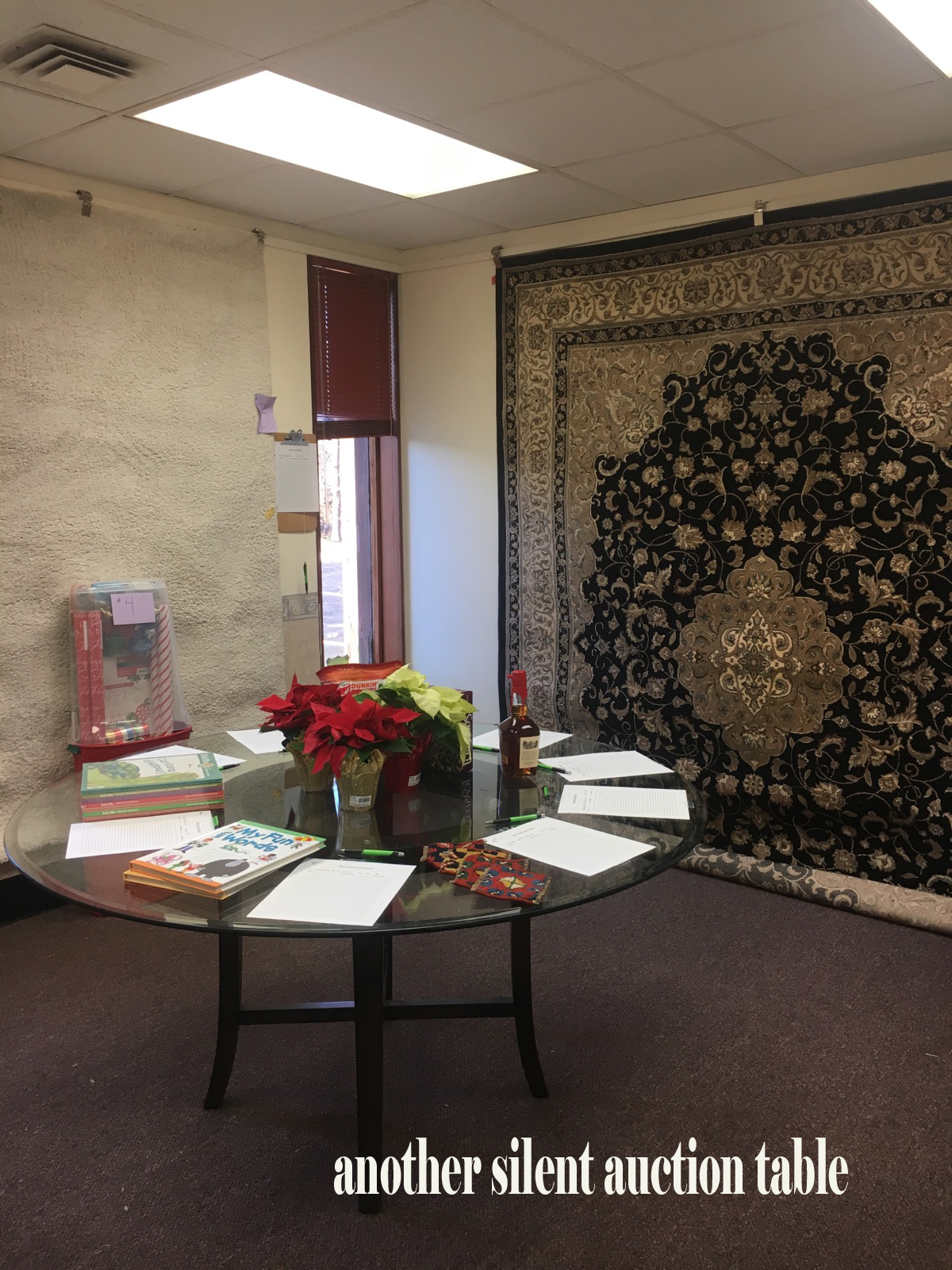 ---
THANK YOU FOR HELPING US SUPPORT ALZHEIMER'S RESEARCH!
Our Team was one of the top 3 in our area!
 We have raised over $4200 to date! 
If you joined us for the Alzheimer's Walk on September 17th, you may be a winner of one of 3 $200 gift certificates. Every donation qualifies you.
NEXT YEAR WE WILL RUN THIS PROMOTION AGAIN
PLEASE JOIN OUR TEAM OR COME INTO OUR OFFICE AT 130 CECIL MALONE DRIVE in ITHACA to CONTRIBUTE! 
---
ABC Earns Esteemed 2016 Angie's List Super Service Award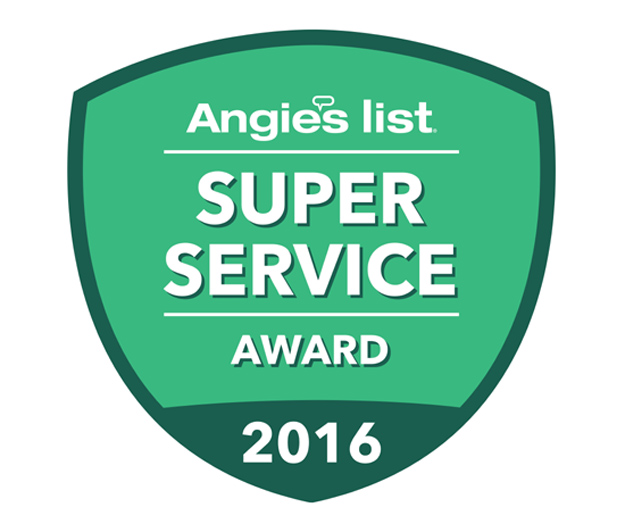 Award reflects company's consistently high level of customer service
ABC Oriental Rug & Carpet Cleaning Co. has earned the home service industry's coveted Angie's List Super Service Award, reflecting an exemplary year of customer service to members of the local services marketplace and consumer review site in 2016.
This achievement is particularly significant as Angie's List experienced unprecedented member growth in 2016. More than 1.6 million consumers, many of whom were eager to quickly hire highly qualified service pros, joined Angie's List after the company added a new, free membership tier.
"Companies that can meet higher demands without missing a beat in their exemplary performance standards truly do stand apart from their peers," said Angie's List Founder Angie Hicks. "Only a fraction of the cleaning companies in the Tompkins/Cortland and surrounding areas market were able to do it."
Angie's List Super Service Award 2016 winners have met strict eligibility requirements, which include an "A" rating in overall grade, recent grade, and review period grade. The SSA winners must also be in good standing with Angie's List, pass a background check and abide by Angie's List operational guidelines.
Harriet Adams of ABC states, "We are excited and very appreciative to have earned this prestigious award again."
Service company ratings are updated daily on Angie's List as new, verified consumer reviews are submitted. Companies are graded on an A through F scale in areas ranging from price to professionalism to punctuality.
For more than 21 years, Angie's List restricted access to its verified reviews to consumers who paid membership fees. When the company removed that barrier, some companies worried that the new, non-paying members would not be as engaged as members of the past. Experience has shown, however, that these newly added members are just as engaged – across all age groups – as prior members. Also, because the company continues to adhere to its review verification process, there has been no degradation of review quality.
"The biggest change at Angie's List is that we are connecting even more consumers to high quality service professionals," Hicks said. "And that's good for everyone."
###
Angie's List helps facilitate happy transactions between more than 4.5 million consumers nationwide and its collection of highly rated service providers in more than 720 categories of service, ranging from home improvement to health care. Built on a foundation of more than 10 million verified reviews of local service, Angie's List connects consumers directly to its online marketplace of services from member-reviewed providers, and offers unique tools and support designed to improve the local service experience for both consumers and service professionals.
---
ARCS/RUG SUMMIT IX 2015

From September 29th to October 3rd, 2015, Harriet and Vanessa attended a 2-fold conference for the Association of Rug Care Specialists (ARCS) and Centrum Force's Rug Summit IX in Albuquerque, New Mexico.
Both conferences included classes and demonstrations at Joe Gabel's rug cleaning plant and at Serafian's, the location of Joe's retail rug store.
Networking was a very important part of this conference and Harriet and Vanessa came away with some awesome new ideas and plans for our business and our customers.
The weekend also coincided with the beginning of Albuquerque's International Hot Air Balloon Festival as well!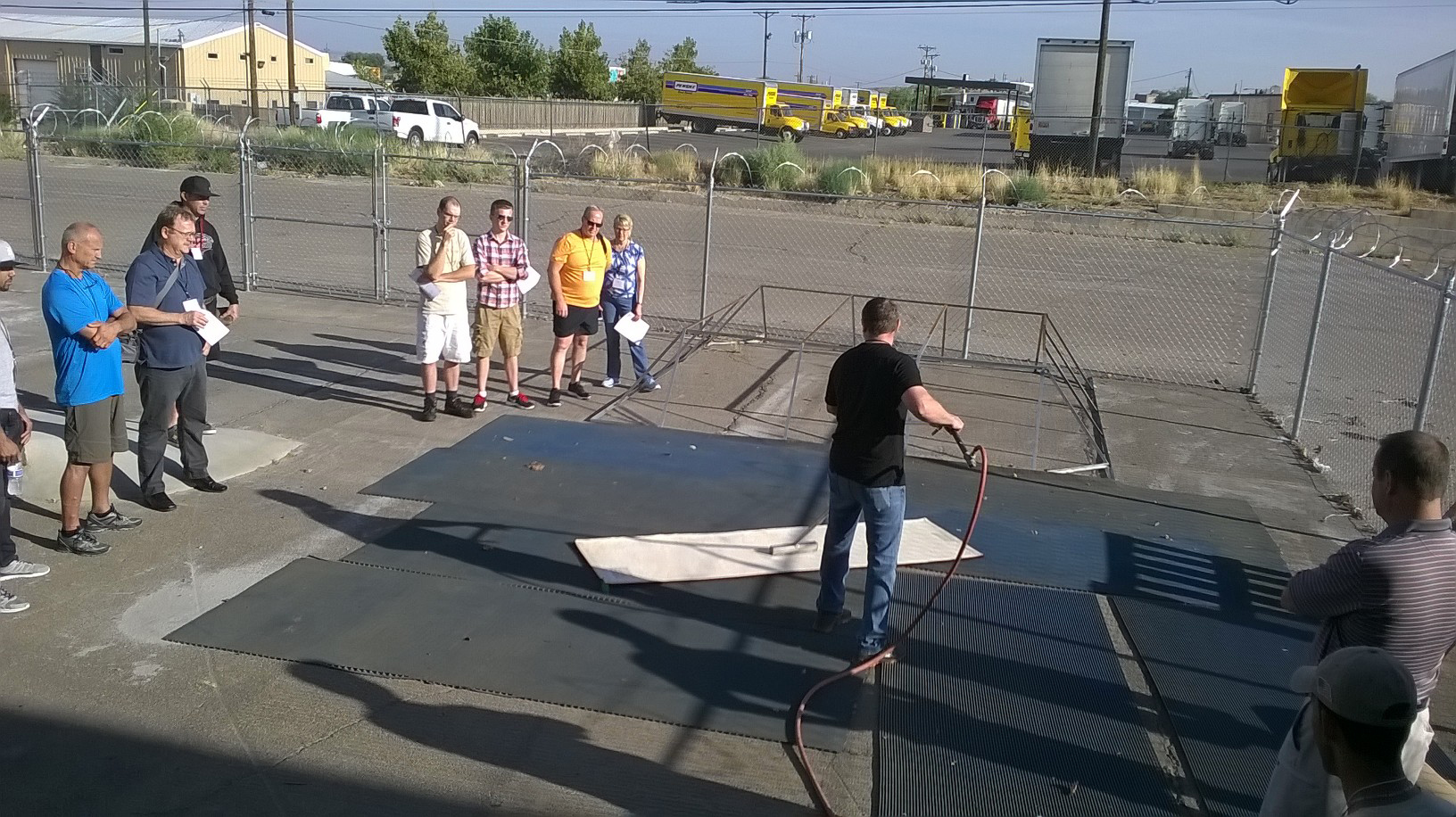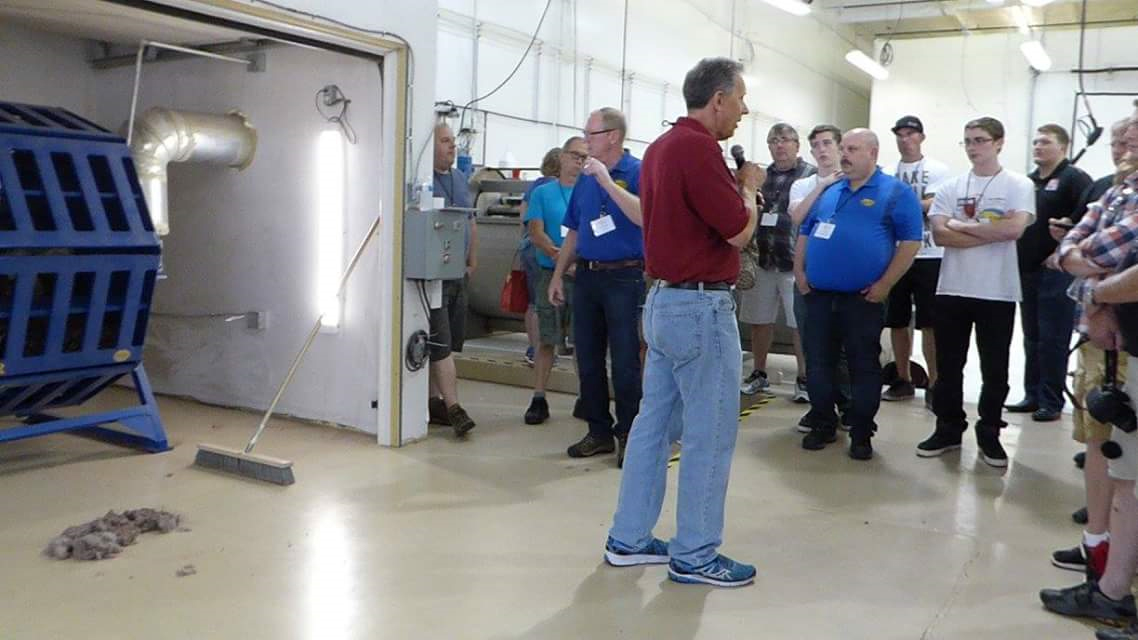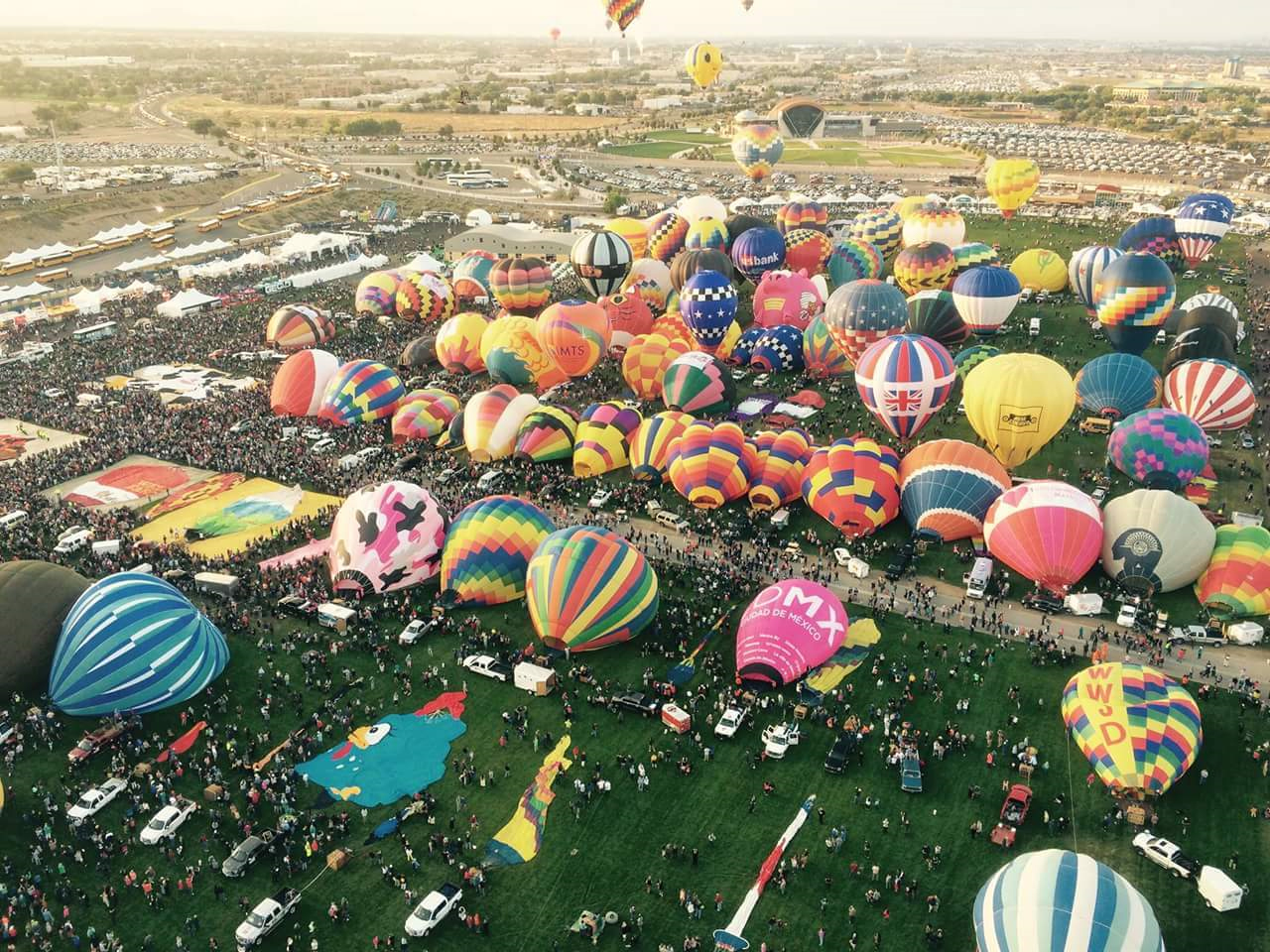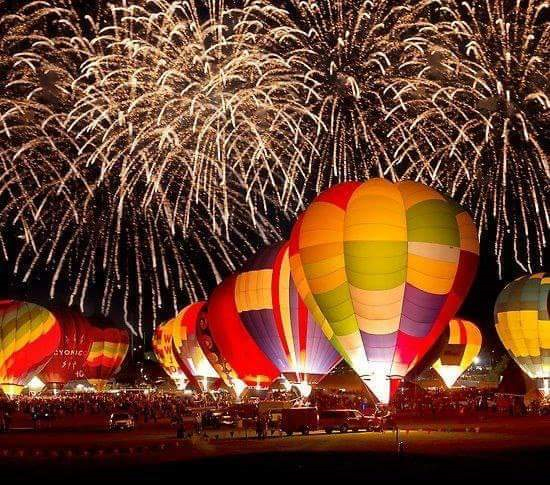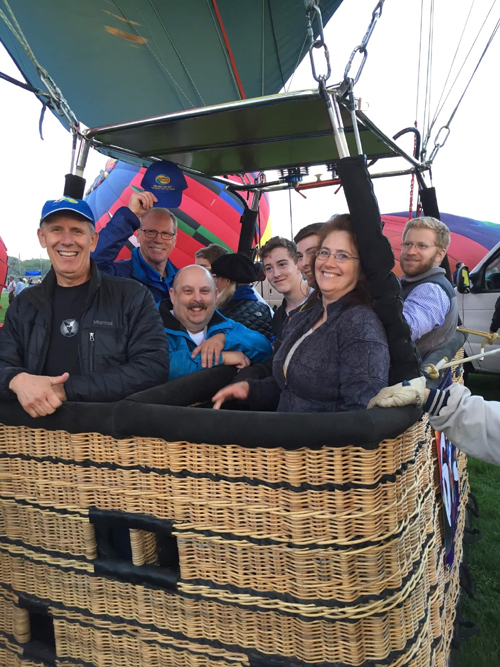 ---
Vanessa Graduates
from IC School of Business
On 5/17/15, our daughter, Vanessa, graduated with honors from Ithaca College (our 3rd IC graduate!). We are so proud of her. As most of you know, she will be starting back to work full-time at the beginning of June.
Vanessa will be in training to take over the management of ABC in the very near future. We are so blessed she has the same pride and passion we have always had and double blessed that she wants to take the reins of the business into her own capable hands.
Our customers can be assured of a smooth transition and the seamless continuation of the same superior service they have come to expect from this company.
(Mom and Pop will still be close by for as long as she needs us!)
---
199 Rugs in One Weekend!
ABC responded to an urgent call from a Syracuse area rug dealer the last weekend in February. The company had experienced a water main break at the Ithaca Mall where they were having a special sale. 
They delivered 199 oriental rugs that had been damaged in the flood to our rug cleaning plant. We cleaned and sanitized all 199 oriental rugs from Friday afternoon to Monday morning when the relieved company picked them all up.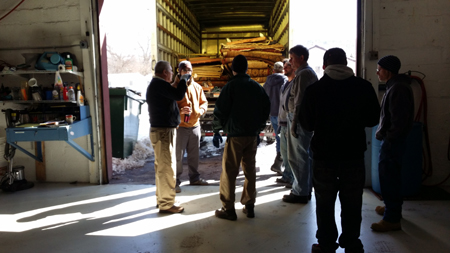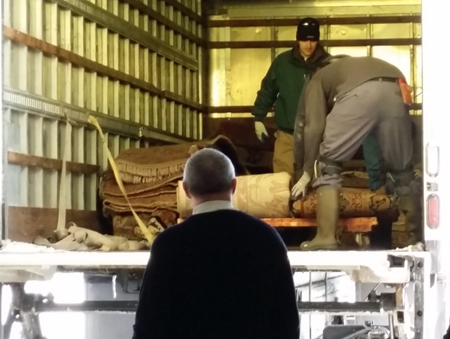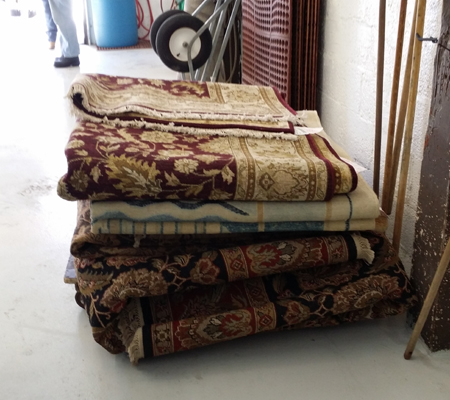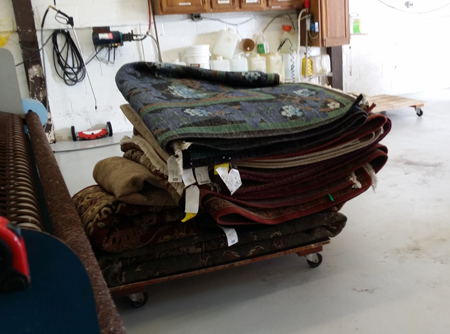 ---
ABC Answers Call for Help from Congregation Tikkun v'Or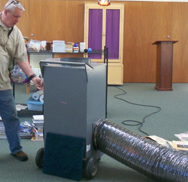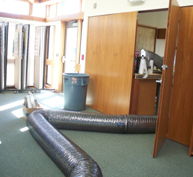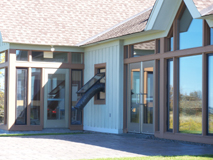 The summer of 2013 brought some devastating flash floods to our area. The building, which houses the congregation of the Ithaca Jewish Reform Center, Tikkun v'Or, suffered significant damage.
A call went out to the community for help with the cleanup and repairs. Ken and Harriet Adams, owners of ABC, were asked to help with removing miscellaneous odors from the building, especially those associated with new carpeting. It was our pleasure to donate our equipment and to monitor the air quality of the building until all odors were removed.
The Congregation Tikkun v'Or (Ithaca Reform Temple) is a vibrant congregation that strives for a warm personal bond among its members, quality education for the children, and a dynamic program for adults. A welcome is always extended to those from diverse backgrounds, interfaith families, people who are newly discovering Jewish connections as well as those with a wide range of Jewish experiences.
---
3RD GENERATION RUG LOVER!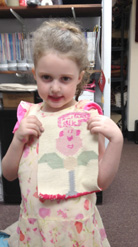 Auriana, Vanessa's daughter and granddaughter of Ken and Harriet, showing off the beginnings of a doll house rug she is making!
---
ARCS Convention in
Raleigh, North Carolina-
A Huge Success
Ken and Harriet attended the ARCS Convention in early May. (Ken is a founding member of the Association of Rug Care Specialists.)
A private tour of the Karastan Mill was one of the special highlights. (Karastan rugs are world-renowned for their excellent construction and design.)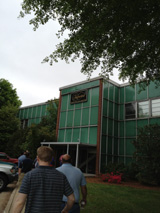 Most important was the sharing of the latest information in the rug care industry and the meeting of minds of so many of our members.
Up-to-date information relative to the textiles of our clients is always a priority at ABC. To teach, cultivate and advance the art and science of rug care is the unique proposition of the ARCS.
The Association of Rug Care Specialists was founded to promote and foster the highest standards of professionalism and technical proficiency in rug care and ensure that we develop the next generation of leaders for this industry.
---
Employee Earns US Citizenship!
We are so proud to announce that Nga Nguyen, One of our Rug Repair Specialists has received her US citizenship after a long journey from Viet Nam to ABC!
Nga studied for a long time to reach her goal of citizenship. She has been in the states for about 5 years now. She and her husband live in Ithaca with their 7 year old son, Loc, who has just started his citizenship studies as well.
Nga's sister and brother-in-law also became citizens during the ceremony at the Courthouse the same day.
Congratulations to all!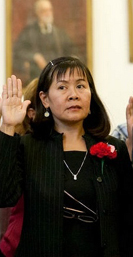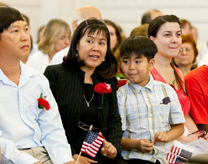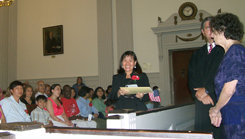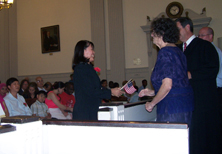 ---
Local Business Owner
Founding Member of New International Trade Association
Founding Members of New Trade Association Represent 1000+ Years of Experience in Small Business Management and Rug Cleaning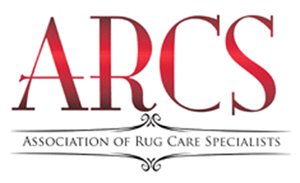 Ken Adams, President of ABC Oriental Rug and Carpet Cleaning Co.(a subsidiary of ABC Services of Ithaca, Inc.), is one of a group of influential founding members of a new rug care association formed primarily for members of the rug care industry. The founders of the new trade association, Association of Rug Care Specialists (ARCS) represent over 1,000 combined years of rug care and small business management experience.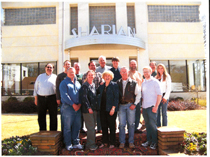 History
A number of the founding members, including Ken Adams, Ellen Amirkhan, Buzz Dohanian, Tim Horrigan and Jeff Jones, owners and managers of rug cleaning plants around the country, are all past presidents of the former Association of Specialists in Cleaning and Restoration (ASCR).
When ASCR morphed into the Restoration Industry Association (RIA), the focus of that organization shifted to members of the restoration industry (flood and fire damage). This left less and less interaction with those whose focus is mainly on rug cleaning and other areas of the cleaning industry. Those small business owners and cleaning plant managers saw the necessity arise for a trade association that could cater to their specific needs.
Formation
A meeting to launch ARCS took place in March of 2010 at Sharian's, Inc., in Decatur, Georgia.
In November of 2010, the founding members met in Dallas, Texas, formed the new association and elected Bill Foulds, general manager of Deep Eddy Rug Cleaners in Austin, Texas, as their first President. The original founding members will serve on an Advisory Committee to pass on their expertise to the rest of the membership. The officers of the new association include Thea Sand, Phil Ziegler, Armen Dohanian and Tim Horrigan. These officers will be handling the day-to-day operations of the association.
Organizational Goals and Benefits to Members
The ARCS pledges to advance the art and science of rug care by:
1. Education of rug care professionals.This will be an invaluable benefit to new members. Exceptional educational opportunities will be available with basic as well as advanced classes taught by seasoned veterans. Key issues to be addressed in these classes will include highly specialized techniques in spot and stain removal as well as rug identification methods. Included in the curriculum will be an advanced certification designation. Courses will be complimented by plant tours where members can experience cutting edge rug cleaning technology first hand.
2. Raising consumer awareness about the nature of quality rug care.A committee has been formed to put together and disseminate consumer-friendly rug care information. This will be housed on the association's website and will also be sent to other media such as industry magazines. An ARCS Trade Journal is also planned.Opportunities for working with rug manufacturers in this consumer outreach program will also be important as rug care specialists are an important contact point for consumers.Membership in ARCS will help to build marketplace credibility and long-standing customer relationships. Consumers will be able to feel confident that ARCS members uphold the highest industry standards. Consumers will be able to search for ARCS members on the website.
3. Helping members to become better business managers in the areas of marketing, strategic planning and human resources.Some of the country's best business schools will be tapped to help provide these types of opportunities. The ARCS will be aligning itself with other larger organizations to keep its members informed and to give them a voice and better representation on small business issues such as employee relations, health care and others.
Eligibility for Membership
Membership is open to any firm that cleans, repairs, services or otherwise maintains area rugs. An important additional requirement is that 95% of their business must be performed in a cleaning plant as opposed to in a customer's home or business or subcontracted out. Quality rug cleaning is only possible in a plant where rugs can be cleaned on both sides, colors can be stabilized, fringes can be addressed properly and rugs can be properly dried. The organization is interested primarily in the quality of a member's in-plant rug care, not in the size of the member's plant.
Over 1000 companies, nationally as well as internationally, meet these criteria and will be contacted. ARCS expects to have more than 100 members by mid-2011. Eventually, ACRS will also reach out to rug appraisers and dealers, designers, consultants and others as associate members.
Collaboration with Other Trade Associations
ARCS plans to collaborate fully with the RIA, especially on rug care issues as well as with The Institute of Inspection, Cleaning and Restoration Certification (IICRC). The ARCS will only be focusing on rug care and cleaning while the IICRC has a wider focus. Both organizations will most likely be sharing some members and both are expected to work together in the future.
First Educational Offering
The first educational offering was a well-attended two day tour and educational event which took place on April 29th and 30th, 2011 in Austin, Texas at Deep Eddy Cleaners. This learning event included a demonstration of the latest innovative cleaning procedure as well as hands-on participation in the care and cleaning of rugs for rug professionals at all levels of experience. A question and answer period was provided as well as many opportunities for networking and knowledge sharing. The Education Committee of the ARCS is working on an entire curriculum of upcoming educational events.
A tour of the Navajo Reservation is also planned for November of 2011. Participants will have the opportunity to visit the famed Navajo rug weaving facilities and observe the unique Navajo culture.
Contact Information
www.rugcarespecialists.org - ARCS website
membership@rugcarespecialists.org – to join ARCS
info@rugcarespecialists.org – Tevi-Cockburn-Covey, President
ken@abcclean.com – Founding and Advisory Committee member
---
---
---
"The Cleanest Clean You've Ever Seen."
by
ABC Oriental Rug & Carpet Cleaning Co.
130 Cecil Malone Drive Ithaca, NY 14850
607-272-1566