Bedbugs are Back
and in Alarming Numbers!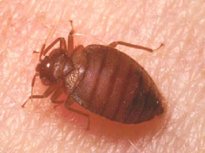 BEDBUGS ARE BACK-WHY?
Why are bedbugs back in the USA and in such large numbers? They seem to be on a march across all 50 states, infesting hotels, offices, apartment houses, hostels, shelters, movie theaters, and retail stores or anywhere large numbers of people come and go.
What has happened? These creatures have been a very irritating part of everyday life for most of human history. But in urban America, unlike many developing countries, they had virtually vanished due to the use of DDT and other pesticides such as propoxur. Now these pesticides are banned and their resiliency to our remaining usable pesticides has left us almost without defense.
Since bedbugs don't produce malaria or blood-borne diseases, most public health departments do not require those in charge of human dwellings (landlords, hotels, etc.) to report any infestations. Thus, experts are not only unsure of what areas or the number of areas where these pests are, but they don't really have an idea of what percentage or to what degree they are resistant to any pesticides still in use today.
It is important to understand that bedbug infestations, though they are not related to an environment's cleanliness, are easier to control if an area is clean and free of clutter.
Minimizing clutter is very important, especially in commercial settings. Since there are usually no beds or sofas in offices, they tend to make their homes in storage places such as boxes and tote bags. Workers can unknowingly take them home in their computer bags, lunch bags, etc.
HERE ARE SOME REASONS
for THE RETURN OF BEDBUGS...
International travelers bring them in through infested luggage.

Increased immigration, especially from underdeveloped countries.

Their resiliency to pesticides that have not yet been banned.

Guests bring them in. For example, they may be present in dorm  rooms and a visiting college student could inadvertently bring them  in.

Used furniture and bedding.

A wild animal or bird invading a building.
WHAT DO BEDBUGS LOOK LIKE?
The bedbug, or Cimex lectularius, is a small (less than ½") oval-shaped, flat, wingless insect which can range in color from almost white to brown and will turn a rusty red color after feeding. If you know what to look for, they can be seen by the naked eye.
These pests seem to have a preference for mattresses, furniture, bed frames, and sofas, thus their name—bedbugs. Lately, however, they are getting into unexpected areas such as office cubicles, break rooms, and filing cabinets. They've been known to hide behind picture frames or baseboards and even in electrical sockets.
These insects can live for up to 10 months or even a year and can go without feeding for weeks and months at a time.
WHAT DO BEDBUGS DO?
Bedbugs live off human and animal blood, but what is worse is that while attacking us in our sleep, they inject anesthetics and anticoagulants, so that they can suck in two to three times their weight in clog-free blood in one 10-minute feeding session. They can leave very itchy and swollen red bites. These are usually in a straight line and more than likely will be found on the shoulders and arms.
A person who is not allergic to their bites may not even be aware that he or she has been bitten. Of those who are allergic, the majority may only show bites that are almost indistinguishable from mosquito bites. (Although, as mentioned above, their bites will most likely be found in a line of 2 or 3 bites.) For those who are allergic, the itching can go away after a few days but the swelling at the bite mark may take a much longer time.
They are normally nocturnal creatures and can hide during the day in numerous areas such as beds, floors, furniture, and even paper trash. Their peak biting activity seems to be just before dawn. They can become engorged in as little as three minutes and then crawl into a hiding place to digest their meal.
BEDBUG BITES-
ARE THEY DANGEROUS?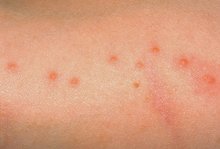 Bedbug bites do not usually require treatment. If scratching causes a secondary infection, an antiseptic lotion or antibiotic cream or ointment can be applied locally. In cases of more severe allergic reactions, a doctor may need to be seen.
Disgusting and repulsive as they are, there is no evidence that these creatures pose serious health threats or that they are carriers of human diseases. Although in certain instances of severe infestation, bites should be considered a possible cause of iron-deficiency anemia in some people.
They pose more of an emotional problem, since the thought of bugs feeding on us at night is not a pleasant one! It's possible, this thought could lead to anxiety and insomnia in some people.
WHAT TO DO IF YOU SUSPECT BEDBUGS?
If you believe you have been bitten, the best way to confirm this is by locating the bugs themselves (usually in seams of mattresses) or look for their bloodstains, or for black spots of insect waste where bedbugs might crawl to hide in furniture, beds, etc. Note also that there can be a sweet odor from the scent glands of the bedbugs if a large number of them is present.
Finding the bloodstains, black spots, and even the  shed skins of bed bugs in crevices and cracks on or near beds may not actually indicate an active bed bug infestation. It is best to locate some actual live bedbugs to confirm that there really is an active infestation.
It would be preferable to first try to rule out other sources such as flying gnats, mosquitoes, fleas or mites. One possible way to catch bedbugs is with double-sided carpet tape. Place the tape around the bed and around the edges of the mattress where it won't be in the way and leave it there for a few days. 
WHAT SHOULD YOU DO IN CASE of a BEDBUG INFESTATION?
Of first importance is to get rid of infested mattresses and box springs or, if necessary, cover them with a plastic mattress bag to trap the bedbugs. That way, they cannot escape and will eventually die (though it may take as long as 6 months or longer). They can't live if they cannot feed. A mattress cover will also protect against a re-infestation.
Wash bedding and clothes in hot water and dry on high heat. High heat will kill all the life stages of bed bugs, even the eggs. Clean the furniture and vacuum (with a crevice tool) all cracks in wood floors and doors where the bugs could find a hiding place.
Since the bedbugs can live inside vacuum cleaner bags, hoses and attachments, even after removing and carefully disposing of the dirty bag, it would be best to vacuum up approximately a half cup of cornstarch or talc. The powder will be atomized and will asphyxiate any remaining bedbugs.
Vacuuming is good for getting rid of clusters of bugs that can be found on chairs, walls, under desks, etc. Vacuuming followed by steam cleaning is best. Steam cleaning can dislodge and kill eggs as well as kill bugs that are hiding in cracks and crevices that vacuuming cannot reach.
If you live in a warm climate, collect items such as jewelry boxes, stuffed animals and pillows into a dark plastic bag and leave them outside in the sun for several days.
Always be sure that any items brought into the home, especially from garage sales, thrift shops, etc. are clean.
The bedbug eggs are an additional problem because they are more difficult to remove. First of all, they are very tiny and light-colored. Second, they also have a sticky coating that glues them in place. The best way to remove them is by scrubbing with a stiff brush or vacuum attachment, followed by steam cleaning.
BE CAUTIOUS of 'NATURAL' ALTERNATIVES or 'QUICK FIXES'
Diatomaceous earth, often touted as a nonpoisonous insect killer, takes too long to work, and lavender or cedar-based 'natural' products have not even been proven to work.
Products such as bug bombs or foggers, which are often used as insect killers, may actually make matters worse. Though they may kill some of the bedbugs, the majority of them may run to other areas of the house making it even more difficult to control them.
Please do check out our article on this website, DIY Bedbug Help. There are some practical suggestions for what you can do if you suspect a beginning bedbug infestation as well as how to protect yourself against future infestations, complete with informative videos.

IF ALL ELSE FAILS...
Call an exterminator. They will have several different methods of extermination, depending upon the situation. These can include applications of liquids, dusts and/or aerosols, steam applications, controlled heat treatments, etc.
One of the newest weapons in the fight against bedbugs involves specially trained dogs, who with their keen sense of smell can detect odors at concentrations nearly 100 million times lower than humans can. The dogs can narrow down the areas where the bed bugs are detected, allowing the exterminator to concentrate their efforts more accurately.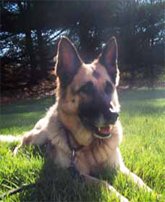 NEED MORE INFORMATION?
For more in-depth information, we highly recommend the excellent informational brochure produced by Cornell University. You may download the pdf by placing the following in your browser address window:
http://www.nysipm.cornell.edu/publications/bed_bugs/files/bed_bug.pdf.
---
---
---
"The Cleanest Clean You've Ever Seen."
by
ABC Oriental Rug & Carpet Cleaning Co.
130 Cecil Malone Drive Ithaca, NY 14850
607-272-1566