SPECIAL FOR JULY...
Cleaning Special:
15% OFF 

ALL 

SERVICES
IN YOUR HOME OR BUSINESS!
(above our minimum charge)
*******************
Tile and Grout Cleaning and Grout Sealing   
********************
SPECIAL TREATMENTS:
*********************
Please note:

Listed below are the areas we service for
ON LOCATION Cleaning. 
If you do not see your area listed, please call our office
at 607-272-1566.
***
Brooktondale-14817
Burdett-14818
Candor-13743
Cortland-13045

Dryden-13053
East Homer Cortland-13056
East Homer-13158
Etna-13062
Freeville-13068
Groton-13073
Hector-14841
Homer-13077
Interlaken-14847
Ithaca-14850-53
Jacksonville-14854
Lansing-14882
McLean-13102
Mecklenburg-14863
Newfield-14867
Slaterville Springs-14881
Spencer-14883
Trumansburg-14886
Van Etten-14889
West Danby-14896
Wilseyville-14864 
CALL TODAY FOR AN APPOINTMENT 
IN JULY! 
607-272-1566    
---
STUMPED FOR THAT SPECIAL GIFT IDEA?

GIVE 
A GIFT CARD 
for
Any Occasion!
Gift Cards can be used for any of our Carpet, Rug, Furniture, or Tile & Grout cleaning services

Gift Cards do not expire until December 2018
CALL TODAY TO ORDER A GIFT CARD 

607-272-1566

Limit of 1 gift card per visit/work order.
Some services may not be available in all areas.

---
IT'S WHAT WE DO...

---
NEW SERVICE AREA!!

FREE PICK UP & DELIVERY
NOW BEING OFFERED
IN THE
FOLLOWING AREAS:

ELMIRA
HORSEHEADS
BIG FLATS
CORNING
Some restrictions may apply. Please call our office at 607-272-1566 to schedule.

Click here for our Pick Up & Delivery Policy.

---
Looking For RUGS FOR SALE...
Click Here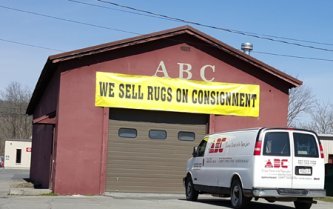 ---
Over 48 Years in Business
in Ithaca,Tompkins County &
Surrounding Areas!
---
We are a Certified Professional Firm with expertise in all areas of Cleaning and Maintenance of Oriental and Area Rugs on our premises as well as the Wall-to-Wall Carpets, Upholstered Furniture, and Tile and Grout in your home or office.

Always Free Estimates and Evaluations
---
GIFT CERTIFICATES ARE AVAILABLE
JUST CALL TO ORDER  
607-272-1566
OR STOP IN at
130 Cecil Malone Drive, Ithaca, NY
---
---
LOOKING for Our LATEST DISCOUNTS?

Just Click on the image below. 
---
ABC is locally owned and operates in an easily accessible building in downtown Ithaca, NY. We are the only regional oriental rug cleaner. All our rug repairs are done by hand on our premises.

And... We're all "GREEN"...

ABC uses Hypo-Allergenic Cleaning Products.

No perfumes.
No hazardous volatile organic compounds or VOCs.
No solvents or other hazardous products.
No phosphates.
Biodegradable.
Environmentally safe.

All of our products are made from plant and renewable resources.  Our cleaning is safe for everyone – pets, children and the environment.  It matters to us.  We want to protect our employees as well as our customers.

---
---
We welcome you to explore ABC Oriental Rug using the searchbox below...

---