Area and Oriental Rug Cleaning in Our Plant
at ABC
Area rug cleaning in our cleaning plant at ABC utilizes special rug rinsing and wringing equipment that is specifically designed for area rugs. When you bring your oriental rug, machine-made nylon, polyester, olefin, wool, acrylic, and synthetic blended rugs to our plant, our staff will treat your rugs as if they were all fine hand-made rugs.
All area and oriental rugs are subject to our pre-cleaning inspection which is explained to the customer.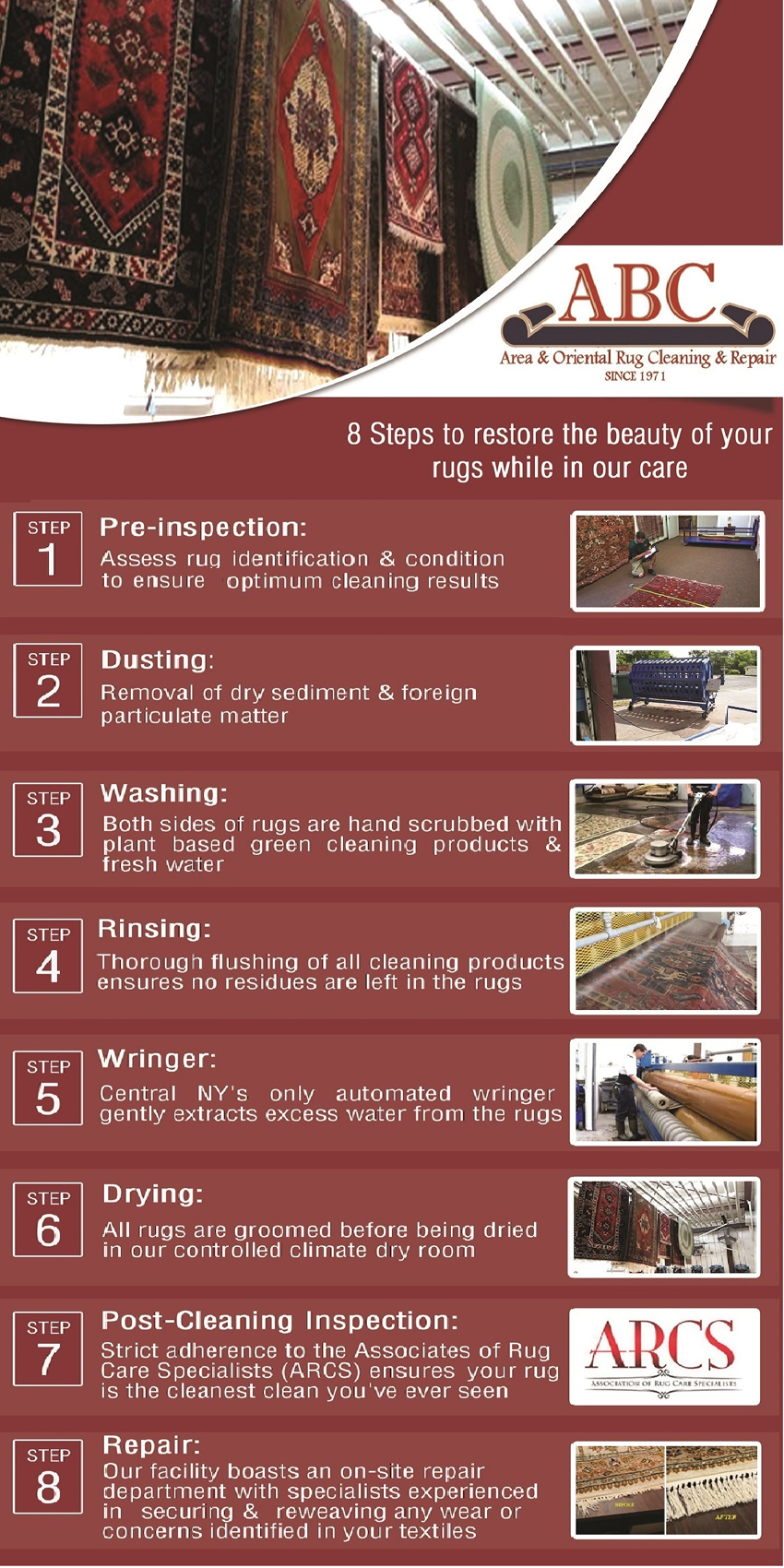 ABC's Area Rug Cleaning Process

Without boring you with our chemical formulas (non-toxic and bio-degradable) or our specific washing techniques learned through years of business, we can provide you with a description of our general washing process used in area rug cleaning as follows:
Rugs are pre-inspected for any possible problems that may arise  while cleaning such as dye runs, insect pests, urine, etc.

Rugs are thoroughly 'dusted' to remove dry particulate soil.

Dyes are stabilized for washing.

The rug is scrubbed with a gentle detergent to loosen soils and oils.

Spots are addressed.

Fringes are treated and then rinsed thoroughly.

The rug is flushed and thoroughly rinsed of all residual cleaning  and treating solutions.

The water is wrung out through 16' rollers.

The rug is brushed to set the pile in the appropriate direction.

The rug is dried in a temperature-controlled drying room.

After the rug is completely dry, the rug will be inspected. If it does not pass inspection, it will be washed again at no additional charge.

If a rug is in need of repairs, our specialists are ready to suggest appropriate repair options.
How Long Does Your Rug Need to Be in Our Plant For Cleaning?
Our normal 'turn-around' time for our area rug cleaning is approximately 3 to 5 business days. This varies depending on the soil level, the fiber type, and the type of cleaning process.
If there is a need to have your rug(s) back sooner, please make us aware of this and we will do our best to accommodate your time schedule by placing a rush order tag on the rug for you. (Additional Charge)
How Should I Care For My Area Rug(s) between Cleanings?
Padding (Underlayment or Cushion)
Always place a high quality pad under all rugs, being careful to choose the type of pad that is suitable for the type of surface on which the rug will be displayed. The pad will aid in the prevention of premature wear or damage caused by regular traffic. Please see our rug pads for detailed information on the underlayment we recommend and sell.
Spotting

Don't forget to download our free Spotting Guide (form on the upper right) to learn how to remove most spots with ordinary household solutions.
Always address any spills as soon as possible with a white cotton towel or other absorbent material. Absorb or tamp as much of the liquid up as possible.
Once you are sure no more of the spill can be soaked up, use a gentle, preferably neutral, detergent solution to attempt a spot removal. Please be sure to download our ABC Spotting Guide for the appropriate mixtures and directions for specific spot removals.
Do not use any over the counter or supermarket cleaners or spotting agents on your rugs as they can loosen dyes, remove dyes, or, in some cases, severely damage the fiber. Our own ABC Spotting Solution for sale in our office.
If you have any questions, Please CALL OR TEXT OUR OFFICE at 607-272-1566 FOR FREE GUIDANCE!
Vacuuming
Vacuuming on a consistent basis will aid in the longevity of all your area rugs, both natural and synthetic fibers. Wool rugs especially, due to the composition of the outer layer of the wool fiber, trap large amounts of dry particulate matter. This abrasive and damaging matter can be removed by vacuuming. In fact, up to 80% of dry particulate matter can be removed from a rug through regular vacuuming. During ABC area rug cleaning, the rugs are thoroughly vacuumed both before and after cleaning.
Be sure to keep vacuums away from fringes, as over time the brush rolls can 'chew' up the fringe. Please note: When vacuuming oriental rugs and other area rugs with fringe, vacuum from side to side (opposite the fringes). This will save the fringes from being pulled up into the vacuum which can damage the fringes and even the vacuum.
We have fringe rakes for sale in our plant, which can be used to remove soil from the fringes and also straighten them (without having to bend over!).
Rotation of Rugs
Rugs should also be rotated periodically to balance out sunfading and to keep the traffic pattern distributed to all areas of the rug.
Moths and Other Insects

Although moths can feed on mixtures of natural and synthetic fibers, they cannot feed on materials made solely of synthetic fibers. Moths have been found infesting synthetic fibers which have pollen, hair, dead insects, and dried animal remains on them. 
Please see our articles on Textile Insects in rugs, Special Rug Treatments, Dust Mites. Bedbugs, and Carpet Beetles for more information.
Plants or Flowerpots
Live plants and flowers requiring water should never be placed directly on any rug. Dampness from the bottom of the pots will cause mildew and rot, gradually destroying the fibers and foundation of the rug and resulting in drastic damage to the rug (see Dry Rot).
Plants should be in a stand, preferably on wheels, with space between the pot and the rug, allowing air to circulate. Use a container under the flowerpot to avoid water dripping onto the rug.
Storage of Synthetic Rugs
After going through the area rug cleaning process in our plant, synthetic rugs can be stored anywhere household furnishings can be stored but should be wrapped in special paper such as Tyvek before storage.
For additional information on rug storage, as well as shipping, on all types of rugs, please see our article, Safe Rug Storage.
---
ABC's
PICK UP and DELIVERY POLICY

Please click here for our pick up and delivery policy.
---
ABC's SERVICE AREA for PICK UP and DELIVERY
Please click here for the list of our service areas.

Any orders picked up and delivered by ABC do not qualify for any in plant cleaning discounts unless specifically stated in the Discounts section of this website. If you have any questions, please call or text our office at 607-272-1566.
If you do not live in our service area, please feel free to call or text our office at 607-272-1566 and arrange to send us your rugs by mail or through a delivery service such as Fed Ex or UPS.
---
---
"The Cleanest Clean You've Ever Seen."
by
ABC Oriental Rug & Carpet Cleaning Co.
130 Cecil Malone Drive Ithaca, NY 14850
607-272-1566