Textile Insects in Rugs:  What They Are and How to Prevent Them
TEXTILE INSECTS SUCH AS CARPET BEETLES and MOTHS DO NOT ONLY ATTACK WOOL and SILK!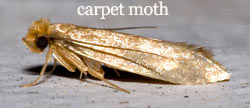 It is important to remember that textile insects such as carpet beetles and clothes moths can digest protein fibers such as wool, silk, and specialty hair fibers, but they can also be found on synthetic fibers if they contain protein substances.
This means carpet, rugs, draperies, and upholstery made from nylon, acrylic, polyester, acetate, and other synthetics can harbor these insects if they contain food or beverage stains, blood, urine, perspiration or other sources of nutritional protein.
OTHER COMMON TEXTILE INSECTS THAT CAN DAMAGE YOUR HOME FURNISHINGS:
Silverfish and Firebrats are pests that attack carbohydrates. They eat the paste on wallpaper and book bindings as well as starched clothing. Silverfish will also feed on silk textiles.
Termites digest cellulosic materials including wood and carpet backings in addition to yarns made of jute and cotton.
Fleas can lay their eggs in the carpet pile and backing. A thorough, professional carpet cleaning will kill all the adults but cannot kill all the eggs. For this reason, whenever there is a flea infestation in the home or business environment, we recommend calling a professional pest remover before getting your carpets cleaned or while your rugs are at our plant for decontamination and cleaning. The first visit will remove the adults and a residual treatment will kill the fleas hatching from the eggs. This usually requires at least a 2 week waiting period.
Dust Mites are microscopic, eight-legged creatures that are invisible to the naked eye. (7,000 can fit on a fingernail!) It is the dust mite feces that are the main cause of the development and aggravation of allergies.  A dust mite will produce 200 times its own body weight in feces during its short lifetime! Dust mites cannot be removed from beds (their favorite place) by most vacuums. If you find you are allergic to dust mites, professional treatment may be required.
OTHER INSECT PESTS
There are, of course, many other insect pests that can invade our home environments and wreak havoc on our textile furnishings and our health as well. These include ticks, body lice, cockroaches, flies, wasps, spiders, ants, hornets, pill bugs, mosquitoes, centipedes, gnats, etc.
Each of these pests may require special treatments and some may require a call to a licensed pest control operator to rid them from your home environment, but there is a way to prevent an infestation and inhibit growth of most insects...
KEEP TEXTILE FURNISHINGS CLEAN!
Spills should be removed as soon as possible.

Carpet, rugs, draperies, upholstery, etc., should be vacuumed or brushed and cleaned regularly as insects do not generally attack clean materials.

Regular dry cleaning of drapery and clothing will also decrease the chances of infestation because dry cleaning solvent is toxic to most of these pests.

Regular carpet and rug cleaning will remove the nutritional contaminants that can attract and support insects.
If an infestation has already occurred, please consult our office at 272-1566 or a licensed pest control operator who is experienced in treating textile products for insect control.
Please click here for our Pick Up and Delivery Policy and our Pick Up and Delivery Service Areas.
If you do not live in our service area, please feel free to call or text our office at 607-272-1566 and arrange to send us your rugs by mail or through a delivery service such as Fed Ex or UPS.
For more information, please see Rug Tips, Textile Insects on this site. For more information about moths, please see Moths on this site.
---
Top of Textile Insects in Rugs
---
"The Cleanest Clean You've Ever Seen."
by
ABC Oriental Rug & Carpet Cleaning Co.
130 Cecil Malone Drive Ithaca, NY 14850
607-272-1566