Rug Pads
for Your
Oriental & Area Rugs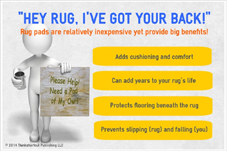 Why Rug Pads?
Rug pads and oriental and area rugs should go hand in hand. Our policy at ABC is to suggest that the majority of rugs that come into our plant for cleaning should be placed on specialized pads when returned to the home or work environment. There are several reasons for this.
Rug pads:
Add cushioning and comfort for you by providing structural support, protecting rugs from premature wear while cushioning the impact of foot traffic.

Can add years to the life of a rug.

Protect the flooring beneath the rug as well.

Prevent the rug from slipping and you from falling.

Limit the space between the rug and the floor which may deter insect infestations, such as moths.



THE RUG PADS AT ABC
WunderGRIP RUG PAD

This is our most popular rug underlayment. We highly recommend it for use with fine oriental rugs and most rugs that are placed on hardwood floors.

WunderGRIP is constructed of 100% pure vinyl with 3600 gripper/shock absorbers per square foot to keep rugs firmly in place over smooth floors. The impact resistance it provides means a longer pile life for your rug. Rugs will not be strained by shimmying or shifting.

The open construction allows the rug to breathe, evaporating moisture immediately. This pad protects both the rug foundation and the floor beneath. Dirt and dust particles fall to the floor into the holes of the construction where they sit until removed. They cannot abrade the foundation of the rug or the floor. This feature makes it easier to vacuum as well because there is not as much dirt buildup on the rug pile. Just periodically roll up both the rug and the pad in place and simply sweep out the dirt.

This is the

 perfect pad for allergy sufferers because it is guaranteed not to off-gas. 

It passes the European Union's 'Green Standard.'

 

WunderGRIP will not stick to your floors. 

You may safely use this pad on heated floors as well.

The pad is warranted to maintain all non-slip properties for 20 years. 

Moreover, it is washable, which will extend both the rug and pad life. We can clean your WunderGRIP pads in our plant or you can simply put smaller pads in the washer (not the dryer!) or hose off large pads in your driveway. 
---
WunderFIRM RUG PAD

WunderFIRM is a carpet cushion for area rugs that lay flat on top of grout lines in tile and mortar joints, as well as on warped hardwood floors. 
---
WunderLOCK RUG PAD

The WunderLock rug pad is guaranteed to hold any rug on wall-to-wall carpet and actually adds to the life of both the rug and the carpet by reducing friction.

WunderLock is constructed with a 'dry' adhesive that will adhere to any textile surface but is not transferable and is non-aggressive. 

It is specially knitted so as not to leave fibers on wall-to-wall carpeting or on the bottom of an area rug. 

It will keep corners from curling up and traveling along carpeting as well.
You can easily apply this product to a rug or, for an additional fee, we can apply it for you. The only disadvantage to this product is that the pad must be removed from the rug before the rug can be cleaned. Once the pad is removed, it loses its ability to adhere and will have to be replaced each time the rug is cleaned in our plant.
---
NO-MUV RUG PAD

No-Muv is a pad specifically designed for when oriental or area rugs are used on top of wall-to-wall carpet. This pad prevents the rugs from wrinkling on the carpet.

It will not shred.

It is hypoallergenic and completely synthetic with no plant or animal fibers to aggravate allergies.

The upper surface holds the rug, preventing it from wrinkling and bunching.

It has a specially stiffened lower surface which grips the carpet, preventing creeping.

The tough consistent construction provides maximum cushion effect for minimum wear and a longer rug life.
---
GRIP-IT DOUBLE GRIP BLACK RUG PAD

Grip-It Double Grip Black is a low profile, high performance needle-punch rubber backed non-slip rug pad with maximum gripping power for both rugs on hard-surfaces and rugs on carpet.

This pad is an economical solution without compromising quality and is perfect for applications that do not require extra cushion. 

It is designed for use under rugs of any kind and helps prevent premature wear.

The Grip-It Double Grip Black rug pad is guaranteed to maintain its 'non-slip' properties for 10 years with proper maintenance.
---
GRIP-IT DOUBLE GRIP PLUSH RUG PAD
Grip-It Double Grip Plush is made from a superior quality polyester fabric coated with a high-grade vinyl compound which gives the pad a luxurious feel and supports the rug evenly to help retain its appearance.

---
Call Today to Order!
At ABC, our quality pads carry replacement warranties from 10 to 20 years and are custom cut here in our plant to your rugs' dimensions. The particular pad we suggest will depend on whether the rug is to be placed on a tile or wood floor or on top of wall-to-wall carpeting.
Don't forget that your oriental and area rugs need regular cleaning as well as the pads under them so you can enjoy their beauty for years to come.

A rug pad designed and sized specially for your area or oriental rugs is the protection they need and deserve. Call or text our office today at (607)-272-1566 for more information or to order a rug pad cut to size.  You can also contact us here.
---
---
"The Cleanest Clean You've Ever Seen."
by
ABC Oriental Rug & Carpet Cleaning Co.
130 Cecil Malone Drive Ithaca, NY 14850
607-272-1566