Rugs for Sale!
---
CHECK THIS OUT...

We are pleased to be part of the new online directory of Secondhand Shopping in Tompkins County:
You can find our listing in the directory under Antiques & Collectibles and Home & Furnishings or just click here.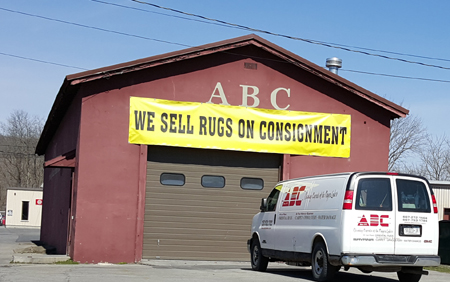 Several years ago we had a very successful Unclaimed (Abandoned) Rug Sale. We now know that rugs for sale at reasonable prices are something we can offer to our customers on a regular basis.
CONSIGNMENT RUGS FOR SALE
We will continue to offer unclaimed and abandoned rugs for sale if and whenever they become available. However, in response to customer demand for a variety of area rugs for sale, we are now taking rugs in to sell on consignment. 
We will hang them and encourage potential buyers to come into our offices to view the rugs we take in. The pictures will be posted on on this page and on our Facebook page (www.facebook.com/abcorientalrug).
The rug owner will choose the sale price with ABCs guidance. Any negotiations will take place between the owner and the potential buyer. ABC will take a percentage of each sale. 
Don't take chances allowing strangers to come to your home. Let ABC sell your unwanted rug for you!
PLEASE NOTE:  We reserve the right to decline any rug offered for sale on consignment. We will not attempt to sell Tufted Rugs (rugs with a backing).

Looking for a rug? Scroll Down for Photos...
A picture may be worth a thousand words, but these rugs are best viewed in person at our office. Please feel free to come during our work hours to view these rugs.
HELP!

WE ARE ALMOST SOLD OUT
of
CONSIGNMENT RUGS!   
Selling rugs on consignment has been a huge success and truly a win-win solution for all!

There is only one catch...
We need to constantly replenish our rug supply!    
Do you know someone who is downsizing, changing home décor or looking for good quality area rugs at a reasonable price for a home or office?
Do you have a rug you no longer want?
Are you looking for a rug to buy at a reasonable price?                  
YOU MAY BE ELIGIBLE TO RECEIVE A DISCOUNT OFF
THE CLEANING OF ANY RUG LEFT TO BE SOLD ON CONSIGNMENT!
Call our office at 607-272-1566 for more info.

Help us to continue this worthwhile service. 
ABC RUG CONSIGNMENT POLICY
As of August 1, 2016, the following Rug Consignment Policy will be in effect...
Our consignment fee will be at 30% for the first 3 months your rug is displayed at our offices.
The consignment fee will be at 40% for the 4th month.
The consignment fee will be at 50% for the 5th and 6th months.
If the rug is not sold at the completion of 6 months, the owner will be notified the rug must be picked up within 1 week. 
If the unsold rug is not picked up within 1 week, storage fees will begin to accrue.
After 90 days, if the unsold rug has not been picked up, it will become the property of ABC and may be sold to recoup costs or destroyed.
Our consignment fee ensures labor for staging and hanging your rug, maintaining insurance and moth protection, promoting your rug to walk-in customers, and maintaining this page on our website.
If you have any questions, please feel free to call us at 607-272-1566.
You may also contact us here.
DO YOU HAVE A RUG YOU WOULD LIKE TO SELL?
This page is also available for customers who have rugs they would like to sell. Please call our office at 607-272-1566 for more information.

CURRENT RUGS FOR SALE
---
---
---