More Customer Reviews
---
We have been using ABC Oriental Rug & Carpet rug cleaning services for a couple of years because of my treasured rugs from Afghanistan. Also we have little dogs who are not always trustworthy when the weather gets brutally cold outside. I rely on ABC to keep the rugs in good condition. They have been great at cleaning and restoring our beautiful rugs to their original state and are always ready to pick up when they promise. For all that they do they are reasonable priced too!

Victoria M.
Homeowner
---
Thank you Vanessa and ABC staff for a great job on repairs and cleaning of our beloved carpets.
Jason C.
Homeowner
---
We picked up our rug last Thursday after cleaning and repair. We are very pleased! Looks great, smells so much better, and happy with the repair to the fringe. Thank you!
Ellen C.
Homeowner
---
Thank you for a great job on our Oriental rugs, especially the largest one (blue & beige) which was very stained!
Kay R.
Homeowner

---
Received this adorable thank you note!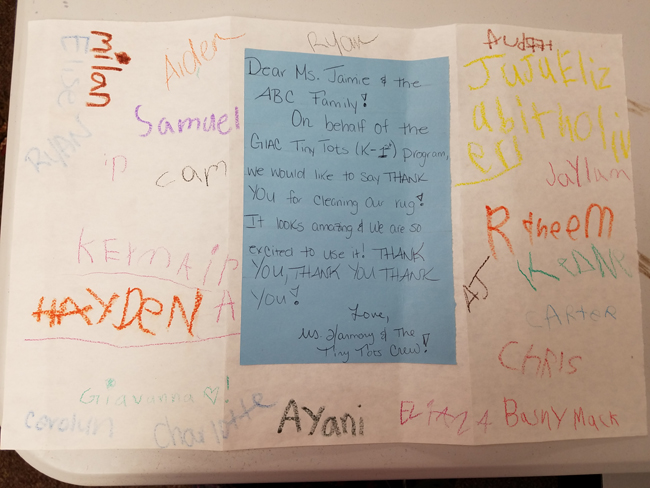 ---
We are so proud to be a sponsor of the Cornell University Veterinary School...

---
ABC Carpet Cleaning was very professional from the initial phone contact to the cleaning itself. The gentleman who performed the cleaning was very hard working and did an excellent job removing stains in our office which was really spotty from our workers walking in with muddy boots.

We are a construction company with moderate in & out traffic but some the stains I thought would never come out. The man pre-treated the stains and much to our surprise, they are barely visible or completely gone! This was my first time using ABC but I will use again for sure!
Tracy P.
Business Owner
---
Over the past 2-3 years ABC has cleaned multiple oriental rugs for us in-plant.

The folks at ABC are very knowledgeable and pleasant to deal with. They were able to remove bright orange squash stains from an off-white rug without causing damage, and in general have done a fantastic job cleaning rugs for us.
At this point we have easily had 15 rugs cleaned to our satisfaction, and we keep going back. We find the prices to be reasonable, and won't take our valuable rugs anywhere else.
Deirdre N.
Homeowner (from a major customer review site)
---
I just wanted to call to say how wonderful the pad you sold me is. It works exactly as I needed it to and I am thrilled! Thank you so much.

Cornelius O.
Chef
---
We had our rug in the living room cleaned. Steve was the person that was cleaning our rug and he was very professional and thorough. The rug looks brand new. I would recommend ABC to anyone.

Sharon B.
Retired Homeowner
---
Dear Ken,

S. and I want to thank you for the beautiful cleaning job you did on our chair cushion. It meant so much to have it back to normal. You did an outstanding job. The chair is still very young so we were happy to have it normal again.
Ruth L.
Retired Business Owner
---
You folks are some of the best professionals I have dealt with in a long time. It is a joy to work with you.

Sheila D.
Homeowner
---
May 14
Last year, I brought in a large Persian rug for cleaning and mending. It had endured several generations of dogs, and had an awful, musty odor in warm weather. I was delighted to find that you have a process for cleaning out the old urine crystals---and it works beautifully! Through your thorough and careful treatments, you've salvaged this beautiful old rug, and I wish I had known of your company earlier.
Will be bringing in some other family heirlooms soon.

Dorothy L.
Professor
---
Thanks for the excellent job in cleaning our three very, very dirty Karastan carpets. The colors just pop and they feel so very soft. We could not be happier with the results. Also very nice folks to deal with - responsive to your needs and a very good turn around time. We highly recommend ABC and will continue to be a return customer!

Pat K.
Homeowner
---
The carpets look 'Fantastic!' People came up to me without my asking to tell me how great the carpets look!

Rob R.
Business Manager
---
Tim did a great job! We are very pleased and we will be calling in the Spring for more work for him to do at our house.

Carolyn P.
Homeowner
---
Steve did a great job. No complaints from me. He was very professional and had a good plan when he arrived. Thanks again.

Tim P.
Administrator-Cornell University
---
Thank you. Beautiful work on the rug you just cleaned for us.

Chuck G.
Home Owner
---
H & K -

Good to see Tim again. Sorry many are out sick today but always glad to see him. He is so professional, pleasant and a hard worker!
Thank you.
Dawn K.
Home Owner
---
Dear Harriet,

The high quality of your service demands this note of praise and thanks. As a customer of your in-store cleaning of oriental rugs first, I recently turned to you for in-home wall-to-wall carpets. The work was scheduled in a matter of days, the price was terrific, and Chris and Tim were courteous, careful and thorough. The rugs look fabulous!
It is wonderful to benefit from cheerful and consistent service.
Victoria P.
Home Owner
---
Good morning Harriet!

I just wanted to thank you for the wonderful job that was done on my carpets yesterday! I was thrilled that my area carpet could also be cleaned where the baby will be crawling and the hall and TV room carpeting looks like new!
Steve was one of the best technicians I have ever had. He was very personable, explained many things to me about the carpeting and always had a smile and good conversation. I was very pleased to have the printed information and he was very thorough in explaining them to me so I am now educated as to how to have a longer carpet life.
Steve explained the tile and grout cleaning that you now offer. That service wasn't available a few years ago and we may be placing our home on the market in a year or two and that service will come in very handy.
Thank you so much for your continued high quality of service and attention to detail.
Cathy J.
Home Owner

---
Thank you Ken and Harriet! It was a Great Job!!

Dan M.
Self-Employed Homeowner

---
Ken and his crew cleaned a rug that had years of dust and dirt ground into it. They went above and beyond to get it clean, and now I am using it in my dining room. Thanks so much, Ken.

Melanie M.
Homeowner

---
I wanted to let you know that Steve did an excellent job on Saturday. He called ahead, was knowledgeable and most importantly did a great job. The carpet looks drastically better than before!

Ben H.
Business Owner
---
...the carpets & cushions look gorgeous! Thank you for all your time, support and sympathy. It truly made a difference during that highly unfortunate event!
Anna S.
Homeowner

---
Thanks for such quick service!
Susan M.
Homeowner

---
...I want to express my complete satisfaction with the carpet cleaning that Steve C. did for me yesterday. It was obvious that he was sincerely interested in doing the best job possible. It was a pleasure to have him in my home and I look forward to requesting him for my future carpet cleaning. Sincerely,

Mary H.
Homeowner
---
Steve did a great job!
Rose P.
Homeowner and Business Owner

---
Our rug looks fabulous AND it's always a pleasure doing business with you!
Kitty T.
Homeowner
Tim and Chris were very courteous, worked quickly and did a great job. I am very happy.
Eric H.
Apartment Dweller
---
---
"The Cleanest Clean You've Ever Seen."
by
ABC Oriental Rug & Carpet Cleaning Co.
130 Cecil Malone Drive Ithaca, NY 14850
607-272-1566