MAKE ROOM for RUGS!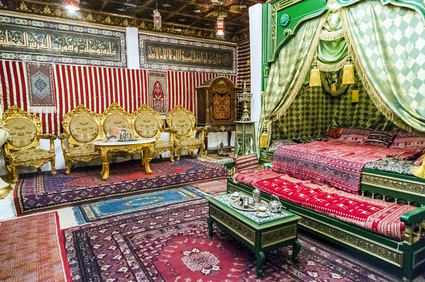 If you ever find yourself in the enviable position of having to make room for rugs in your home, this article is for you. With so many homeowners replacing some or all of their wall-to-wall carpets with hardwood, ceramic tile or other hard flooring, the task of choosing just the right rug for any area in your home can be a bit overwhelming.     
There are so many reasons for wanting area rugs in your home—comfort, beauty, and harmony are just a few. Or maybe just filling up floor space!
Choosing even one rug can be a daunting task when so many sizes, colors, and designs abound with such differences in construction and quality. If you need to fill several areas… Well, this lovely problem is then compounded!     
If you can match the size, color, and design you want in a rug with the type, construction, and quality you need for a certain area in your home, you are ready to make room for rugs. Even if you only need 1 or 2 rugs, here are some ideas to help you get started:
LET'S MAKE ROOM FOR RUGS!
ENTRYWAY
This area will most likely need a durable rug on a non-slip pad. Because it might have to go under a door, the thickness of the rug and pad may be a concern. A long entry hall could use a brightly colored, large design to break up the monotony of the long walls. Small entry areas may require more muted colors and designs to blend in and give the appearance of a somewhat larger area. Since entries and halls typically have less light, a lighter-colored rug may work best in an entry.
LIVING ROOM
Furniture placement, either on or off a rug, is of most importance here. Also, make sure you won't be blocking any heating or air vents. Most rugs will be shown best if they can be placed a short distance from the walls. The fun part comes when choosing colors and designs to complement or contrast the furniture and/or paintings or other objects on the walls and in the room.
DINING ROOM
To make room for rugs in this room, there is a special requirement. The rug must be large enough so that the chairs can be moved in and out without touching the floor to protect the floors and the edges of the rug.
The minimum size of a rug under a table and chairs in a dining room is 8x10. The larger the table, the larger the rug. For utmost protection, choose a rug with edges that are securely constructed.

Since most of the rug will be under the table, an all-over design may work best to bring out the beauty of the rug while possibly choosing a rug with just one major color may provide harmony and calm. 
BEDROOM
Here you can go all out with an extra thick and luxurious rug! This may also be the perfect place for a beautiful oriental rug, especially since eating, drinking, and shoes don't usually happen here. Some people enjoy intense color while others may prefer something warm, subtle, and more restful for the bedroom. If your bedroom is large, you may want to focus on each side of the bed with a small handmade rug, and/or a rug in front of the bed.
BATHROOM
This area might be better left to synthetic rubber-backed machine-made rugs that can be washed in the washing machine and hung to dry. A rug made of wool, whether machine-made or handmade must be kept completely dry in order to avoid damage from mold and mildew. That is because wool fiber can hold up to 30% of its weight in water and still feel dry. Nonetheless, the beauty of an oriental rug (as long as you are aware of any problems that may arise from dampness and humidity) would be a welcome addition to brighten any bathroom.
STAIRS
Rugs on stairs help to dampen sound. A staircase with nice wooden floors will always be beautifully enhanced by an oriental or oriental-style machine made rug running up the middle of the stairs. Proper installation by a professional is a must. 

KITCHEN
Yes, you can even make room for rugs in the kitchen! An oriental rug can be the focal point that breaks up the monotony of the cabinets and can bring the colors of the kitchen together in harmony. Caution: A rug that is used in front of the sink may be prone to damage from food and drink spills. This is not an ideal place for a wool rug or an oriental and the rug will need cleaning more often, (although a stain protector applied after cleaning would be helpful.)
OFFICE
Just the right rug can bring an atmosphere of comfort to an office area and an invitation to relax and enjoy your work. Do not place a rug directly under a desk chair unless it is a very tightly woven handmade rug or an extremely durable machine-made rug.
OTHER AREAS
If you have rugs that you may not want to walk on, hang them over banisters, on library tables, over sofas, as bedspreads, etc.
Don't forget your walls for hanging beautiful rugs. For more information on hanging rugs, please read here.
CARE FOR YOUR RUGS
We hope this article offered a bit of insight on how to make room for rugs in your home. Area rugs, whether handmade or machine-made, should be professionally cleaned every 3 to 5 years or sooner if the degree of usage requires it.
All wool rugs should be checked periodically (both front and back) for moth and carpet beetle infestations. This is especially important in areas where the rugs may be hidden, such as under a sofa or bed, etc. or in areas not used regularly.
RUG CLEANING AT ABC
At ABC we treat all area rugs as if they were valuable handmade rugs. We also offer advice on rugs you may be considering for purchase.
We also sell rugs our customers leave on consignment with us. They are all cleaned and treated before selling and most of them are hung on our office walls. Click here for more information.
And don't forget we also have available a wide range of repairs for area rugs. If you have a rug that has seen better days, bring it in and let us show you how we can extend its useful life.
You may call or text us at (607) 272-1566 or contact us here.
---
---
"The Cleanest Clean You've Ever Seen."
by
ABC Oriental Rug & Carpet Cleaning Co.
130 Cecil Malone Drive Ithaca, NY 14850
607-272-1566