DIY GREEN CLEANING
'DIY green cleaning', 'environmentally friendly', 'non-toxic,' etc., have become watchwords for today's savvy consumers. The toxic chemicals that can be found in so many of our commercial cleaning solutions and sprays have been suspected of causing serious problems from allergies to cancer. Babies, young children, and older adults may especially be at risk.
Why Use Toxic Chemicals?
So why use these toxic chemicals if a combination of some everyday household ingredients will produce the same or better results?
At ABC, we are committed to cleaning with non-toxic, plant-based cleaning solutions because we care about our customers and their families, our employees, and the environment. As part of this commitment, we wish to make our customers aware of ways they can reduce their use of toxic chemicals when it comes to everyday cleaning chores.

An Interesting Article
A very interesting article was posted online from Penn Jersey Building Services. The article states...'Most household cleaning products are harmful to children. According to research done by the University of Minnesota, several chemicals found in the home are linked to allergies'. 
The article goes on to say...'They cause birth defects, cancer, and psychological disorders. The Consumer Protection Safety Commission states that since 1970, asthma cases have increased by 59 percent. Children under 15 years of age have suffered from asthma at a higher rate of 41 percent. The data is alarming to healthcare professionals.'
The article suggests avoiding chemicals such as formaldehyde and sodium laurel sulphate. The article also cautions against using ammonia, which can actually be useful in DIY green cleaning. It is extremely important to use ammonia only as directed and in small amounts. Never mix ammonia and bleach in any cleaning operation!
The above-mentioned article offers some suggestions for non-toxic cleaning, as well as several supporting articles for further reading. It can be found by clicking here.
DIY Green Cleaning Articles




on Our ABC Website..

.

On this website, we have written several articles about the hazards of using certain chemicals when cleaning in the home and work environment. (Chlorine bleach is one that should be avoided).

There are substitutions for toxic cleaning chemicals that can be just as effective at cleaning and killing bacteria, and that are environmentally friendly green cleaning solutions as well. Below is a list with links to these articles...

Antibacterial Products-Reasons Why NOT to Use Them!

Chlorine Bleach-Health Hazards of Mixing with Other Products


What's in YOUR Green Cleaning Arsenal?

10 Germ Magnets Lurking in Some Ordinary Places in Your Home

Please feel free to browse through the articles and, as always, if you have any questions, please contact us or call our office at 607-272-1566.
Download Our ABC Spotting Guide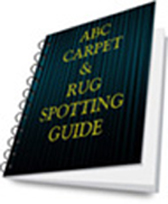 Please check out our video about DIY Green Cleaning by clicking here.
The video explains how to use the ABC Spotting Guide which can be downloaded here.
---
---
"The Cleanest Clean You've Ever Seen."
by
ABC Oriental Rug & Carpet Cleaning Co.
130 Cecil Malone Drive Ithaca, NY 14850
607-272-1566