CHLORINE BLEACH-
HEALTH HAZARDS OF MIXING WITH SOME OTHER COMMON HOUSEHOLD PRODUCTS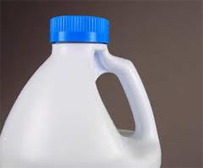 Chlorine bleach, which contains the active ingredient Sodium hypochlorite, is one of the most important and probably one of the most widely used common cleaning products in the home.
At ABC, we offer suggestions for in-home cleaning with common 'natural' cleaners vs. commercial cleaners which may contain toxic chemicals. However, it is important to remember that certain of those 'natural' cleaners should NEVER be used together, or dire health consequences could occur. 
READ LABELS FIRST!
It is of utmost importance to understand that many other household cleaning products may contain bleach (one such example is pool chemicals) and window and glass cleaners may contain ammonia, so it is extremely important to read the labels of all products before using.

MIXING CHLORINE BLEACH
WITH AMMONIA OR ACIDS
Bleach should never be used with AMMONIA or ACIDS or any product containing either of these.
PRODUCTS THAT MAY CONTAIN AMMONIA
Various glass and window cleaners

Urine such as in diapers pails and cat litter boxes

Some interior and exterior paints
PRODUCTS THAT MAY CONTAIN ACIDS
Vinegar

Various glass and window cleaners

Certain automatic dishwasher detergents and rinses

Some toilet bowl cleaners

Some drain cleaners (NEVER USE 2 DRAIN CLEANERS TOGETHER or ONE DRAIN CLEANER AFTER THE OTHER!)

Some lime, calcium, and rust removal products

Some brick and concrete cleaners
ADDITIONAL PRODUCTS THAT MAY CAUSE REACTIONS WITH CHLORINE
Some oven cleaners

Hydrogen peroxide

Some insecticides

WHAT ARE THE HEALTH HAZARDS?
Toxic gases are produced. Exposure to these gases can cause the following to occur:
MIXING WITH AMMONIA (chloramines)
Coughing

Shortness of breath

Chest pain

Wheezing

Nausea

Watery eyes

Irritation to throat, nose, and eyes

Pneumonia and fluid in the lungs
MIXING WITH ACIDS
This will produce chlorine gas. Chlorine gas + water=hydrochloric and hypochlorous acids:
At low levels:

Irritation to mucous membranes (eyes, throat, and nose)

Coughing and breathing problems

Burning and water eyes

Runny nose
At higher levels:
Chest pain

Severe breathing difficulties

Vomiting

Pneumonia and fluid in the lungs
At very high levels:
NOTE: Chlorine can also be absorbed through the skin causing pain, inflammation, swelling, and blistering. Hydrochloric acid causes burns to the skin, eyes, nose, throat, mouth, and lungs.
MIXING WITH RUBBING ALCOHOL
Chloroform could be produced if the above items should be used together.
The active ingredient in chlorine bleach, sodium hypochlorite, produces a negative reaction with isopropyl alcohol (rubbing Alcohol) or ethanol.
WHAT TO DO IN AN EMERGENCY
In any emergency, please call 911. You can also call your local poison control center or your local hospital emergency department.
---
Top of Chlorine Bleach-Hazards of Mixing
---
"The Cleanest Clean You've Ever Seen."
by
ABC Oriental Rug & Carpet Cleaning Co.
130 Cecil Malone Drive Ithaca, NY 14850
607-272-1566