PET FRIENDLY
UPHOLSTERY FABRIC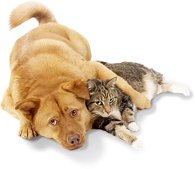 Choosing the most sensible pet friendly upholstery fabric for a home shared with cats and dogs can be daunting. Obviously, pet hair can be a major nuisance. But hair is not the only type of havoc our pets can wreak on our furniture. Scratching, chewing, and drooling are always a possibility. Add urine, feces, and vomit and it becomes clear the type of upholstery fabric a responsible pet owner chooses will help to determine how comfortably the owner and the pets are able to share the same space. 
Pets require a long-term commitment from us. If we carefully choose the type of pet friendly upholstery fabric that will stand up well to their natural instincts, we will go a long way towards providing them a home we all can share comfortably and one we can be proud to entertain family and friends in as well.
CHOOSING PET FRIENDLY UPHOLSTERY FABRIC
One of the most important points to consider when looking for pet friendly upholstery fabric is the tightness of the weave. The tighter the weave, the easier it will be to remove pet hair and the hair does not get embedded. Scratch marks are also fairly easy to brush off or buff out. Spills usually bead up before being absorbed by the fabric, making them easier to clean. Tighter weaves are also much more durable than more open or larger weaves and they don't tend to fray and wear as easily.
Additionally, if new upholstery has a fabric tag or label (on the decking which holds the cushions), check the cleaning codes. S is for solvent or dry cleaning, W is for water-based cleaning and S-W can be cleaned with either dry or wet cleaning. An X means the fabric can only be vacuumed. Your choice for a pet friendly fabric should be the W code.
QUESTIONS TO ASK
WHEN SEEKING
PET FRIENDLY UPHOLSTERY FABRIC
PET HAIR
How will pet hair show up on the upholstery?

Will the color of the hair be an unsightly contrast to the color of the fabric?

Will the hair just land on the item or get embedded in the weave?  

How hard will it be to remove the hair that lands on the upholstery?
CLEANABILITY
How will dog oils affect the fabric's appearance and durability?

How easy will it be to keep the fabric clean?

Will it show spots and stains?
DURABILITY
How durable is the fabric?

Will it fray or wear easily?
COMMON
UPHOLSTERY FABRIC TYPES
MICROFIBER

Microfiber is recommended as an excellent choice for a pet friendly upholstery fabric because of its extremely tight weave. Denier is the unit that measures the tightness of a knit and microfibers are smaller than 1 denier. Microfiber (sometimes known as Ultrasuede, Microsuede, or Faux Suede) is manufactured from a combination of synthetic fibers, but it is the tightness of the weave that makes it extremely easy to clean and maintain with animals in the home.
NOTE: Microfiber made from Polyester fibers is not as long-lasting as regular Polyester fabrics. Microfiber fabric made from nylon is much more durable but not as easy to find.
Hair can be removed with a lint brush and spots can be cleaned up with a water-based cleaner. Pet claws are less likely to cause damage. Microfiber comes in a wide variety of colors and is also soft to the touch, making it a very desirable upholstery fabric in general.
For those who are allergic or sensitive to cat dander, Microfiber is so dense these allergens can be vacuumed away before guests arrive at your home.
LEATHER
Leather is also a very good choice for a pet friendly upholstery fabric. It does not attract pet hair and if some does get on it, it will wipe off easily with a dust cloth. It resists stains, wear, and tear and is always elegant looking. If scratching is a problem with your pet, you may want to look into purchasing distressed leather, which will help to hide scratches. Be aware that Leather is not immune to puncture holes (such as from cats' claws) which may cause larger tears or rips over time.
Leather is expensive and sometimes requires special cleaning procedures to prevent discoloration and fading. There are many different types of leather. For pet households, look for Finished or Semi-Aniline leather. Because of the topical applications it receives during the finishing process, it is the type of leather with the highest range of uses, especially suited to the automotive, aviation, and marine markets. General maintenance of this type of Leather would be to occasionally wipe it down with a damp cloth. Read here for more information about Leather.
WOOL
Although Wool is an expensive choice, it is definitely a pet friendly upholstery fabric. Although natural fibers such as wool are durable and resilient, they do absorb stains more quickly than man-made fabrics. On the other hand, they will clean up more easily and with better results. An advantage Wool has is that it is naturally flame retardant. CAUTION: Never use bleach on a wool fabric!
NYLON
Nylon is a pet friendly upholstery fabric option. Even though it may tend to wrinkle, it will resist most stains, wear, and fading (unless it is in direct sunlight). Since it is synthesized from petroleum, oil-based stains may be more difficult to remove. It is a less expensive option and comes in a wide variety of colors and patterns. Nylon is often blended with other fibers.
ACRYLIC
Acrylic is a synthetic fiber that was developed as imitation wool. Acrylic fabric is a good pet friendly upholstery fabric option and is soft and light. The fibers are resistant to oils, sunlight exposure, and fading. In addition, Acrylic fibers are more resilient than many other fibers. A large number of outdoor fabrics contain Acrylic fibers. Be aware that low quality Acrylics may pill excessively in areas of high abrasion, whereas high quality Acrylics are manufactured to pill much less.
POLYESTER
Polyester is synthesized from petroleum and it withstands liquids. However, because oil and water do not mix, Polyester is attracted to oils, such as dog oils. It can wrinkle and shrink as well. Polyester is usually blended with other fibers for upholstery. This is done to reduce fading, add wrinkle resistance, and eliminate crushing of napped fabrics. It has limited use as a pet friendly upholstery fabric.
OLEFIN
Olefin is another fabric synthesized from petroleum. It is widely known by the brand name of 'Herculon.' It has many good qualities, such as resistance to moisture and stains, including a majority of chemicals such as bleach. It is also resistant to heat and insects. However, the fiber does not hold dyes well so it is limited in color and pattern selection. It will attract oils, and is easily damaged by friction. It has limited use as a pet friendly upholstery fabric if your pet has excessive body oils.
COTTON
Cotton comes in a variety of colors and patterns and is easy to clean. Because Cotton is a flat weave, it will stand up better to fraying and wear. Unfortunately it absorbs liquid easily and tends to wrinkle and fade, making it not the best choice for a pet friendly upholstery fabric.
VELVET

Velvet is a wonderfully luxurious fabric and is commonly found as Nylon or Cotton Velvet. Pet hair is relatively easy to remove from it. Stains can be more difficult to remove, though. Velvet may not be able to stand up to more rambunctious pets because of its tendency to crush, which may cause permanent damage to the fabric. In general, Velvet is a less pet friendly upholstery fabric option.
RAYON
Rayon, a man-made fiber, is less expensive than Leather, Wool, Cotton, and other natural fibers. Although it resists fading and mildew, it is not a durable fiber and it will show wear very quickly. Rayon will absorb liquids more than cotton, loses strength when wet, and will wrinkle, shrink, and stretch, making it not a pet friendly upholstery fabric option.
ACETATE
Acetate is a fiber developed as imitation silk. It is resistant to mildew, pilling and shrinking but is not resistant to soil. It also tends to wear, wrinkle, and fade from the sun. Thus, it is not a good choice for a pet friendly upholstery fabric. 
SILK
Silk cannot withstand any moisture and is very difficult to clean. It stains and rips easily and is definitely not a pet friendly upholstery fabric.
LINEN
Linen's open weave makes it not a pet friendly upholstery fabric, especially if the pet is a cat with claws!
PET HAIR ON UPHOLSTERY FABRIC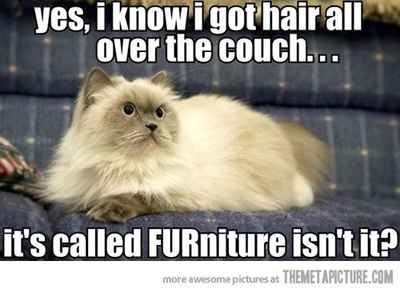 No matter what we do, it seems pet hair somehow finds its way onto the upholstery fabric in our homes. Of course, the amount and frequency depends on the type of animal and the amount of hair it sheds (as well as the number of animals!). 
Avoid tweed fabrics at all costs! Pet hair tends to embed itself in the weave, making it very difficult to remove.
Choosing an upholstery fabric with a pattern can help to camouflage hair (as well as marks or stains.) The secret is to make sure the main color of the pattern and the color of the pet hairs are very similar. 
HOW TO REMOVE PET HAIR FROM UPHOLSTERY FABRIC
Use rubber gloves or a slightly wet sponge to attract the hair from the upholstery. If using rubber gloves, the hair can be easily removed from the gloves by washing them. Electrostatic or chemical sponges also work well.

Brushing pets regularly will go a long way towards mitigating excess hair problems.

If your pet can withstand it, try putting a stocking or thin sock over a vacuum hose and proceed to vacuum the animal.
Static Electricity and Pet Hair
This becomes a problem when the air is dry and the humidity is low, especially during the months when people heat their homes. Static electricity makes the pet hair much worse. Here are some ways to help the situation:                
Use a humidifier or make sure there are plenty of plants around (check which ones may be harmful to pets) to add humidity to the air.

Run dryer sheets along the furniture to neutralize the static electricity.

Use a static-reducing spray or make your own by mixing 1 capful of fabric softener in a spray bottle of water, shaking the mixture, and lightly spraying it on the upholstery. Then wipe off.

Use a soft cloth and furniture polish or an anti-static dusting spray on wooden furniture.          
SCRATCHING ON
UPHOLSTERY FABRIC
Cats usually scratch to mark their territory so be sure to keep scratching posts available in areas where they like to stay. Dogs' claws tend to make dents, rather than scratches in upholstery fabric. It would be very helpful to remember to keep your pets' nails trimmed regularly as well.
Some suggestions for a pet friendly upholstery fabric for animals that like to scratch:
MICROFIBER
This type of synthetic upholstery fabric usually will not show scratches and even if it does, they are relatively easy to brush or buff away.
LEATHER
Cats tend to avoid Leather, especially if a scratching post is nearby. Dog scratches can usually be buffed out. Distressed Leather could be an option since it will draw less attention to scratches.
URINE ON UPHOLSTERY FABRIC
Urine 'accidents' are expected, especially with young puppies until they are house trained, and with older pets that may become incontinent. 
Urine on upholstered furniture is a problem which cannot always be mitigated successfully, even with professional cleaning. If the urine goes into the stuffing or, even worse, if there is foam, it cannot be removed by normal cleaning methods because cleaning procedures cannot reach the stuffing or foam. (Foam will act like a sponge and hold the urine).
Various methods of sanitizing are only temporary at best. Cats tend to urinate in the crevices of furniture, making it very difficult to detect (other than the odor) and remove. You may find urine from smaller dogs on the upholstery skirts. Re-upholstering, in the long run, may be the only option.
The sooner the urine is blotted up, the less damage will be done. One option that may be a last resort is to place the furniture outside in hot sunlight (covering the fabric to protect it from sun fading). The sunlight will eventually neutralize the odor, although there is no way to know how long it will take.
Again, Leather may be the best option to prevent urine damage, (though leather that is saturated with urine will be permanently damaged). Leather does have the advantage of being resistant to odor.
VOMIT, DROOLING, FECES, ETC.
ON UPHOLSTERY FABRIC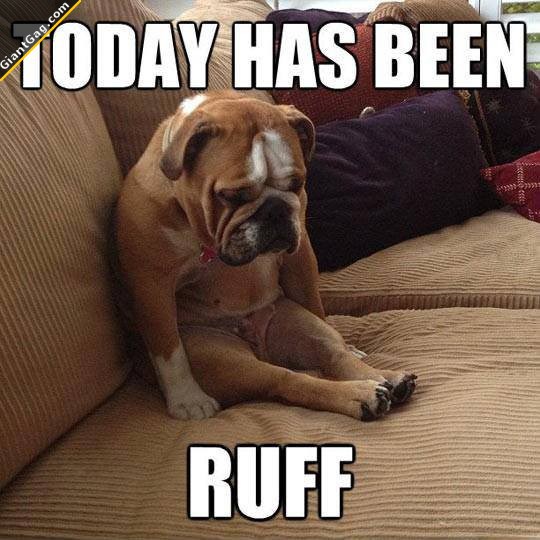 We all get sick sometimes, and that, of course, includes our pets. Vomit and diarrhea are always a possibility. Certain breeds of dogs drool more than others and they all make messes when playing with bones or toys. Cats will often 'overshoot their mark,' especially when grooming their tails. It is probable anyone who has ever lived with a cat has experienced hairballs and, if an outside cat, occasional 'presents' of dead and bloody mice and birds!
Here are some suggestions for pet friendly upholstery fabric to help with vomit, drooling, feces, etc.
Always look for the 'W' (Wet) cleaning code on upholstery fabric. A simple solution of soap and water makes cleaning easy. Some upholstered furniture will have a tag or a label with an additional classification containing letters or numbers. The lower the letter or number, the more expensive the fabric will be.

Once again, Leather may be a viable option.

Fabrics made specifically for outdoor furniture can be found in many colors and prints, as well as natural materials. Although they may not be as soft as synthetic or natural fibers, their biggest benefit is they are extremely easy to clean and most liquids will not easily penetrate through to the stuffing. Some of them are impervious to bleach. It may also be prudent to have slipcovers made of this fabric for your pet's favorite chair or sofa.

Two examples of indoor/outdoor furniture fabrics are Crypton, an engineered fabric with stain and microbial protection applied during the manufacturing process and Sunbrella

, a company that makes very durable indoor/outdoor fabrics.
TIPS FOR
GENERAL UPHOLSTERY MAINTENANCE IN HOMES WITH PETS
Vacuum upholstered furniture at least once a month.

Turn cushions regularly for even wear. Slipcovers made with washable (possibly outdoor) fabrics can help the upholstery to last longer and make maintenance easier.

If you are planning to order fabric for your new upholstery, it might be a good idea to order a few extra yards. That way, you can place a hemmed runner across the cushions for the pets. When it is soiled, you can wash it and not have to worry about covering the furniture with unsightly sheets or towels.

Another tip is to place a soft and cuddly blanket or piece of fabric on the area of the furniture the pet tends to spend the most time on. The softness may attract them to make a 'nest' for themselves.

Bathe and groom your pets regularly.

If your furniture is new or is in your home before you share with a pet, an application of a Soil & Stain Protector from ABC will give your furniture added protection. (The item must be new or cleaned before application.) Please call our office at 607-272-1566 for more information.
---
Top of Pet-Friendly Upholstery Fabric
---
"The Cleanest Clean You've Ever Seen."
by
ABC Oriental Rug & Carpet Cleaning Co.
130 Cecil Malone Drive Ithaca, NY 14850
607-272-1566