PET FRIENDLY
FLOORING OPTIONS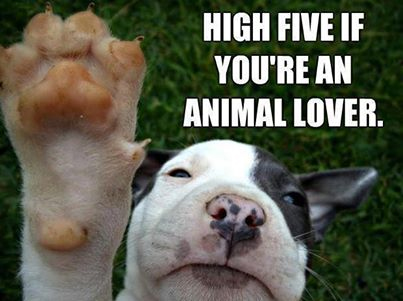 In this article, we explore pet friendly flooring options. These include hardwood, hardwood alternatives, and tile flooring, which are the most popular types of hard surface flooring that can be found in our homes today.
The damage that can be done to wall-to-wall carpets and rugs by our pets usually centers on pet 'accidents' such as urine, feces, and vomit. With hard surface flooring, the major damage comes from dents and scratches from pet claws (though damage from urine can come in a close second). Tile floors are easier to keep clean, but they can be slippery and cold and thus may be a less pet friendly flooring option than wood or wood alternative flooring.
No wood flooring is 100% scratch resistant, but it is important to know which ones will take the assault better than others. Keep in mind also that our pets are not the only ones responsible for the scratching and denting of wood floors.
PET FRIENDLY FLOORING-HARDWOODS
All hardwood flooring will dent and scratch over time, although there are some hardwoods that can take a beating and last longer. The advantage to hardwood flooring is that it can be sanded and renewed several times. Unfortunately, this can be a time-consuming and messy job. If you choose and maintain your hardwood flooring carefully, you may be able to extend its beauty and perhaps avoid having to go through the process of sanding and sealing altogether. 
It is best to avoid softer woods such as birch, cedar, pine, redwood, and fir. Also avoid American Cherry, American Walnut, and Carbonized Bamboo (caramel colored). Please note: Brazilian Cherry and Walnut are harder than American Cherry and Walnut. The process of carbonizing bamboo softens the end product.
The more durable hardwoods include oak, cherry, maple, hickory, elm, mahogany, and sycamore. See the Janka Scale of Hardness for more information. Harder hardwoods such as Hickory are usually a good choice but you cannot just look at hardness by itself when you have pets in the home:
Choose woods with stronger graining because they hide scratches better.

Less glossy finishes such as satin, or even matte, are usually best because the glossier the finish, the more it will show the scratches from the light reflecting off it.

Lighter colors are better for homes with pets because they show scratches less. Scratches that penetrate the stain color will show less on lighter colors since the color beneath the stain is similar. Matching the color of the animal's fur to the flooring will also help to blend the hair color better.

Distressed hardwoods and wood that has more knots and character marks will also hide dents and scratches better.

Hardwood finished on site can be better than pre-finished hardwood as the seams are usually sealed with polyurethane on site, making in difficult for spills to penetrate the wood. Pre-finished hardwoods may have some spaces on the edges with no protection.
HOW YOU CAN PROTECT YOUR HARDWOOD FLOORING
Use felt pads underneath furniture.

 

Take off shoes. The problem is not the shoes themselves, but rather the pebbles and dirt that get caught in the bottom of the shoes.

Be careful walking with high heels. After they have been worn for awhile, the rubber can wear off, leaving a nail exposed at the bottom of the heel.

Have mats available at entrances, both inside and out, to trap dirt and grit.

Place area rugs under chairs that have wheels.

If refinishing a hardwood floor on site, use oil based rather than water-based polyurethane and add an extra coat.

 
URINE DAMAGE TO HARDWOOD FLOORS
No hardwood can stand up to pet urine on a regular basis. You may eventually have to replace sections and/or refinish the hardwood. If you already have stains in the hardwood, try to replace the boards when refinishing the floors, because blackness from water or urine will not sand out. If you cannot replace the area of flooring that is damaged, use a dark color stain to hide the marks.
Clean up all urine as soon as possible. The uric acid and the moisture can damage the polyurethane. Also avoid using ammonia to clean the area. Ammonia can not only wear down the polyurethane but potentially attract your pet to the same spot.
GENERAL MAINTENANCE OF HARDWOOD FLOORS
A lack of maintenance and regular cleaning can lead to cumulative damage in the form of staining or physical defects. Sweep or vacuum (no beater bar) on a regular basis to remove small particles of dirt and grit. Dry mopping is fine but never immerse in liquids.
Hardwoods react to the temperature and humidity around them. Maintain a relative humidity of 35 to 55 percent and temperatures between 60 and 80 degrees for best results.
PET FRIENDLY FLOORING ALTERNATIVES TO HARDWOOD FLOORING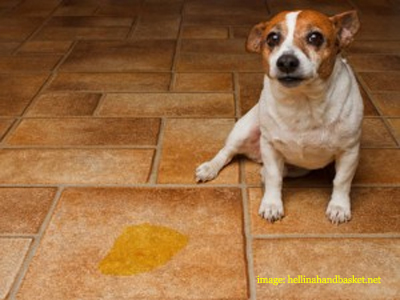 We do not recommend installing Engineered Hardwood with pets in the home because the actual wood in each plank consists of 1/16" to 1/8" finish wood with non-finish plywood underneath, sandwiched in by another layer of hardwood. These layers are laminated together. As a result, engineered hardwood floors can only be sanded a limited amount of times. A deep sanding poses a risk of exposing the structural wood underneath.
Laminate flooring is scratch-resistant but it tends to be slippery and it cannot be sanded. 
Bamboo flooring can be a problem, especially because the type and quality of the bamboo can vary greatly. Even though natural bamboo is stronger than oak, it shows dents more easily. Stained bamboo scratches easily, caramelized or carbonized bamboo is not as strong as natural bamboo since the heating process weakens it.
Luxury Vinyl flooring has many advantages and may be worth exploring as a pet friendly flooring option.  It can come in slate, stone, marble or ceramic designs. It is a low-allergen, moisture resistant, very quiet option, which is also easy to clean and scratch-resistant as well.
Eucalyptus, Cork, and Reclaimed Wood flooring types are also available but not as commonly used. Eucalyptus is similar to Bamboo. Cork is not very resilient and is prone to scratching and denting, while Reclaimed Wood is, of course, limited, and is mostly popular in rustic décor.
Ceramic and other tile floors may not the best pet friendly flooring options for some pets because they can be slippery and cold. The main benefit of a tile floor is how easy it is to clean up animal messes from them. To ensure ease of cleaning, should a tile floor become your floor of choice, remember to request stain-resistant grout and make sure the grout is sealed completely.
PET FRIENDLY FLOORING OPTIONS
HOW ABC CAN HELP
Cleaning and refinishing wood floors is not one of the services we currently provide for our customers. We do, however, specialize in tile and grout cleaning and grout sealing. Please call our office with any questions at 607-272-1566 or to schedule an appointment.
---
"The Cleanest Clean You've Ever Seen."
by
ABC Oriental Rug & Carpet Cleaning Co.
130 Cecil Malone Drive Ithaca, NY 14850
607-272-1566