ENGINEERED WOOD FLOORING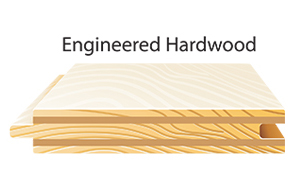 Engineered Wood Flooring is a surprisingly good alternative to both solid hardwood and laminate flooring. It is much easier to install than hardwood and is actually composed of real wood as well. (Laminate flooring is melamine-infused paper on top of a wood chip composite).
HOW IT IS CONSTRUCTED
The top layer is made of 1/16" to 1/8" finish wood with non-finish plywood underneath, sandwiched in by another layer of hardwood. These layers are laminated together. Each board consists of 3 or 4 layers of wood glued together at right angles to create a plank. And because the plywood underneath is laid cross-ways to the finish layer, it provides additional strength to the flooring. Many more types of domestic and exotic woods can be used affordably since only the top layer can be seen.
The plywood actually comprises 80-90% of the floor. This means that engineered wood flooring uses less hardwood in its manufacture and so therefore, can be less expensive, though the consumer should be aware that high-quality engineered wood flooring can be as expensive as some hardwood flooring. That said, it is more structurally sound and not as prone to moisture problems and warping as solid wood flooring.
TYPES of ENGINEERED FLOORING
This type of flooring can be found in almost any species of solid hardwood, including Maple, Hickory, Oak, and Bamboo. It always comes prefinished with the sanding and sealing already done to the top layer, so the floor is ready as soon as it is laid down.
Depending on the thickness of the top layer (which can vary) it can be sanded should scratches and dings develop. However, it usually cannot be sanded more than 3 times and sanding should always be done by a professional. DIY sanding of an engineered wood floor could cause gouges in the top layer with the risk of revealing the plywood layer beneath.
INSTALLATION
When compared to solid hardwood flooring, engineered wood flooring performs better in areas of light moisture, such as kitchens, bathrooms, and basements. It should not be used in areas that tend to flood frequently. For those areas, it is best to stay away from wood flooring of any kind and use tile, vinyl, concrete, or any non-organic product in its place.
Another advantage of engineered wood flooring, especially when compared to solid hardwood flooring, is that it does not need to be nailed to a wood sub-floor, although it can be installed by nailing down to thin floors for stability or glued down. Another type of installation called Floating Floor is often used for both engineered and laminate flooring.
FLOATING FLOOR INSTALLATION
The Floating Floor type of installation was developed for do-it-yourself flooring installation of alternatives to solid wood flooring and any other flooring that must be actually attached to sub-flooring.
Though this type of installation sounds like the flooring is somehow actually 'floating' on top of the sub floor or underlayment, this is not the case. It is true that the individual boards are not attached to the sub floor, but they are attached to each other (by gluing or snapping together). The friction and the weight of the boards when attached together is enough to hold them securely in place on the sub floor or underlayment.
Laminate flooring is usually installed with a 'floating' installation, though it can be glued down to the underlayment. Tile floors may also be installed in this way but solid hardwood is never installed as a floating floor.
The floating floor allows for the floor to expand with changes in the humidity and no specialized tools are needed. This makes it suitable for light moisture areas where solid wood flooring would warp, crack, or distort. The downside to using the floating floor technique is that it is thinner and has a lower resale value than nail-down hardwood flooring or tile that is mortared down.
MAINTENANCE & CLEANING of
ENGINEERED WOOD FLOORING
Engineered wood floors are relatively easy to care for:
Sweeping with a soft broom, dry mopping, or vacuuming with a vacuum without a beater bar on a regular basis will help to remove the dirt and debris that can be ground into the floor causing dents and scratches. A slightly damp mop can be used occasionally but make sure to wipe up any excess liquid. Another good choice for regular cleaning is a microfiber mop.
Never use ammonia or vinegar to clean these floors or use a steam cleaner.
It is also a good idea to place mats at each entry to rooms with engineered flooring to cut down on the amount of dirt and debris. NOTE: Do not use a rubber-backed mat for this purpose as it can trap moisture underneath and could harm the flooring.
These floors can be waxed but make sure to check the manufacturer's instructions first.
As with solid hardwood flooring, proper installation with regular cleaning maintenance will help these floors last for many years, adding considerably to the resale value of the home.
---
Top of Engineered Wood Flooring
---
"The Cleanest Clean You've Ever Seen."
by
ABC Oriental Rug & Carpet Cleaning Co.
130 Cecil Malone Drive Ithaca, NY 14850
607-272-1566