ORIENTAL RUGS BY DESIGN

Oriental Rugs by Design is a fun and fascinating way to study oriental rugs. Since most oriental rugs have names that correspond to the areas where their original designs came from, learning to recognize these areas and the distinctive designs they are known for can lay the foundation to a lifelong love of these rugs.
WHAT ARE ORIENTAL RUGS?

Centuries upon centuries of history and tradition, combined with the skill, stories, and the hearts and souls of each individual weaver come together to create the treasures we call 'oriental rugs.'
Hand-knotted rugs woven in the countries of Iran, India, Pakistan, Afghanistan, Turkey, China, and Nepal are most commonly referred to as 'oriental rugs.'
Other countries, such as Morocco, Greece, Russia, etc. also weave distinctive hand knotted rugs and these may sometimes be referred to as 'oriental.'
Even Native American rugs such as those woven by the Navajo and other Plains Indians of the United States are often classified as 'oriental rugs.'
CAVEATS
One or two caveats though…the way to accurately identify a handwoven oriental rug is not just from the design, but from the way it is woven and the materials used. Does it have a single wefted or a double wefted foundation? Is that foundation made of wool, cotton, or both? Is the knot a Turkish knot, Persian knot, or other?  It is also important to realize that many countries produce rugs with designs that may copy another country's rug.

Most important is to remember that because of the individual nature of hand-woven rugs, we can study the most common examples, but we must be aware there are many exceptions to every example and the terms 'always' and 'never' cannot be used when it comes to the study of oriental rugs and their designs.
We hope this article will whet your appetite and start you on a fascinating journey into the exciting world of oriental rugs!
HOW TO BEGIN THE STUDY OF
ORIENTAL RUGS BY DESIGN

The best way to proceed to study oriental rugs by design (or by any other way) is to immerse yourself in oriental rugs and handle as many as possible. Go to stores, museums, auctions, etc. You will soon be able to broadly categorize the rugs into the country they come from just from holding and feeling them. Generally speaking, here are some broad categories:
Rugs from Iran are finely woven with intricate designs and are made with exceptional materials and dyes.
Rugs woven in India tend to be less valuable because their wool is not as thick or as luxuriant. Indian rug designs often copy the designs of rugs from other countries and thus the names Indo-Shirvan, Indo-Kerman, etc. 
Pakistani and Afghani weavers are capable of producing beautiful rugs which are often copies of Persian designs. But the buyer should be aware of quality aberrations, such as distorted designs, very thin rugs, and sides that are not secured properly. 
Rugs from Turkey today are very well made and of diverse design.
Chinese rugs can usually be recognized by their open backgrounds, center medallions, deep piles, large borders, and soft colors. 
Rugs from Nepal include Tibetan rugs with luxurious and rich pile.
IMPORTANT TERMS
FOR ORIENTAL RUGS BY DESIGN

There are a few terms that will help with the study of Oriental Rugs by Design. They are listed here as a reference… 
LOOM

The mechanism that holds the threads under tension in order to interweave them. They are usually either vertical or horizontal looms. Because the horizontal looms are easier to take apart and move, they are popular in the weaving of nomadic or tribal rugs. 
FOUNDATION
The wefts are the left to right cords (threads, yarns). The wefts are the up and down cords (threads, yarns). The cords can be wool, cotton, silk or a combination.
KNOTS
Specific ways of tying or knotting yarn pieces onto the warp threads of the foundation, the knots create the specific pattern of each rug. Very often, the type of knot used can identify the region of a rug's origin.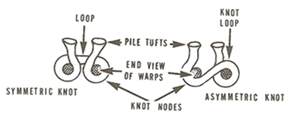 CARTOON
A design drawn on graph paper where each colored square represents a knot. Designs don't always need or use a cartoon. Designs can be determined by a weaver from the weaver's memory.
FIBERS MOST COMMONLY USED
Wool, cotton, silk. Cotton is the most common for the foundation and wool for the pile.
For more in depth information, please see Oriental Rugs 101 which includes the following information.
1.      Fibers Used.                              
2.      Dyes Used.
4.      Basic Elements of Construction.
5.      How Oriental Rugs are Woven and Finished.
---
Top of Oriental Rugs By Design
---
"The Cleanest Clean You've Ever Seen."
by
ABC Oriental Rug & Carpet Cleaning Co.
130 Cecil Malone Drive Ithaca, NY 14850
607-272-1566