Environmentally Responsible
Carpet Cleaning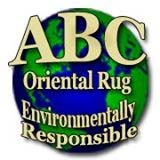 The issue of environmentally responsible carpet cleaning has forced the industry to change dramatically in order to address today's pressing environmental concerns. Gone are the days of cleaning regularly with toxic chemicals and dumping wastewater into toilets, sinks or storm drains.
Today's carpet cleaning professionals must be environmentally responsible. Equipment must be continuously maintained and up to date. Cleaning solutions must be non-toxic. Technicians must be thoroughly trained. Customer reviews and personal recommendations count more than ever.
ABC Practices Environmentally Responsible Carpet Cleaning  
ABC Oriental Rug & Carpet Cleaning Co. is an environmentally responsible company in every way possible. For over 50 years, ABC has been the market leader in this area for carpet, upholstery, tile and grout, and area and oriental rug cleaning and repair.
We initiated 'green' cleaning as our policy long before it became the watchword of the industry. Our regular cleaning solutions are non-toxic and bio-degradable. The wastewater from every cleaning job is brought back to our plant and 'dumped' into a proper waste disposal site.
Our on-location carpet cleaning technicians utilize the industry's finest equipment and cleaning processes (purchased and maintained by our Certified Firm) to provide the most thorough and environmentally responsible cleaning for the wall-to-wall carpets in your home or business.
All technicians go through extensive and ongoing in-class and hands-on training in all areas of cleaning and spot removal in order to provide the best and the most environmentally responsible customer service possible. Our trucks are equipped with environmentally safe cleaning solutions to handle a variety of situations and needs.
ABC's Green Cleaning Policy
ABC uses cleaning agents based on natural elements rather than harmful chemicals for the majority of our cleaning methods. Examples of these natural elements include citrus, vinegar, and salt. Even when we must use more aggressive compounds, we choose those that are safer and much less toxic than others.
We care about our customers and our employees and the environment as well. We believe in putting health, safety, and the environment first as a primary business objective.
We stand behind our green cleaning and environmentally responsible policy in all the services we offer. Any concerns or dissatisfaction expressed regarding any cleaning should always be called into our office as soon as possible. We will be happy to inspect and assess any problems and concerns immediately.
Articles and FAQs
About Carpet Cleaning
Please click here to find out more about our carpet cleaning service and to find answers to frequently asked questions about carpet cleaning.
Please click here for our article page, which may answer any questions you have about our services. 

Articles about environmentally responsible cleaning include:
Better Health with Carpet s & Rugs
Carpet Cleaning is Good for Business
---
"The Cleanest Clean You've Ever Seen."
by
ABC Oriental Rug & Carpet Cleaning Co.
130 Cecil Malone Drive Ithaca, NY 14850
607-272-1566