CERAMIC TILE
Ceramic tile is an extremely popular choice for the floors in our homes today. Whether remodeling or for new construction, hard surface flooring is almost universally chosen for the first floor while wall-to-wall carpet, if used at all, is typically reserved for the upper floors such as the bedrooms.
In this article, we go over some important guidelines about the types and sizes of ceramic tile, installation concerns, durability, and, of course, cleaning and maintenance.
TYPES of CERAMIC TILE

Glazed Ceramic Tile
The glass coating fired onto the surface of some ceramic tiles is referred to as the glaze. This protective layer makes the tile water and stain-proof.
Note: We are talking about floor, not wall tiles. Wall tiles are not as durable and are thinner than the floor tiles. They are not meant to be used under constant foot traffic.
Unglazed Ceramic Tile
This type of tile is for those people who prefer a more natural look. Unglazed tile floors will need to be periodically sealed to protect them from stains.
Terra Cotta
Terra Cotta is red clay bisque fired at a relatively low temperature. It exhibits a very natural appearance but the tile itself is fragile.
Porcelain
Porcelain is made of clay which is baked at very high temperatures resulting in an extremely strong and durable product. When compared to other tiles, it is harder to cut and shape.
One advantage of Porcelain tile is it has an absorption rate of less than .5% and thus can be installed in some exterior locations where frost and freezing would normally be a problem.
INSTALLATION
Installing tile flooring is not meant for the do-it-yourself homeowner! We would highly recommend hiring an experienced professional installer for this type of time-consuming and difficult job.
As might be expected, the first and most important step in the installation is the type and condition of the sub floor it is being installed on. It is extremely important that it be completely flat, smooth, and free of any defects to avoid the occurrence of any pockets of air forming under the tiles. These will make the tiles crack and chip over time. The sub floor must also be impervious to changes in size due to changes in temperature as well.
Concrete is one of the most common sub surfaces for installations. Be aware, there is a wait time of at least 28 days after fresh concrete is poured for moisture to completely dry out of the concrete mix before the tile floor can be properly installed.
SIZES
The most common cut tile sizes are squares of 6"x 6", 12"x 12", and 16"x 16". That said, ceramic tile can actually be cut into nearly any size or shape. It is always recommended to use sizes that are evenly divisible in order to cut down on waste.
HARDNESS
The Portland Enamel Institute judges the hardness of tile on a 1 (weakest) to 5 (strongest) scale. For use in flooring applications, a hardness rating of 3 or greater is required. Less than 3 on the scale can be used only in wall applications.
DURABILITY
Ceramic tile has a lifespan of decades as long as it is properly installed and cared for.
After its useful life has ended, it may be necessary to remove it. Depending on the new flooring surface chosen, it may be possible to install the new flooring directly over the old tile floor.
CLEANING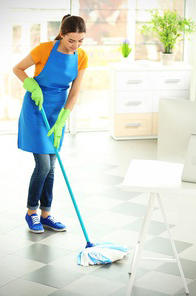 On a regular basis, ceramic tile floors can be kept reasonably clean and sanitary with regular sweeping to remove surface debris followed by mopping with warm water. Make sure to change the dirty water in the mop bucket several times depending on the size of the tiled area. Vacuuming is okay as long as a soft hose attachment is used in order to prevent scratches.
A detergent can be used, but it must be pH balanced so it doesn't strip any glaze.  If there are stains that have set, a water and vinegar mix can be used.
A regularly scheduled professional tile and grout cleaning can help prevent minor problems from becoming major in the future.
A NOTE ABOUT GROUT
Grout, if not properly sealed, is susceptible to water and other staining agents. It can look unsightly and become a breeding ground for harmful bacteria. When choosing grout to fill the gaps between the ceramic tile for your floors, make sure to go the extra mile and purchase a quality non-porous, stain-proof grout. This one step will save much time and money in the long run and will certainly make cleaning and maintaining the floors much easier.

Be aware, the sealer will wear down over time so it should be reapplied periodically to avoid the need to sand and replace it. An easy way to determine whether the grout needs to be sealed is to simply sprinkle a few drops of water at several places around the tile. If areas of the grout soak in the water immediately, the grout should be sealed or re-sealed.
MAINTENANCE OF CERAMIC TILE
It is probably inevitable that a tile may crack or be damaged in some way over time. If it is possible to save a couple of boxes from the original installation, this will save time searching for replacements.
There are some companies that specialize in creating a custom-made replacement tile to match the rest of a floor. It is fairly expensive per tile but not when compared to replacing an entire floor.
BEST APPLICATIONS

High Traffic Areas

Ceramic and porcelain tile are preferred for high traffic locations such as kitchens, living rooms, playrooms, hallways, etc. These rooms are typically found on the first floor of a home.
Second Story or Higher Applications
Though many people prefer the warmth and beauty of carpeting for the upper levels of their homes, ceramic tile is perfect and functional for second story and higher floors because they are light and durable. This is important for older homes, where the upper floor joists may not be as stable.
Commercial Applications
Hard surface flooring is perfect for many retail and public buildings. With the tile of today, it is possible to attain the elegant look of granite and marble without having the cleaning issues associated with those options.
ABC CAN HELP
ABC is here to help you with your ceramic tile and grout cleaning and maintenance. Our staff is here to answer any questions you may have. You can call or text us at 607-272-1566.
We are in the office from 8 to 5 Monday through Thursday, closing on Fridays at 4:30.
We are also open every Saturday from 10 to 1.
We look forward to helping you with your tile and grout cleaning and sealing needs.
For more information on tile and grout cleaning and sealing please click on the Ceramic Tile Cleaning, Grout, Grout Sealing, and Tile and Grout Cleaning articles on our website. 

---
---
"The Cleanest Clean You've Ever Seen."
by
ABC Oriental Rug & Carpet Cleaning Co.
130 Cecil Malone Drive Ithaca, NY 14850
607-272-1566