ASSESSING THE VALUE OF HANDMADE RUGS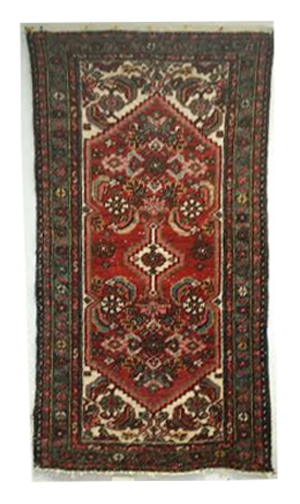 WHY ASSESS THE VALUE OF HANDMADE RUGS?
At ABC, we are asked to assess the value of handmade rugs, as well as machine-made rugs, on a daily basis. We have requests from clients to help them identify and determine the value of rugs they have bought, are looking to buy, or the ones they bring in or we have picked up to have cleaned in our plant. These rugs can come from antique stores, garage sales, tag sales, auctions, thrift stores, rug dealers, relatives, even department stores. 
The questions they most often ask are:
Is this a machine-made rug or a handmade rug?

If handmade, is it a true oriental rug?

Is it worth cleaning, repairing, or even selling?
THE ACTUAL VALUE OF A HANDMADE RUG
We will always inform our customers if the cleaning of their rug will exceed its value. Sometimes, though, the dollar value is not as important as the sentimental value and we understand that.
The actual value of a handmade rug needs to be stated in the following context:
99.99% of all handmade rugs you see and those that are bought and cleaned today are actually what we call 'decorator rugs' and these rugs seldom appreciate in value.

Rugs can be bought at all different prices. Attaching an actual dollar value to a rug is the job of a Certified Appraiser. We would be happy to direct you to one of these professionals. Just call or text us at (607)-272-1566 or contact us here.
What most of our clients want to know is whether the rug they have or are interested in is a 'good deal' and we are happy to give them our best advice. When a customer asks us to give our opinion of the value of a rug, we are able to present a 'ballpark estimate' based on our combined years of knowledge of the rug industry.   
At ABC we are always ready to offer advice but the best advice really is: If a rug calls out to you or 'speaks to you,' then you should most likely purchase it if you are able. 
HANDMADE or MACHINE-MADE?
Common sense would dictate that a hand woven rug or even a machine-made rug made of wool in good condition would be more 'valuable' than one made of synthetic fibers. That is usually the case.
However, we have found that so many of our clients have no idea how to tell the difference between a handmade rug made of wool, silk, or cotton and a machine-made rug made of wool, cotton, nylon, olefin, polyester, etc. 
It is our job to educate our customers about the rugs they want us to evaluate and this is what our staff has been trained to do.
THE MOST IMPORTANT COMPONENT of RUG ID USED in ASSESSING  
the VALUE of HANDMADE RUGS
We have been receiving rugs to clean for over 50 years. Identifying what type of rug a client brings to us and the approximate value of handmade rugs as well as machine-made rugs does get a bit easier with experience. This is especially true for those of us who actually do the rug washing. We get to see and feel how the rugs are constructed and CONSTRUCTION IS THE MOST IMPORTANT COMPONENT OF RUG ID FOR ASSESSING the VALUE OF HANDMADE RUGS!
When first attempting to identify or assess the value of handmade rugs or machine-made rugs, the back of the rug contains the first clue. If it is a handmade rug, further examination of the pile, the design, the ends, and the sides, whether the foundation is wool, silk, or cotton, what type of knot was used, etc., can usually determine its general value.
OTHER DETERMINING FACTORS in ASSESSING THE VALUE OF HANDMADE RUGS
The condition of each individual rug is very important as well in order to assess its value. Our technicians are trained to thoroughly examine each rug for any defects, such as rips, tears, holes, etc. and suggest any repairs that may improve the appearance of the rug but not exceed its value. 
It takes a great deal of time, training, and study to understand and identify the complexity of hand-knotted rugs. It also takes years of studying fiber types, rug construction, knotting techniques, dye systems, geographic regions, and cultures. All of this goes into determining the value of handmade rugs especially.
OUR POLICY AT ABC
In our business, we have to know whether or not a rug is worth cleaning as well as whether it is worth any of our special services, such as odor removal, moth decontamination, etc., or any repairs that may need to be done.  It is our policy to let every client know exactly what we feel should be done with any rug to preserve it and/or improve its value as well as its appearance, but also to let the client know if the expense will exceed the approximate value of the rug.
At that point, it is up to the client to choose what the next step may be. 'Value' becomes a very personal thing.  Many people may be very attached to a certain rug for sentimental reasons, or just simply because it fits perfectly, size-wise and color-wise, in their home.  The majority of these clients are not overly concerned about the market value of their rug, only if the cleaning will improve its appearance.
It would be unfair not to mention the number of clients who simply love older and threadbare hand-made rugs, no matter the value or condition, simply for their 'ambiance,' their intrinsic beauty, and the realization of the time, effort, and passion spent in producing them. These clients are mainly interested in cleaning the rug and/or doing whatever is minimally necessary to improve the appearance and preserve the rug to extend its usable life.
Understanding and respecting the weavers and their methods of rug construction and the environment in which these rugs were woven allows ABC to be at the top of a unique list of quality professional firms offering oriental and area rug washing, repairing, information, and advice. 
CONTACT US
We would be happy to examine your rug.  We are not officially 'rug appraisers' but we can bring our combined knowledge of over 100 years and our association with oriental and area rug cleaners, both nationally and internationally, to determine the value of handmade rugs, as well as machine-made rugs, and to answer any questions you might have.
Please call or text our office today at (607) 272-1566 for more information.  You may also contact us by clicking here.
---
Top of Assessing the Value of Handmade Rugs
---
"The Cleanest Clean You've Ever Seen."
by
ABC Oriental Rug & Carpet Cleaning Co.
130 Cecil Malone Drive Ithaca, NY 14850
607-272-1566