SPRING CLEANING
YESTERDAY and TODAY
This article, 'Spring Cleaning Yesterday and Today' is written for those of us who live through dark, cold, snowy winters, and just as the weather starts to get warmer and the sun comes streaming in through the windows, the specter of Spring Cleaning rears its ugly head.
Today we have a plethora of ways to clean our homes from top to bottom. Spring cleaning may not be a lot of fun but it is certainly much easier and less time-consuming than our great-great grandmothers had it in the 19th century before the advent of technologies such as the vacuum cleaner.
The contaminants in the homes of the 19th century were different as well and were primarily caused by coal and wood-burning fireplaces, and candles and kerosene and oil lamps, as well as the buildup of tracked-in dirt from unpaved roads. Sunshine in the early spring would highlight homes filled with stale air, soot, grime, and grease.
Not only did the rugs, carpets, and upholstery need cleaning, even the wallpaper had to be cleaned after a long winter of soot and dirt. The procedure involved using a bellows to remove surface dust and then taking the crusts from an 8 day old loaf of bread and rubbing the walls from top to bottom. The crumbs and dirt would then fall off together as long as the cleaning did not go upwards or across. 
Floors had to be cleaned by a corn shuck mop dipped in lye soap. The corn shucks had to be replaced when they were worn.
Rug and carpet cleaning, especially, was hard labor and time consuming. First the rugs and carpets had to be taken up off the floors and hung on strong clotheslines outside. The next step was a vigorous beating with a wooden or wire rug beater. (Sometimes, the housewife would be spared this step if servants or children were available)! After the dust was removed and the floors and wallpaper inside were cleaned, the rugs and carpets all had to be brought back into the home and placed where they belonged.
THE VACUUM CLEANER/CARPET SWEEPER REVOLUTIONIZES SPRING CLEANING!


The vacuum cleaner/carpet sweeper was the invention that changed spring cleaning forever! 
MANUAL VACUUM CLEANERS
Manual vacuums came first. In 1860, Daniel Hess of Iowa invented a carpet sweeper that used a rotating brush and a bellows to generate suction and gather dust.
1868 was the year of Ives McGaffey's invention, the Whirlwind. It was the first hand-pumped vacuum cleaner in the US and was made of wood and canvas. It was bulky and awkward to operate. It was worked with a belt driven fan that was cranked by hand. Melville Bissell of Michigan also constructed a similar model in 1876.
Powered cleaners were introduced towards the end of the 19th century. In 1898, John Thurman of Missouri obtained a patent for a pneumatic carpet renovator. This vacuuming system was powered by an internal combustion engine and blew dust into a receptacle. It was part of a door-to-door cleaning service.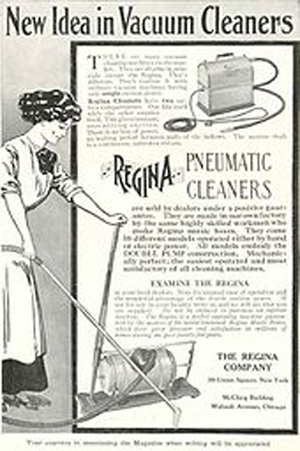 ELECTRIC VACUUM CLEANERS
The first use of an electric motor may have been in Georgia, where Corrine Dufour obtained 2 patents, one in 1899 and another in 1900 for blown air systems using an electric motor.
POWER-DRIVEN VACUUMS USING SUCTION
1901 saw the first powered vacuum cleaners that used suction rather than blowing dirt. Both Hubert Booth of Britain and American inventor David Kenney independently invented these.
Booth's was a horse-drawn combustion engine which collected dirt and dust by suction, with air pumped through a cloth filter. Kenney's was a steam engine powered system. Pipes and hoses could reach from the stationary engine into homes and buildings. A real precursor to the truck-mounted carpet cleaning systems of today!
PORTABLE VACUUM CLEANER
The first portable vacuum cleaner was built in 1905 by Walter Griffiths in Birmingham, England. It most resembled today's cleaners and could be used by one person.
VACUUM USING WATER TO COLLECT DIRT
The 'Domestic Cyclone' was invented in 1906 by James Kirby. It was different in that it used water to collect dirt.
JAMES SPANGLER and WILLIAM HOOVER
The first inventor to receive a patent for the portable and electric vacuum cleaner was James Spangler in 1907. He was a janitor by trade and suffered from asthma. The dust from the machines he used was further detrimental to his health.
Spangler improved his first invention to include a cloth filter bag and cleaning attachments and he received a patent in 1908. The cleaner used the suction from an electric fan which blew the dirt and dust into a soap box and a pillow case. It also had a rotating brush to help loosen the dirt.
Spangler formed his own company and his cousin was one of his first buyers. Her husband bought the patent rights to Spangler's vacuum and started his own company to make and market vacuums. His name was William Hoover and thus the Hoover vacuum was born!
Hoover redesigned Spangler's machine with a steel casing casters and attachments. The first vacuum cleaner with a beater bar was invented in 1919 by Hoover. The 1920s saw disposable filter bags and an upright vacuum cleaner was marketed in 1926.
VACUUMS and SPRING CLEANING FROM THE 1920s to the PRESENT
Before Word War II, vacuum cleaners were considered a luxury item but after the war they became more common, especially among the middle classes. 
The remaining decades of the 20th century to the present took advantage of developing new technologies. For example, the Hoover Constellation, the first vacuum cleaner to float on a cushion of air (instead of wheels), was invented in 1969 and predated the British invention of 2004, called the Airider.
Other inventions produced such products as central vacuum systems, filterless cyclonic dirt separation, and rechargeable hand-held vacuums, as well as the autonomous and cordless robotic vacuum cleaner.
One of the latest technologies uses air recycling technology instead of a vacuum. This type of technology uses an air stream to collect dust from carpets and rugs.  A vacuum cleaner sucks air from the floor and passes it through a dust separator. The air stream is then returned back into the room which is a waste of energy.  Air Recycling Technology, on the other hand, uses the air stream to both blow and suck the dirt into a dust separator and air is not released back into the room, thus saving energy.
How far we have come with our spring cleaning chores! Just set and release your robotic cleaners and your floors, carpets, and rugs will be cleaned automatically while you relax in your favorite chair! 
---
Top of Spring Cleaning - Yesterday and Today
---
"The Cleanest Clean You've Ever Seen."
by
ABC Oriental Rug & Carpet Cleaning Co.
130 Cecil Malone Drive Ithaca, NY 14850
607-272-1566