Shading and Pile Reversal
in Rugs and Carpets
Shading and pile reversal can cause areas of a carpet or a rug to appear to be lighter or darker than the rest of the carpet.  Areas at one end of a rug may appear lighter while the other end may appear darker. This condition is called shading and is also known as pile reversal.
WHAT CAUSES SHADING and
PILE REVERSAL?
Carpet and rug pile has a natural slope in one direction. As long as the tufts slant in the same direction, the carpet or rug has uniform color throughout. However, some of the tufts may slant against this normal pile lay, causing a variation in the way light is reflected from the napped surface.
Changes in the lay of the pile usually develop gradually in traffic areas or in front of frequently used articles of furniture. However, shading may also occur in areas of less traffic, such as under furniture. It can even be present in brand new carpet or rugs.
In some cases, shading becomes more apparent after the rug or carpet is cleaned, which may lead you to believe the shaded appearance developed during the cleaning process. But this phenomenon CANNOT OCCUR overnight, it must develop gradually over time. The shading was probably not visible before cleaning because of lighting, the placement of furniture or uniform soiling over the entire surface.
WHICH TYPE OF CARPET OR RUG IS MORE LIKELY TO HAVE THIS CONDITION?
Shading occurs most frequently on dense, deep, velvety cut-pile carpets. Many Chinese and dense-pile Indian rugs will show some shading or pile distortion after use or the first cleaning. Although it can affect multicolored or printed-design carpet, the problem is most obvious on solid colored carpets.
WHAT ABOUT MY VELVET UPHOLSTERY?
Velvet upholstery can be subject to pile reversal or pile distortion as well.  This can happen after a period of time with surface dirt or wear causing separate pile strands to fall over in different directions.  We carry special equipment in our plant to help to alleviate the uneven and 'dirty' appearance this condition can give to your upholstered furniture.
CAN SHADING and PILE REVERSAL BE PREVENTED OR CORRECTED?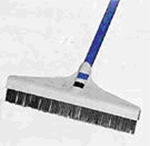 Little can be done to prevent or correct shading. It is an inherent characteristic of certain types of carpet and rugs. It can be slowed by vacuuming or brushing the pile in one direction during daily or weekly maintenance, for ex, with a Carpet Rake, as pictured above, a handy tool available for sale in our plant.
Use the Carpet Rake to:
·         Rake the carpet in the opposite direction of the pile to release embedded dirt before you vacuum and    you will see how much more dirt can be picked up.
·         'Groom' the carpet in the direction of the pile for a smooth and luxurious perfectly groomed look!
We also carry a Fringe Rake to use to straighten and remove dirt particles specifically from oriental and area rugs.  When used, the fringes do not need to be vacuumed and the rug body can be vacuumed from side to side, without exposing the fringes to damage from the vacuum.
Visit ABC Oriental Rug or Contact Us
Stop in to our plant in Ithaca or call our office at 272-1566 if you need more information about shading and pile reversal.  
We would be delighted to help and we have carpet rakes, fringe rakes and upholstery brushes for sale for your convenience.
---
Top of Shading and Pile Reversal
---
"The Cleanest Clean You've Ever Seen."
by
ABC Oriental Rug & Carpet Cleaning Co.
130 Cecil Malone Drive Ithaca, NY 14850
607-272-1566