SERGE REPAIR
Hand and Machine
Hand Serge Repair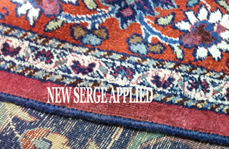 Hand Serge Repair
Hand serge repair to oriental and other hand-made rugs is one of the repair options offered at ABC Oriental Rug.  We maintain a full-service rug repair department with professionally trained personnel working to bring your oriental or area rug back to life, ready to have its original beauty displayed.  
A 'serge' is the finished edge that appears on the sides of oriental rugs.  An oriental rug's original serge will have been applied by hand.  In the photos above, the serge has been repaired on an oriental rug at our plant.
The procedure involves first applying a hand stitch across the side or both sides of the rug which will securely bind the edges to protect them from unraveling.  The sides are then 'wrapped' onto the rug by hand with the appropriate yarn. There are several different styles of stitches that can be used depending on the country of origin of the rug.  This process will restore the handmade rug as closely as possible to its original appearance and value.
We can also repair just sections of damaged serge.  Often rugs will come into our plant with several areas of a serge that have come undone and damaged over time.  There are also certain types of rugs that are woven across large looms and then cut vertically to make many rugs.  When the serge is applied to the sides of these types of rugs, it will start to pull away from the rug in several areas during usage because there is no way to securely fasten the serging to the sides of the rug. This is common to a number of rugs from Pakistan.
Machine Serge Repair
Hand serge repair work may not be warranted on every oriental rug or other handmade rug that may appear to need it.  If the estimate for hand work would exceed the monetary value of the rug, we may recommend applying a manufactured serge, by machine, to the sides (and even the ends) of the rug.  It is similar to the binding found on many pieces of broadloom or on small carpet mats.
The machine serge for handmade rugs comes in different styles that can closely match hand serge repair work.  This technique will preserve a worn and otherwise unusable rug at a fraction of the cost of hand work making it whole again.
Machine Binding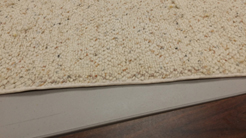 Machine binding  is similar to machine serging and is an excellent solution for any non-handmade rug with sides or edges that have been cut or have started to unravel. Our binding equipment is portable and we are able to bind very large area rugs on location.  
Repair and Other Special Services and Products
at ABC
We offer many Repair Services on our premises in Ithaca, NY including:
Serge Repair

Fringe Repair and Replacement

Repair of Holes and Tears

Dye Removals  
We also offer Special Treatments including:
Guaranteed Urine Odor Removal

Moth and Insect Decontamination and Retardancy

Soil and Stain Protector
And Special Products including:
Fringe and Carpet Rakes

Spot Removers

Rug Pads  
Call on ABC for All Your Rug Needs
At ABC, any repairs, treatments, and/or products we suggest will always be based on our understanding of the fiber and construction of each individual rug as well as the expressed wishes of our clients.  If you have a rug in need of repair or care, please feel free to bring it into our plant at 130 Cecil Malone in Ithaca, NY.  You can trust our staff to offer you the best option for your rug at a fair and reasonable cost to you.
Our office is open from 8 to 5 Monday through Thursday, closing on Fridays at 4:30.  For your convenience, we are also open from 10 to 1 on the 1st and 3rd Saturdays of each month. There is no need to make an appointment.  Rug cleaning has an approximately 1 week turnaround. Repairs and certain treatments may take longer. 
We also offer free pick up and delivery in the Ithaca, Tompkins, Cortland, and surrounding areas and have recently extended this service to the Syracuse area.  Please call our office at (607)-272-1566 for more information.  You may also contact us here. 
Please click here for our Pick Up and Delivery Policy and our Pick Up and Delivery Service Areas.
If you do not live in our service area, please feel free to call our office at 607-272-1566 and arrange to send us your rugs by mail or through a delivery service such as Fed Ex or UPS.
---
Top of Serge Repair - Hand and Machine
---
"The Cleanest Clean You've Ever Seen."
by
ABC Oriental Rug & Carpet Cleaning Co.
130 Cecil Malone Drive Ithaca, NY 14850
607-272-1566