RUG REPAIR at ABC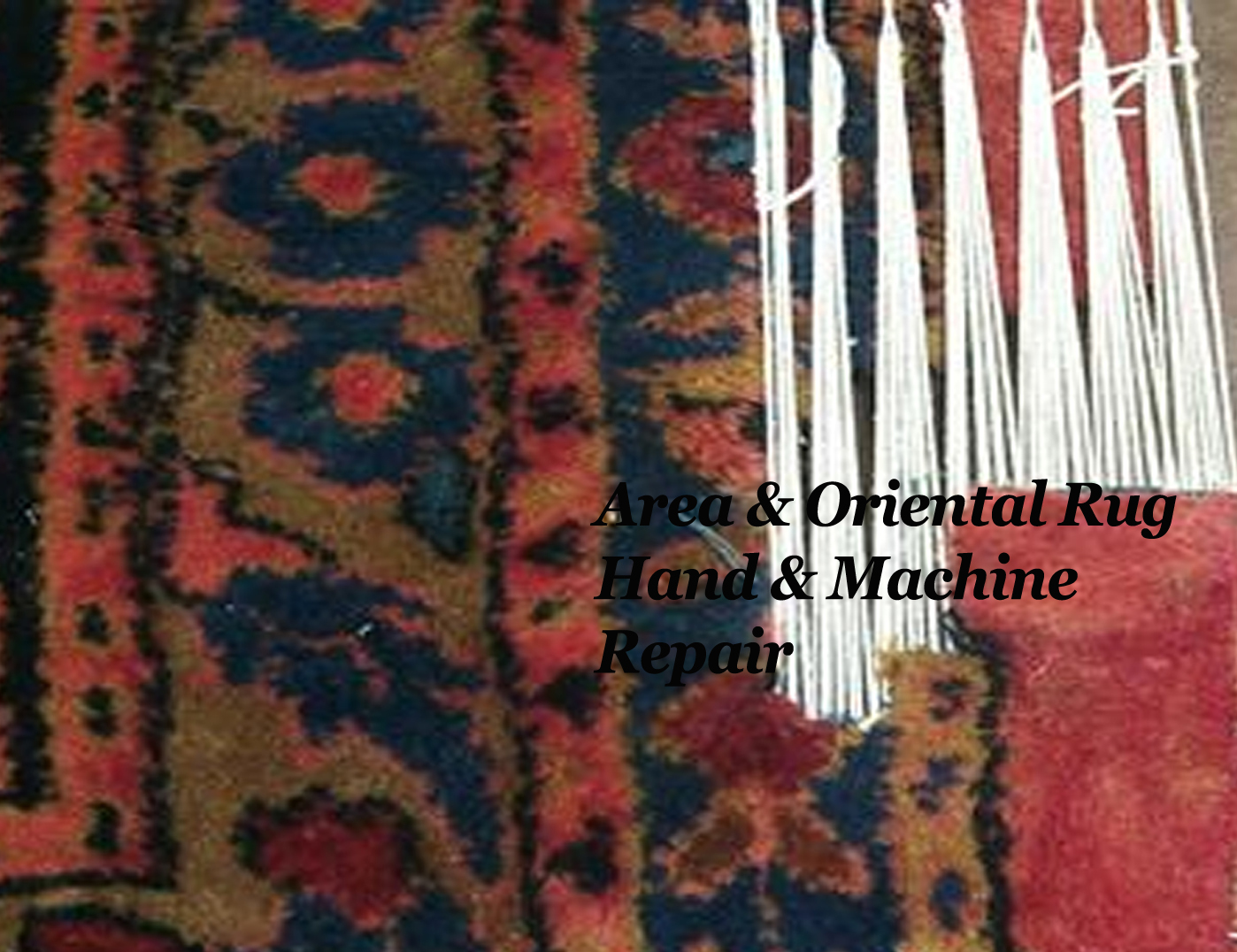 Area Rug Repair
We offer an extensive area rug repair service on our premises. When your rug, whether hand or machine-made, arrives at our plant a portion of our pre-inspection procedure includes suggestions of any repairs that could be done to enhance the beauty and value of your rug. These are suggestions only, based on our understanding of the fiber and construction of each individual rug and are offered as an optional service.
All work is done by trained technicians on our premises. Each rug will be individually assessed and will be priced according to the amount of time and materials involved.
Occasionally, a customer may wish to just have repairs done on a particular rug or rugs. We would be happy to oblige, but for the health and safety of our staff, we require all rugs to be cleaned in our plant before any repairs can begin. Besides exposing our technicians to possible bacteria, rugs often become compacted with dust and dirt particles that can make them extremely difficult to work on.
Any repair we suggest on a handmade rug will be as true to the weaver's original design as we can while retaining as much of the rug's value as possible following the repair. Repairs to a machine-made rugs can significantly enhance the beauty and usability of that rug.
WHAT TYPES OF RUGS CAN BE REPAIRED
Although we specialize in oriental rug repair, our work is not limited specifically to handmade oriental rugs but to any number of area rugs, handmade as well as machine-made, including but not limited to:
Navajo Rugs
Zapotec Rugs
Hooked Rugs
Belgian Wool Rugs
Dhurries
Karastan Rugs
Courestan Rugs
Custom Rugs
Braids.
TYPES OF REPAIRS AVAILABLE
End Work including
Hand Overcast-The rug is unraveled to the last undamaged row of pile. An interior hand stitch is inserted, locking into the foundation to secure the weft line (left to right) to create an even fringe not foreign to the rug.

Hand Fringe Reinsertion-Warps (top to bottom) are re-inserted into the foundation to replicate the original fringe.
Hand-Sewing of a Pre-woven Fringe-To stop any further unraveling and to make the rug look presentable, a pre-woven fringe can be hand-sewn on to the end of either or both ends of the rug. This fringe can be easily removed, allowing the rug to be restored in the future if desired.

Side Work including:
Hand and Machine Serging-A hand-sewn stitch can be applied, which binds the edges (sides) of the rug, protecting it from unraveling. NOTE: A machine stitch is intended for temporary use only and is not recommended for hand-made rugs.

Cloth Binding-This is a procedure generally used for cut area rugs. A cloth binding is machine-sewn on to prevent fraying of the rug.

Holes/Tears repair includes
Patch-A hole can be patched with another oriental or area rug with a similar design but will almost certainly not be an exact match. 
Hand Re-weaving-This is a labor-intensive type of repair utilizing similar wool, silk, and cotton as originally used in a particular rug.

Miscellaneous repairs include:
Cutting Rug to Size
Decorative Chain/Cashmere Stitch
De-Curling of Edges on Rug
Dye Removal~~Heat-seaming of a Rug
Leatherette Stripping Application to Edge
Reversing Scrim on Hooked Rug
Specialty Fringe Work
Spot Dyeing
Tack-Out (Squaring) of a Rug or Tapestry
Tea-Washing of Fringe
Velcro Application for Hanging Rug or Tapestry
For a more in-depth explanation of our repair offerings, please continue reading here.
As always, if you have any question, please call our office at 607-272-1566. We will be happy to help you.
---
---
"The Cleanest Clean You've Ever Seen."
by
ABC Oriental Rug & Carpet Cleaning Co.
130 Cecil Malone Drive Ithaca, NY 14850
607-272-1566