REMOVE SPOTS & SPILLS 
FROM YOUR CARPET


6 WAYS TO REMOVE SPOTS & SPILLS
FROM YOUR CARPET 
USING 7 HOUSEHOLD INGREDIENTS! 
In a previous article on how to remove spots and spills using household ingredients (What's In Your Green Cleaning Arsenal?), we discussed 7 spotting solutions for your carpet.  (Please refer to that article for more detailed instructions for mixing.)
They are as follows:
1.  Ammonia – 1 TBL of clear household ammonia with ½ cup water.
2.  Bleach – Hydrogen peroxide or sodium perborate (Clorox II) – NOT chlorine bleach.
3.  Detergent – 1 drop of Liquid Joy dish washing soap in a cup of lukewarm water. Use less Joy or more water to reduce any chance of too much suds if using Ultra Joy.
4.  Dry Cleaning Solvent – Carbona or K2R in small amounts.  NOT gasoline lighter fluid or tetrachloride.
5.  Enzyme – Powdered enzyme detergent such as Era or Biz.
6.  POG – Paint, Oil, and Grease remover from hardware store.
7.  Vinegar – 1/3 cup of white household vinegar with 2/3 cup water.
GENERAL INSTRUCTIONS FOR USING THE ABOVE SOLUTIONS ON YOUR CARPET
6 STEPS
1.  BLOT - Blot up spills with clean, white, absorbent materials such as towels, napkins, tissues, etc. BLOT thoroughly after each application before going to the next solution.
2.  REMOVE SOLID BUILT-UP MATERIALS - Remove carefully with a rounded tablespoon, spatula or the edge of a dull knife.
3.  DO NOT OVERWET - Use small amounts of the cleaning solution and blot frequently. Always blot, do not rub.
4.  WORK FROM THE OUTER EDGE TO THE CENTER - This will prevent rings and help to not spread the spot or spill into more of the area.
5.  BEGIN WITH STEP #1 - Treat area with each spotting solution until spot in removed. It may not be necessary to complete the entire series of steps.                      

6. ALWAYS BLOT AFTER EACH STEP - For the FINAL STEP – gently rinse the area with water and then absorb all the remaining moisture with absorbent material. One way to accomplish this is to place a good amount of absorbent material on top of the area. Then place a heavy object on the material (one that does not have color and won't bleed back into the area). Leave for 24 hours, replacing the absorbent material periodically.
REMOVE A BLOOD SPOT FROM YOUR CARPET USING THIS PROCEDURE
A blood spot contains albumin, fat, and iron. It is reddish when fresh but dries to a dark brown color with an irregular edge. Use the 6 steps above in combination with the 3 solutions listed below to remove the blood. 
1: Cool detergent solution
2: Cool ammonia solution
3: Enzyme detergent
BE PATIENT.  Some spots respond slowly.
NOTE:  If there is still a residue of blood after following the above instructions, total removal may require professional help.  If so, please feel free to call or text ABC at 272-1566 for more information.
DOWNLOAD
THE ABC SPOT CLEANING GUIDE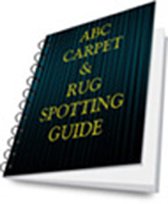 For more detailed information on the many different spots that can be removed with the above procedures, Click here to download your FREE copy of our ABC Spot Cleaning Guide.
---
Top of 6 Ways to Remove Spots & Spills
---
"The Cleanest Clean You've Ever Seen."
by
ABC Oriental Rug & Carpet Cleaning Co.
130 Cecil Malone Drive Ithaca, NY 14850
607-272-1566