What is the #1 Cause of Reappearing Spots and Spills After a Professional Carpet Cleaning?
Why do reappearing spots and spills sometimes occur on carpets even after they have been thoroughly and professionally cleaned?  
The #1 Cause:

Consumers Who Try to Remove Spots by Using the Wrong Cleaning
Compounds and Procedures
When coffee, tea, wine or other substances are spilled on a carpet, homeowners are likely to panic. 
Rather than following a precise procedure to remove the source of the problem, they react in many different ways.  
By not following the correct procedure, they can cause an otherwise removable spot to become one of those reappearing spots and spills after a professional cleaning, or worse, a permanent stain.

The 3 Major Mistakes a Homeowner May Make in an Attempt to Remove a Spot or Spill:

 
Using the wrong cleaning solution for the type of carpet or the type of spot or spill. 

 

Pouring a cleaning solution and/or water directly onto the carpet, spreading the stained area.
Rubbing instead of blotting which can abrade or distort the fiber.



What About Spots That Were Not Visible Before the Professional Cleaning?
This may be the case with long-forgotten spills.  It is possible these areas did not immediately cause discoloration because they are often from spilled liquid containing colorless sugar that remained on the fibers.  After long exposure to the air, these spots can change to insoluble brownish stains that may remain unnoticed because of the accumulated soil covering them.
After a professional cleaning, the soil is removed and those spots become visible.  Some food and drink spills may inevitably turn even darker from the necessary drying action after a thorough cleaning.
How ABC Removes Reappearing
Spots and Spills
ABC technicians use specialty cleaning and spot removal treatments to improve the appearance of forgotten drink spills -- cola, coffee, tea, alcoholic beverages, soda and others, and to remove them when possible. 
When we clean your wall-to-wall carpets, we have given you the best cleaning possible, done by skilled professional technicians using scientific method standards specifically recommended by the leaders in the cleaning industry.
But even with the best treatments, some colored residue or caramelized sugar stain resulting from the prior spillage may remain.
What Can the Homeowner do To Lessen the Possibility of Recurring Spots and Spills or Permanent Stain Damage?

If a spill is allowed to remain on the carpet, the moisture will rise to the surface to evaporate and discoloration may be left.  The reason for this is that each carpet fiber acts as a wick and all carpet pile dries from the bottom to the top.  This condition is called 'wicking.'
Therefore, As soon as possible after an accident occurs, use the following procedure:
If the spill contains solid material, gently remove as much of the solids as possible.(Gentle lifting with a butter knife may help.)

Blot, Blot, Blot!

  Thoroughly absorb as much moisture as possible by blotting the area from the outside to the center.  DO NOT Rub!

Put a half-inch thickness of clean, white absorbent material, such as paper or cloth toweling, over the area and weight it down with a heavy object.

Place a layer of aluminum foil between the absorbent material and the object being used for weight to avoid color transfer from that object.

Keep replacing with fresh absorbent material and repeat as needed until the area is completely dry and no more moisture and/or color can be absorbed into the material.

If a residue remains, download our

ABC Spot Cleaning Guide

and follow the instructions to apply the proper cleaning solution on the specific spot.

If all else fails, call our office at (607) 272-1566 for help or to schedule an appointment for a spot removal.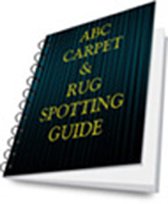 What to Do if you Find Reappearing Spots or Spills After a Cleaning by ABC?
If you find any reappearing spots or spills after we have cleaned your carpets, rugs, and/or furniture, please call our office at (607) 272-1566 as soon as you are able after a cleaning.  
We will be happy to take a look to determine whether or not the reappearing spots or spills can be successfully removed with an alternate treatment.  
---
Top of Reappearing Spots and Spills
---
---
---
"The Cleanest Clean You've Ever Seen."
by
ABC Oriental Rug & Carpet Cleaning Co.
130 Cecil Malone Drive Ithaca, NY 14850
607-272-1566