Painted Rugs
What Are Painted Rugs?
Painted rugs are new or older oriental rugs that have areas that have been 'painted' with dye markers, colored inks or solvent-based tints. Uninformed potential buyers of these rugs may not be aware that 'painting' (usually on the surface) of these rugs has become quite common.  
What Are the Problems Associated with
Painted Rugs?

There are 2 major problems associated with the phenomenon of painted rugs:
1. The paint is usually not 'washfast' and the colors can bleed into other areas of the rug during a professional wet cleaning.
2.  The paint is often used to cover over worn areas and not disclosed to the potential buyer who will then pay an unfairly high price for the painted rug.
Why Do Some Dealers or Retailers Paint Over Oriental Rugs,
Whether Old or New?
1. To Hide Worn Areas Where the Foundation Has Become Exposed.
Using dye markers, colored inks, water or solvent-based tints, the lighter colored worn areas where the foundation is exposed are "tinted" or colored over in an attempt to match the original pile color and disguise the wear. 
This surface painting or tinting is quicker and less expensive than re-knotting or inserting new pile (which is the proper way to restore a worn area or missing pile). Unfortunately, by merely painting over the wear spots, these worn areas will quickly return to their prior faded appearance during use by the customer.
A second and more serious problem, however, is that the surface painting will often bleed into surrounding areas of the rug when liquids are spilled or when the rug is washed. Many of the surface colors, when overpainted, are not washfast and can bleed profusely, even with the best of professional cleaning and care.
2. To Enhance Colors.
Painted rugs can sometimes occur as newer oriental rugs. They can be painted either on the back or on the face (pile side). New rugs from India and Pakistan are sometimes 'painted' on the back (or underside) of the outer border or fringe. When painted, the colors in the outside border are typically black, dark blue, red or kelly green and these colors are prone to bleed or color run when wet.
3. To Eliminate Color Variations.
These variations are known as 'abrash.' They are a normal occurrence in oriental rugs due to variations in dye lot colors of the yarns, an intentional creative effort by the weaver, natural aging, sun-fading, etc.  Though normal or pleasing to most, abrash coloration may be disliked or misunderstood by buyers and thus some dealer will decide to 'paint' over this special effect.
4. To Make the Rug Softer and Older (Tea-Washing).
Painted rugs can also have an overall tinting (green or gold) that is applied to give a rug a patina that will copy that of an older rug. The main problem with this for the consumer is that the tea-washing is never colorfast and will fade in different areas of the rug, especially on the fringes, and will wash out unevenly during a professional wet cleaning (usually giving a mottled appearance to the surface of the rug).
How Can You Know if the Rug
You Are Considering To Buy
Has Been Painted?
Ask the dealer or retailer several related questions:
(Please note:  Dealers selling painted rugs are not the most trustworthy. So if you're not assured or confident about the purchase, then avoid it and look for another rug or rug dealer or both.)
1.  Has the rug ever been tinted or painted over and how do they know one way or the other?
2.  Are the dyes and rug coloration guaranteed to be washfast, i.e., can the rug be safely wet-cleaned? They may assure you it can, even when it cannot, so get the assurance in writing.
3.  Are the dyes color fast (resistant to premature light fading and to color bleeding when wet)?
The Best Way to Determine Washfastnesss
of Any Rug –
The Turkish Towel Test…
Moisten a white (or Turkish) towel with tap water, and then rub or blot persistently on all colors. Do this on both the face (or pile) and on the back where appropriate. If any color comes off or transfers onto the towel, it is indicative of latent color bleeding that can cause serious problems later.
Testing the colors on the surface or pile applies to both new and old rugs. If any color transfers or would appear to bleed during the test, then do not buy the rug.
Painted Rugs known as
"American Sarouks"
(Pictured Below)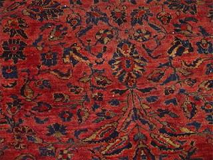 These are a particular type of oriental rug imported from Iran that has distinctive rose fields with blue borders and detached floral motifs. Unfortunately, the finishing process used in the early to mid-part of the 20th century had a tendency to fade the rose color.
A New York merchant, who was certain that the American buying public would prefer the darker color, applied a unique solution to this problem by supplying workers with small paint brushes and synthetic dyes. Armed with these, they applied a rose color, painstakingly by hand, to many thousands of these rugs over a period of about 20 years! These are aptly called 'American Sarouks.'
These America Sarouks can still be found today. More often than not, their painted-on colors have become mottled and uneven, though an occasional one may be perfectly preserved. Once you have seen one of these rugs, you won't forget it! The easiest way to tell that a rug is a painted or American Sarouk is to look at the colors in the field (central region) on both the front and the back. If the field on the front of the rug is dark rose or burgundy and the field on the back is light rose, you have an American Sarouk.
Call on ABC
At ABC, we have the ability to clean and repair almost any type of rug, but we specialize in oriental rugs from Turkey, Iran, China, India, Pakistan, Native American, etc. Our staff is trained to give you the best advice possible for the cleaning and restoration of your rug. 
Don't hesitate to call us at 607-272-1566 with any questions or bring your rug into our rug plant in Ithaca, NY.  (130 Cecil Malone Drive). We also offer a free pick up and delivery service  (some restrictions may apply).

Please click here for our Pick Up and Delivery Policy and our Pick Up and Delivery Service Areas.
We are open Monday through Thursday, 8-5, Fridays, 8-4:30, and the 1st and 3rd Saturdays of each month from 10-1. No appointment necessary.
---
---
"The Cleanest Clean You've Ever Seen."
by
ABC Oriental Rug & Carpet Cleaning Co.
130 Cecil Malone Drive Ithaca, NY 14850
607-272-1566