Maintaining Your Vacuum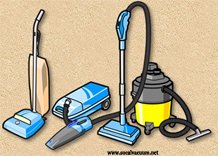 Maintaining your vacuum is your best weapon against untimely replacement of your carpet, rugs, and upholstery fibers.  Proper care of your carpet, rugs, and upholstery requires regular vacuuming.
Tips for Maintaining Your
Vacuum
How and when you use your vacuum and keeping it in good working condition are as important as the maintenance required to keep your vehicle performing at an optimum level. Listed and described below are the parts that need to be serviced regularly to keep your vacuum operating at maximum performance:
Maintaining Your Vacuum Bags/Filters
A vacuum bag is considered full if more than 25% of the bottom is filled with large particulate matter. If a bag is allowed to become overfull and not changed, the vacuum motor is deprived of airflow, resulting in restricted suction and soil removal.
There is yet another problem that occurs when the bag is full. While operating a vacuum, especially one without a hepa filter, small particulate matter is redistributed into the air and settles onto furniture and carpet.
Changing the bag frequently alleviates these problems and will allow your vacuum to perform effectively. This in turn keeps your carpet, rugs, and upholstery investments in better shape, while improving the air quality in your environment.
Maintaining your Vacuum Belts
A vacuum belt serves one purpose and that is to propel the brush roll. Over time, these rubber belts heat up and expand, which causes them to enlarge and slip.
Slipping of the belt will not allow your brush roll to rotate at its designed speed, not allowing your vacuum to work at an optimum level.
Maintaining your Vacuum Brush Roll

The brush roll contributes to the ability of your vacuum to pick up debris from the carpet. It helps part the fiber to get the dirt that has settled in between carpet fibers.
The nylon bristles on the brush roll should be periodically checked for wear. Once worn down, your vacuum will not be able to pick up soil from in between the carpet fibers and this will lead to premature replacement or soil abrasion in high traffic areas.
In Summary
Change your bag frequently.
Check and change the belt when it has become enlarged and has begun to slip.
Periodically check your brush roll for wear and replace if necessary.
Maintaining your vacuum with these simple tips will provide you with the ability to proactively maintain the life and appearance of your carpet, rugs, and upholstery fibers and prolong the life of your vacuum cleaner as well.
When Vacuuming is Not Enough
Vacuuming is for maintenance but when vacuuming is not enough, ABC is here to clean your carpet, rugs, and upholstered furniture for you.  Call (607) 272-1566 to schedule a carpet or upholstered furniture cleaning appointment or contact us here.
For oriental and area rugs and small furniture pieces or cushions, bring them to us at our certified cleaning plant in Ithaca.  We also offer a pickup and delivery service for convenience within approximately 60 miles of Ithaca.  Just call (607) 272-1566 to schedule.
---
Top of Maintaining Your Vacuum
---
---
---
"The Cleanest Clean You've Ever Seen."
by
ABC Oriental Rug & Carpet Cleaning Co.
130 Cecil Malone Drive Ithaca, NY 14850
607-272-1566