Location Carpet Cleaning
What to Expect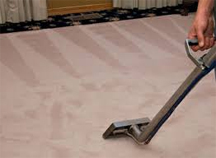 You have scheduled a location carpet cleaning in your home or business.  Do you know what to expect from the carpet cleaning technician? 
ABC has long been the market leader in carpet cleaning in this area.  Our staff members are proud to display their extensive credentials and continuing education regarding all textiles.  We are prepared to give expert carpet care advice backed by our staff's professional knowledge. 
What Our On Location Carpet Cleaning Technicians can Demonstrate to You:
All methods of carpet cleaning and the proper conditions and situations in which to use them.

The

ways in which chemicals affect

textiles, dyes, spots, indoor air quality, carpet warranties, and individuals.

Identification of fiber types

and basic construction of carpet.

Strong

customer relations

.

Impeccable moral and ethical standards.
What Our ABC On Location Carpet Cleaning Technicians Can Offer to You:
Free written estimates valid for six months.

A

description of your carpet problems

with a knowledgeable explanation of these problems and possible solutions.

A

fresh clean carpet

with little to no residue left in your carpets

,

keeping them cleaner – longer!

Special attention

to spots and heavy traffic areas.

Moving of furniture

(if desired) with the care it deserves.  Please note: if furniture moving is excessive or unusual, there may be an extra labor charge.

All

furniture put back

into place with pads or Styrofoam blocks to ensure against furniture stain migration into the carpet.

A technician who has

passed and maintained certification requirements

of organizations such as the International Association of Rug Care Specialists, as well as in-house requirements and testing.

Trucks equipped with

environmentally 'safe' cleaning solutions

to handle a variety of situations and needs.

A

healthier indoor environment

for your family and pets

A variety of

stain protectors

to ensure future protection against accidental spills.

A company that

stands behind

all the work we do.  Any concerns or dissatisfaction expressed regarding the cleaning should be called in to our office at 607-272-1566 as soon as possible.  We will address these problems and concerns immediately.
What Our On Location Carpet Cleaning Technicians CANNOT Provide:
Our process is the finest cleaning process for carpets known today.  There are, however, some things we CANNOT do:
Cannot replace carpet pile that has fallen out due to backing damage.
Cannot replace color

in fabric that has been damaged by animal or chemical stains.

Cannot look beneath the carpet

to see if tack strips have been installed properly or seams have been joined properly.

Cannot repair MAJOR problems

, such as seams opening up due to improper installation.  These may require different solutions.
We will, at all times, attempt to forewarn you of problems that any arise upon cleaning due to the pre-existing conditions of your carpet.
CALL ABC to Schedule Today!
Now that you know what to expect from our on location carpet cleaning technicians and the service our company provides, you should be assured that when you call ABC at 607-272-1566 to schedule an estimate or an appointment, you will get what you expect and more.  
ABC has been setting the industry standard and exceeding customer expectations in this area for over 40 years!
---
Top of Location Carpet Cleaning - What to Expect
---
---
---
"The Cleanest Clean You've Ever Seen."
by
ABC Oriental Rug & Carpet Cleaning Co.
130 Cecil Malone Drive Ithaca, NY 14850
607-272-1566