Latex Deterioration
in 
Tufted Rugs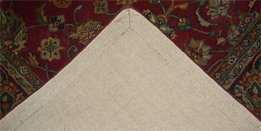 BEWARE OF LATEX DETERIORATION!
Have you taken up your area rug and found a large amount of dust-like particles under it?
Does your rug have an offensive odor that you did not smell in the store?
Is the backing on your rug coming loose?
All of the above situations are due to the fact that the backing on certain area rugs has been applied by the rug manufacturer with latex, an adhesive material. This material is used to anchor the pile to the backing, to give additional weight to the rug, and to hold the backing onto the rug.
The manner in which the latex was applied, the composition of the latex, and the amount of time the latex was allowed to cure all have an effect on the length of time before the latex starts to decay, as well as on any odor that may be emitted.
TUFTED RUGS
Tufted rugs are a good example of this kind of construction using latex to hold the backing to the pile. These rugs are often confused with handmade rugs and may even be labeled as 'hand- made.'
Actually, the tufting may be done by hand but it is done with a tufting gun held by the employee's hand! If your rug has a backing, it is most likely a machine-made rug, not an oriental or handmade rug, and it is inevitable that latex deterioration will eventually take place.
Tufted rugs, especially those from India, can also have an odor of 'burning rubber.' This odor may not be apparent in a large department store but may be very offensive in a consumer's home. THIS ODOR CANNOT BE REMOVED BY ANY CLEANING PROCESS!
In the country of manufacture, the latex is not given a chance to cure completely before it is shipped to other countries. It will pick up diesel fumes from the shipping vessel and they are forever trapped in the latex.
The latex will also hold any urine or other offensive odors that make contact with a tufted rug, making it almost impossible to effectively remove these odors.
Once you realize you have purchased one of these rugs, take it back to the store as soon as possible and you should receive your money back. If not, please contact our office at 272-1566 for more information.
WHAT CAUSES
LATEX DETERIORATION?
The more expensive latex compounds will better withstand aging as well as cleaning, but even with these compounds, latex deterioration will eventually occur. The rate of deterioration is influenced by the ingredients of the mixture as well as the conditions under which it is used. This breakdown will not take place evenly but will appear in smaller areas in the form of 'bubbles' or separation. In many cases, it is more apparent along the rug edges exposed to gases in the air.
Below are some reasons for the deterioration:
Breakdown
Latex deterioration begins as soon as it is put into service, similar to the rotting of automobile tires, elastic bands in garments and rubber bands.
The breakdown is caused by:
·         Gases in the Air
·         Floor waxes
·         Traffic
·         Sunlight
Chemicals Added to Retard Breakdown
A complex mixture, latex contains many chemicals, affecting both its wear property and cost. Chemicals are added to latex in an effort to retard this breakdown, but cannot prevent its taking place.
Chemicals Added to Reduce Cost
Other chemicals are added to reduce cost. Such chemicals could be compared to gravel in a concrete mixture. They take up space but have no adhesive properties. Increased use of this material reduces the adhesive power of the latex, causing an earlier breakdown and therefore, a separation of the backing from the rug.
HOW CAN ABC HELP?
If you have a rug with a backing that has come unglued with clumps of latex throughout, it may be to your advantage to replace it. 
However, if it is that 'just right' color or shape for your particular situation, we can remove the backing and the excess glue and replace the backing, making the rug usable for an extended period of time. 
Bring your rug into our plant or call our office at 272-1566 to schedule a free pick up. We will be happy to offer options for cleaning and/or repair for you rug.
---
Top of Latex Deterioration in Rugs
---
"The Cleanest Clean You've Ever Seen."
by
ABC Oriental Rug & Carpet Cleaning Co.
130 Cecil Malone Drive Ithaca, NY 14850
607-272-1566