HOT DOGS

July 4th and hot dogs always seem to go together. July 4th in America has evolved into one of our most favorite and fun-filled family celebrations. When asked, "What does July 4th mean to you?" most would say, "Hot dogs and Fireworks!"
This could be either a bad or a good answer. Perhaps we are too many light years away from our fight for independence and, though we must express our sincere gratitude for our freedom, one could say the thought of eating our favorite food and the sight of fireworks while gathering with friends and family is not an unimportant reason to love the July 4th holiday!
Or, one could even argue eating hot dogs on July 4th, at baseball games, and for that matter all throughout the summer, is as American as apple pie! Not only do hot dogs abound on the July 4th  weekend, July is National Hot Dog Month!
Although some nutritionists suggest we shun them, for most of us they are probably the best picnic and family gathering food ever because everyone from grade schoolers to grandpa loves them. For that reason alone (though we probably should exercise moderation), we should try to keep the nutritionists at bay at least for the summer.
HOT DOGS and BASEBALL

Did you ever wonder how hot dogs and baseball are linked? According to the National Hot Dog & Sausage Council (NHDSC), vendors would sell 'hot dachshund sausages' during baseball games at the Polo Grounds in NYC in the late 19th and early 20th centuries.
There is a legend that states in 1901 a cartoonist for a Hearst newspaper, Tad Dorgan, sketched a cartoon of a real dachshund dog, smeared with mustard, in a bun. Dorgan didn't seem to be able to spell the name of the dog and instead wrote 'get your hot dogs' for the cartoon caption. Apparently, Dorgan's cartoon has never been found to prove this, but it certainly makes for a good story!
Besides its early association with baseball parks, hot dogs are just about the most perfect food to enjoy while cheering on a favorite team. They are easy to prepare, inexpensive, and easily portable. Hot dogs are eaten most often between Memorial Day and Labor Day, incidentally coinciding with the peak of baseball season.
HOT DOG HISTORY

A timeline of important facts in the history of the hot dog can be noted as follows:
1487 - The frankfurter supposedly was first developed in the city of Frankfurt in Germany. In fact, in 1987, the City of Frankfurt celebrated the 500th anniversary of the hot dog. It is also possible the original 'dachshund' or 'little dog' sausage was developed in Coburg, Germany in the late 1600s by a German butcher who then went to Frankfurt to promote his product. However, people from Vienna, Austria say the term 'wiener' proves their city (Wien) was the birthplace of the hot dog1
1800s – German immigrants brought sausages, as well as dachshund dogs to America.
1860s – Reports of a German immigrant selling hot dogs with milk rolls and sauerkraut in New York City's Bowery from a pushcart.
1871

- Charles Feltman, a German baker, set up the first Coney Island hot dog stand selling dachshund sausages in a milk roll.
1890s – Historians find mention of 'hot dog' in college campus magazines.
1893 – 'Little dog' sausages were introduced by St. Louis bar owner and German immigrant Chris Von de Ahe, who happened to own the St. Louis Browns baseball team.
More than likely, though, the North American hot dog came from a variation of the common European sausage, brought in by butchers of many different nationalities, which then spread throughout the country.
COOKING PERFECT HOT DOGS
When cooking hot dogs, temperature is the most important consideration for the best and tastiest hot dogs. They must be hot enough but not too hot. The optimum temperature is between 150 and 160 degrees. Hot dogs cooked at under 140 degrees will be spongy and dull tasting. Cooked over 165 degrees, they get bloated and quickly start to dry out.
A two-step process of poaching and then grilling can result in perfect hot dogs. First, heat up a saucepan to 155 degrees. Then, drop the heat to low. Put in the meat and wait 10 minutes. A perfectly heated hot dog will be the result. But since we all expect a grilled hot dog, quickly put them on a hot grill and in a few seconds, they will have a nice color. Remove them instantly and serve.
Of course, in reality, everyone has their favorite way of cooking and eating hot dogs. What is really fun about hot dogs as well, is how creative you can get with condiments. Here are some ideas: Yellow, Dijon or spicy mustard, ketchup, mayo, chutney, BBQ sauce, Creole or chili sauce, sauerkraut, sweet pickle relish, dill pickle slices, jalapenos, sliced or diced peppers, grated cheddar, feta, blue, goat, cream cheese, nacho cheeses, and sour cream, etc.
Hot dogs are served in 95 percent of homes in the United States. Fifteen percent of hot dogs are purchased from street vendors and 9 percent are purchased at ballparks, according to statistics from the Heartland Buffalo Company.
It is estimated that Americans will consume more than 150 million hotdogs during the 3-day July 4th weekend!
Enjoy. And check out the descriptions of some regional hot dogs below and on the right:

---
REGIONAL
HOT DOGS
ALASKA HOT DOG

Commonly called a Reindeer hot dog or sausage, it is actually made from caribou meat and served in a steamed bun with grilled onions that are sometimes sautéed in Coca-Cola. (NHDSC)
ATLANTA HOT DOG

In Atlanta and at Turner Field, home of the Atlanta Braves, the hot dog will be topped with coleslaw and perhaps some delicious Vidalia onions. (NHDSC)
CALIFORNIA HOT DOG

Although there are many different hot dog varieties from California, the  most unique one is a bacon wrapped dog with grilled onions and peppers. These are favorites from carts around Los Angeles and San Francisco. (NHDSC)

CHICAGO HOT DOG

Chicago dogs are layered with yellow mustard, dark green relish, chopped raw onion, pickle spear, sport peppers, tomato slices and topped with a dash of celery salt and served in a poppy seed bun. (NHDSC)
CINNCINNATI HOT DOG

Called the Cinncinnati Coney, it is topped with Cincinnati style chili and usually also features a heaping mound of grated cheddar cheese on top. (NHDSC)
CLEVELAND POLISH BOY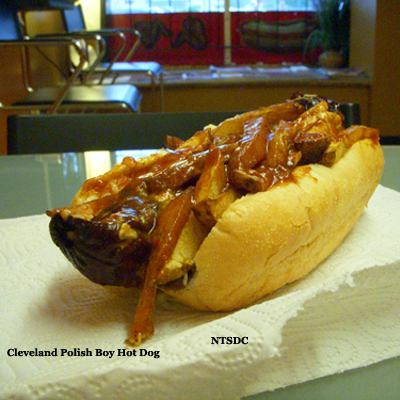 The Cleveland Polish Boy is commonly found in carts around town and is a kielbasa or hot dog served on a bun covered with a layer of french fries, a layer of sweet southern style barbecue sauce or hot sauce, and a layer of coleslaw.

At Indians games and elsewhere in the city you can also top your hot dog with Stadium Mustard, a type of Brown mustard with similar flavor to a spicy Dijon mustard. (NHDSC)
FENWAY HOT DOG

This is the only dog to eat while watching the Red Sox. It's boiled and grilled and served in a New England style bun with mustard and relish.
New England dogs can also be found topped with Boston baked beans. (NHDSC)
---
---
"The Cleanest Clean You've Ever Seen."
by
ABC Oriental Rug & Carpet Cleaning Co.
130 Cecil Malone Drive Ithaca, NY 14850
607-272-1566