FRINGE REPAIR
Hand and Machine
Fringe repair on the ends of oriental and area rugs is one of the most popular repair services at ABC Oriental Rug. We can stabilize and rework the fringed ends of your oriental and area rugs to give them new life and restore their beauty.
Free pick up and delivery is available to bring your rugs to our full-service cleaning plant to be professionally cleaned and repaired.  Our fully trained repair personnel can suggest the most cost-effective and proper method for bringing your rug back to an appearance as close as possible to the original. 
If your rug is in need of some loving attention, please bring it to our cleaning plant in Ithaca, NY for a free consultation or call us at (607) 272-1566. We also offer a free pick up and delivery service. You can also send us your rugs through the mail or through a delivery service such as Fed Ex or UPS.
At ABC, we offer several options for fringe repair on oriental and area rugs:
Hand Overcast
This option is for rugs that have a fringe but may have lost knots, producing an unraveled, unsightly look.  The ends would first be unraveled down to an undamaged row of pile.  An interior hand stitch is then inserted. 
This stitch locks into the foundation of the rug to secure the final row and to create an even fringe.  This will preserve the rug by preventing further damage.  Several different decorative end stitches are also available to further enhance the appearance of the rug.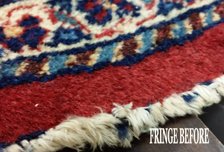 Re-Inserting Fringe
The fringed ends are the warps (end cords of the foundation) of the rug.  Warps can be re-inserted by hand into the foundation of the rug to replicate the original fringe. 
The final appearance of the rug, as well as its value, will be restored with this method.  
In the photos below, warps were added to the rug in areas where they were missing and the fringe was braided again to return it to its original state.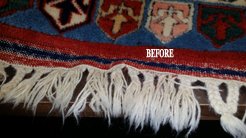 Hand Stitching of Pre-Woven Fringe
By far, this is the preferred choice of most clients of ABC seeking fringe repair.  A pre-woven fringe will be hand-sewn onto either or both ends of the rug.  This will stop any further unraveling and present a beautiful finished look. 
The original fringe, if still present, will not be touched.  Thus, the fringe can be removed, allowing the option of having the rug restored by hand at a future time.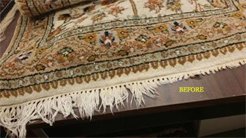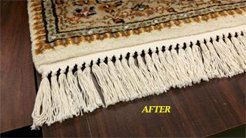 Machine Stitching of Pre-Woven Fringe
The methods for fringe repair mentioned above are all done by hand.  Machine stitching of pre-woven fringe is also available as a more cost-effective way to renew the appearance of a rug.
We suggest this repair as a possible option, especially for fine wool machine made rugs such as Karastans.  It is also an ideal alternative for synthetic rugs as well. 
Machine Binding of Ends
When a rug has reached the point in its lifetime when a major repair should be done but it is so torn or worn that it has no real monetary value, we may suggest removing the fringe and simply binding the ends (and the sides, if needed) to make the rug usable again.
This type of repair can work very well for any area rug of synthetic or natural fiber.
ABC Can Help You Choose Fringe Repair
At ABC, any repairs we suggest will always be based on our understanding of the fiber and construction of each individual rug as well as the expressed wishes of our clients.  If you have a rug in need of repair, please feel free to bring it into our plant at 130 Cecil Malone in Ithaca, NY. 
Our office is open from 8 to 5 Monday through Thursday, closing on Fridays at 4:30.  For your convenience, we are also open from 10 to 1 on the 1st and 3rd Saturdays of each month. 
There is no need to make an appointment.  Rug cleaning has an approximately 1 week turnaround. Repairs may take longer. 
We also offer free pick up and delivery in the Ithaca, Tompkins, Cortland and surrounding areas and have recently extended this service to the Syracuse area.  Please call our office at (607)-272-1566 for more information.  You may also contact us here. 
Please click here for our Pick Up and Delivery Policy and our Pick Up and Delivery Service Areas.
If you do not live in our service area, please feel free to call our office at 607-272-1566 and arrange to send us your rugs by mail or through a delivery service such as Fed Ex or UPS.
---
Top of Fringe Repair - Hand and Machine
---
---
---
"The Cleanest Clean You've Ever Seen."
by
ABC Oriental Rug & Carpet Cleaning Co.
130 Cecil Malone Drive Ithaca, NY 14850
607-272-1566