FLOOD?
3 Steps to Take Right Away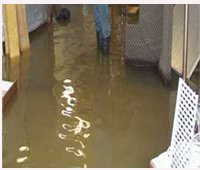 When a flood occurs in your home or business, it must be dealt with as quickly as possible since this type of damage is a major cause of mold and mildew growth.
Mold and mildew will begin to develop within 24 to 48 hours of any water exposure in the home, such as ground water intrusion, leaks, sewage back-up, overflows, etc. Mold and mildew will continue to grow until the source of the moisture is dealt with.
3 Steps to Take When a Flood Occurs 
in Your Home or Business
1. Call Your Insurance Company
You need to determine if the damage will be covered. Some policies require extra insurance if you are in a flood zone.  Without that insurance, ground water coming into your home or business will usually not be covered.
2. Call a Certified Water Damage Restoration Company Immediately

Doing this as soon as possible after you notice any flood damage can make the difference between a relatively short job and a much longer, costlier one.
The damage must be caught within hours in order to prevent sheet rock damage and carpet and pad replacement. Affected areas can be dried with extraction, dehumidification equipment, and engineering controls before mold has a chance to take over.                                                                               
3. Obtain Answers to the Following Questions
The answers to the following questions are important in order to determine whether or not mold and mildew have had a chance to start, which leads to different skills and services. The answers to these questions will also help the restoration technician decide what equipment needs to be brought to the site.
1.  The location of the damage. 
2. The extent of the damage.
3. The source. 
4. Whether or not the water flow has been stopped.
5. The size of the area.
Additional questions which help determine the degree of drying required:
1. What exactly happened?
2. When did the intrusion occur?
3. Has this happened before? If so, was it professionally remediated?
4. What are the walls made of?
What to Expect from the Professional

Once the proper information is obtained, technicians will come to the site to take hygrometer readings, both inside and outside the home or business. A moisture meter, penetrating or non-penetrating, will also be used to determine the severity of the damage. That way it can be determined which parts of the building are wet and also how deep the water level goes. These sensors can also help to see if water has stopped in the main affected area or gone under the wall into the next room.
ABC no longer provides flood damage remediation but if damage should occur in your home or business and you have any questions, please feel free to call us at 272-1566 and we may be able to help you. 
What To Do If Your 
Area and Oriental Rugs Get Wet?
If your area rugs, especially oriental rugs get wet, they need to be professionally dried, sanitized, and cleaned.  A wool rug, especially, can absorb up to 30% of its weight in water and still feel dry.  Mold and mildew can damage the foundation of these rugs and the damage can become irreversible very quickly. 
We may provide pick up and delivery in your area.  Please call our office at 272-1566 as soon as possible after a water intrusion occurs so we can preserve your rugs.
For more detailed information, please click here.
---
Top of Flood? - 3 Steps to Take Right Away
---
"The Cleanest Clean You've Ever Seen."
by
ABC Oriental Rug & Carpet Cleaning Co.
130 Cecil Malone Drive Ithaca, NY 14850
607-272-1566