EXTEND the LIFE of YOUR ORIENTAL and AREA RUGS--
5 TIPS

#1 - VACUUM FREQUENTLY
To extend the life of your oriental and area rugs, vacuuming frequently is a must. Why? Because everyday dust and dirt can settle into your rug. If the rug is in a well-trafficked area, particles of dirt can be pushed down into the rug to the backing and even to the floor, exposing the rug and the floor to damage from abrasion.  

Please note: Vacuuming, while essential to the overall care of your rug, can only remove approximately 80% of the soil. The rest of the soil will be trapped in the rug and includes air-borne pollutants such as cooking oils and greases as well as ordinary dust and dirt. This soil gets into the fiber and will act like sandpaper and can cut it. If the rug is a natural fiber, vacuuming can pull up some of this fiber, causing wear areas. On synthetic rugs, the sandpaper effect will not cut the fibers but will abrade them, leaving areas that are distorted. The light reflecting through the plastic fibers may give the appearance of soiling even after a thorough cleaning.

Because of the above, make sure you have your rugs professionally cleaned on a regular basis. In our rug washing plant, rugs are placed in our dusting equipment before they are cleaned to remove as much of the trapped soil as possible.

It is also a very good idea to roll the rug up every few months and dust under it. If possible, vacuum the back of the rug at that time as well. This would be the time to check the back of the rug for any moth or other insect infestation. Moth larvae, especially, often eat from the back of a wool rug to the front before they are even noticed. 

Please Note: When vacuuming oriental rugs and other area rugs with fringes, vacuum from side to side (opposite the fringes). This will save the fringes from being pulled up into the vacuum which can damage the fringes and even damage the vacuum. If using a vacuum tool to clean the fringes, cover it with an old nylon stocking and vacuum carefully to protect the fringe as well as the vacuum. We have Fringe Rakes for sale in our plant which can be used to remove soil from the fringes and also straighten them. An added plus--you don't have to bend over or get down on your hands and knees to use this tool!
#2-TAKE CARE of SPILLS ASAP!
Another important tip to extend the life of your oriental and area rugs is to take care of spills as soon as possible. A carpet or rug fiber acts as a wick and will pull spills up to the top of the pile. Once the soiling material is exposed to the air and allowed to dry, a spill can become a permanent stain.

The first best choice for quickly removing spills that could become permanent stains would be to blot the area from the outside to the center of the spill with a white absorbent material such as a Turkish towel or thick paper towels. 

Keep on hand an arsenal of non-toxic cleaning agents to combat specific spills. (See our ABC Spot Cleaning Guide for cleaning solutions as well as Green Cleaning Solutions on this website.)
ABC also carries a 'green' spotting solution in our plant for sale.

Never pour liquid spotters directly onto the area because the spill will be diluted and will spread out, making it more difficult to remove. Use absorbent material saturated with a spotter or spotting solution to blot the area instead.         

Remember to ALWAYS BLOT, never scrub the soiled area. Scrubbing can sometimes result in irreversible distortion of the fiber.

After you have blotted and can no longer get any transfer of soiling to the absorbent material, blot with water on a new absorbent material and then put a layer of absorbent material on the area with something heavy on top. Allow to dry for 24 hours, replacing the absorbent material frequently. This will allow any remaining soiling to 'wick up' to the surface and the absorbent material will prevent it from exposure to the air. (See #1 above).

Download ABC's SPOT CLEANING GUIDE. Learn how to remove spots with ordinary household solutions.
#3 - ROTATE AREA RUGS to
EXTEND the LIFE of YOUR RUGS
SO THEY WILL WEAR MORE EVENLY
Sun fading is a form of damage that cannot be repaired. Keep your rugs out of direct sunlight. Rotating your rugs regularly will keep you aware of the beginning of any changes due to sun fading.  

Rugs left undisturbed under furniture can harbor moths and other insects. Checking them underneath while rotating them will provide evidence of any beginning rug damage which can be quickly remediated.

Rugs in high traffic areas should be rotated regularly for even wear.

Make sure to reverse your reversible rugs regularly, such as braids and some kilims, for even wear.
#4 - TO EXTEND the LIFE of
ALL AREA RUGS, MAKE SURE THEY HAVE a RUG PAD
UNDERNEATH THEM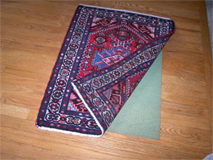 There are many reasons why every area rug on a hardwood floor needs a pad:
Wear will be minimized because there will be cushioning between the rug and the floor.

A pad will help to maintain the structural integrity of the rug, keeping the fibers from being pulled in different directions.

Pads with cross hatch patterning can capture the soil particulates and keep them in the holes where they cannot abrade the foundation of the rug or the floor.

Pads help to keep the rug from slipping.

Pads limit the amount of air space between the rug and the floor which may discourage insect infestation.
Rugs on carpets should have pads underneath them as well:
Rugs on carpets often get ripples from wrinkling. This can damage the rug and break the foundation, causing tears and rips.

Pads can help to keep the rugs from slipping.
Rugs on tile floors need a rug pad also:
Pads will prevent them from sinking into the grout lines, thus causing the foundation to weaken, causing tears and rips.

Pads can help to keep the rugs from slipping.
At ABC, we have a variety of rug pads made specifically for your hardwood, carpeted areas, and tile floors. For more information, please call or text our office at 607-272-1566 or visit here.
#5 - HAVE YOUR AREA RUGS CLEANED PROFESSIONALLY
EVERY 3 to 5 YEARS
(DEPENDING ON USAGE) to DEFINITELY EXTEND the LIFE
of YOUR RUGS
Of course, there are some instances, especially where there are animals and children, when rugs should be cleaned more often than every 3 to 5 years. Regular vacuuming alone will not extend the life of your rugs because it is not sufficient to remove all soils. 
In our plant, we have the equipment to gently but thoroughly clean your area rugs. These rugs should never be cleaned in your home.  They need to be dusted on all sides, thoroughly washed and thoroughly dried to avoid mold and mildew. (Wool can retain 30% of its weight in water and still feel dry.) Visit here and here to see our washing procedure.
Just call our office at (607)-272-1566 if you would like us to pick up and clean your area and/or oriental rugs and deliver them back to you.  You can also contact us here.   
Please click here for our Pick Up and Delivery Policy and our Pick Up and Delivery Service Areas.
If you do not live in our service area, please feel free to call or text our office at 607-272-1566 and arrange to send us your rugs by mail or through a delivery service such as Fed Ex or UPS.
---
Top of Extend the Life of Your Oriental and Area Rugs - 5 Tips
---
"The Cleanest Clean You've Ever Seen."
by
ABC Oriental Rug & Carpet Cleaning Co.
130 Cecil Malone Drive Ithaca, NY 14850
607-272-1566