Dye Bleeding 
in Oriental Rugs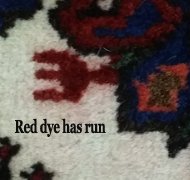 Dye bleeding or dyes that run or bleed out from the dye sites in your rug can ruin your precious oriental rug.
 Have you ever spilled a liquid on a rug and stood watching as the dyes ran or bled into other areas of your treasure?  Have you brought your rug to a dry cleaner or a rug cleaner in hopes that the dyes that have run could be removed?
You are not alone!  When dyes run from one area of a rug into another (usually a darker area to a lighter one), it is called DYE BLEEDING.
WHAT IS DYE BLEEDING?
This occurs when a colored fiber loses dye while wet. Uncolored or light colored fiber or yarn may readily soak up fugitive (runaway) dyes from the darker fiber or yarn and become stained. This is most often seen in rugs and carpet where deeply dyed shades (for example, reds, blue, blacks) become fugitive and bleed into white or light colored areas.
WHAT CAUSES DYE BLEEDING TO OCCUR?
At least two conditions cause dyes in colored fibers and yarns to bleed:
Defective Dye or Dyeing Method.
In such a case, the dye is either poorly selected or not properly handled during manufacture. The result is excess, unsecured, weak and/or unstable dye.
When a dye with poor stability or wash fastness is used, it may bleed during or after the first few cleanings. Likewise, when too much dye is used during manufacture, the excess adheres near the outside of the fiber where it may readily wash away.
Such defects in dye or dyeing method at the time of manufacture produce a textile product which is defective. Unfortunately for the consumer, these defects are not visible at the time of purchase.
Dye is Affected by Use.
This is the second condition. Examples include:
·         Sunlight
·         Atmospheric Fumes
·         Common Chemicals
·         Animal/Pet Residues
All of the above can weaken dyes over time. Once dyes are weakened, they may run or bleed with cleaning.
HOW CAN ABC ORIENTAL RUG HELP?
At ABC, we pretest all rugs to determine if a rug is a 'bleeder' or subject to dyes that bleed.  In the case of excess dyeing at the time of manufacture, it is sometimes possible to rinse out those excess dyes during our washing procedure so that they do not cause a problem in the future.  A 'dye fix' application can used to control dyes from bleeding in a rug.
Some dye runs can be removed by a tedious hand removal process.  We will let you know if this is possible and if the cost of the dye removal will exceed the value of the rug.
Although we take every precaution possible, if pretesting a rug does not indicate a dye bleeding problem, we cannot be held liable for using what would otherwise be usual and customary cleaning procedures.
The best guarantee of satisfaction is to use our services at ABC. We depend on our experience and stand by our service as a reputable oriental rug cleaner.  
Bring your rugs to us for cleaning and repair.  We also offer free pick up and delivery as well.  
Call our office today at 272-1566 to schedule an appointment or just stop in at 130 Cecil Malone Drive in Ithaca.  We are here to help you with all your oriental rug and area rug needs.
---
Top of Dye Bleeding in Oriental Rugs
---
---
---
"The Cleanest Clean You've Ever Seen."
by
ABC Oriental Rug & Carpet Cleaning Co.
130 Cecil Malone Drive Ithaca, NY 14850
607-272-1566