CLEANING RUG FRINGES

Types of Problems
Cleaning rug fringes on Oriental and area rugs is a complicated and intricate process. Even after a thorough cleaning, rug fringes may need additional treatments.
Types of problems we see in our plant include natural deterioration from wear and tear or from improper vacuuming, changes in the color of fringes from browning and dye runs or loss of color from tea or gold washing. These problems may appear before, during or after a professional rug cleaning. 
Some, but not all stained areas on fringes can be removed without compromising the integrity of the fringe itself. Examples of stains that cannot be removed include gray areas which may actually be wear, not soiling, and most urine stains.
Our technicians and office staff are trained to take note of problematic fringes and alert the customer they exist before cleaning or may still be present after cleaning even after special treatments have been applied.

Listed below are some of the fringe problems we encounter in our rug cleaning plant:

Fringe Deterioration
Before and After Cleaning
Rug fringes are prone to some deterioration with normal use due to the fiber content of the fringes (usually cotton), their loose or low twist, and their open ends. These characteristics make rug fringes susceptible to untwisting, texture loss, and fraying during normal use such as vacuuming, walking, etc. and may deteriorate further during cleaning.

Changes in Color
When Cleaning Rug Fringes
Changes in color that require special treatments during or after cleaning are usually caused by 1 of 2 reasons:
The first reason is cellulosic browning. Rug fringes are mostly made of cotton, a cellulosic fiber, which undergoes natural changes with time. These changes may lead to the development of brown stains or discoloration called cellulosic browning.
The second type of color change can occur as 'fugitive' dyes from the wet rug are being absorbed by the fringes during cleaning or a flood.
Because some rugs may be 'overdyed' during manufacture, the extra dyes will run and can sometimes be flushed completely out of the rug during the cleaning process. Unstable dyes that have 'run' and remain in the rug fringes  can possibly be removed but the process is tedious and expensive and could cause deterioration to the fringes.
The technician is prepared to choose the appropriate treatment for each rug that goes on the wash floor and we will inform the customer about the pros and cons of each method.
2 Treatment Methods Used
After Cleaning for
Problematic Rug Fringes 
After a thorough cleaning in our plant, if the fringes of a rug need extra treatment, either or both of the following methods may be used:
1.  The first method involves re-cleaning the fringes by hand, with or without mild acid, rinsing, and rapid drying with a blower.  This treatment does not weaken the fringes but may leave them off-white or slightly discolored.  If browning or color bleeding is severe, it may not be eliminated by this approach.
2. The second, a stronger treatment, involves bleaching with or without rinsing, and rapid drying. This approach will result in white fringes but may also cause some physical deterioration of the fringes.  This deterioration is generally manifested in strength loss, fiber loss and/or 'stringy' texture and the fringes may break off during subsequent vacuuming and wear.
The choice of procedures best suited for a particular rug comes from the knowledge and experience of the technician.
Graying Fringes Before Cleaning
Excessive wear on white fringes will usually show up as a dark grey color on areas of the fringes.  This discoloration cannot be ameliorated and it is permanent because this is not a color at all but distortion of the fibers of the fringes.
Color Loss on Fringes That Have Been Tea-Washed or Gold-Washed Before Cleaning
Tea-washing or gold washing is a procedure that is used by the weaver or dealer to give a rug, usually of lesser quality, the look of an antique or older rug. 
Unfortunately, the tea-wash is not color-fast and some of it will bleed out of the rug during the cleaning process or when cleaning rug fringes and it is permanent. 
The end result can be a mottled appearance on the rug and/or the fringes.  This is not a problem with the cleaning, but a natural loss of color from the tea or gold-washing procedure.
ABC's Repair Technicians Can Replace or Repair Your
Old Worn Rug Fringes!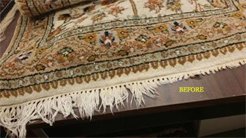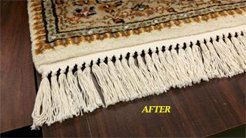 Eventually, all rug fringes will wear out from normal use and care. We can renew the appearance of your rug by replacing or re-fringing the old, worn rug fringes. All rugs coming into our plant are checked for possible repair needs. Our repair specialists will be happy to give you an estimate if you desire.
Though our plant is located in Ithaca, NY, we also offer a pick up and delivery service within 60 miles.  Please call our office at (607)-272-1566 for more information or you may contact us by clicking here.
---
---
"The Cleanest Clean You've Ever Seen."
by
ABC Oriental Rug & Carpet Cleaning Co.
130 Cecil Malone Drive Ithaca, NY 14850
607-272-1566