CLEANING LAMINATE FLOORING
Cleaning Laminate Floors Properly
Cleaning laminate floors and cleaning them properly is important in order to keep them shiny and to avoid the dreaded 'yellow haze,' which is the most common complaint about this product.
Laminate flooring is made to be durable and shiny as long as it is maintained properly. More and more homes and businesses are opting for this flooring because it is easy to install, usually requires less maintenance, and is much less expensive than wood.
There are thousands of different styles and types of this popular floor covering available.
Tips for Vacuuming/Sweeping Laminate Floors
Cleaning laminate floors properly requires periodic vacuuming and/or sweeping. The frequency depends on the degree of usage. Even though these floors have a wear layer that resists stains and gouges, any debris on the surface could potentially cause unsightly scratches. Unlike wood floors, this floor covering cannot be sanded and refinished.
When vacuuming, make sure to use the hard floor attachment. Do not use a beater bar.
Tips for Mopping Laminate Floors
It is very important to use water very sparingly on this product. There is usually space underneath them when they are installed which could allow water to get under the floor and sit there. The water could potentially go up through the sealer and eventually discolor the floor. Too much water can also penetrate into the gaps between the boards.
There are 2 major tips here:
1.                  DO NOT USE any buckets filled with cleaners, such as pine, lemon, oil, bleach, or ammonia-based. They don't leave a good finish and can even ruin these floors and cause the yellow haze. Use ONLY a properly formulated laminate floor cleaner in a spray. (Can be found at home stores).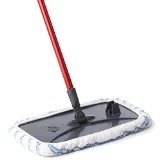 2.                  Use a flathead microfiber mop ONLY. It will keep moisture out and is very easy to use with a spray cleaner. Clean the microfiber cloth regularly but do not use fabric softener because it clogs the fibers. Always mop in the direction of the grain to avoid streaks.

Preventive Management 
To protect your laminate flooring and to keep it in showroom shape, make sure to:
1.                  Place a mat outside entrance doors.
2.                  Place a mat inside entrance doors.
3.                  Take shoes off when entering.
4.                  If furniture is to be moved, protect the floor with felt pads.
Is This a Service Offered by ABC?
No. We do not clean laminate flooring but we are always interested in informing consumers about the proper cleaning of anything in the home.
If you have any questions about this or any article, please contact us here or call our office at 607-272-1566. 
---
Top of Cleaning Laminate Flooring
---
"The Cleanest Clean You've Ever Seen."
by
ABC Oriental Rug & Carpet Cleaning Co.
130 Cecil Malone Drive Ithaca, NY 14850
607-272-1566