Cleaning Area Rugs
in ABC Plant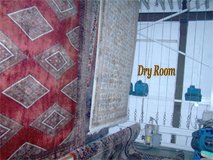 Why Cleaning Area Rugs in Your Own Home or Business is Not a Good Idea...
At ABC, we are often asked why we recommend cleaning area rugs in our specialized rug cleaning plant rather than in customers' homes or businesses.
The Answer is:
Cleaning Rugs in Our Cleaning Plant Allows Us To

PROPERLY

and

THOROUGHLY
Clean Your Rugs in a Professional Manner
to the Highest Achievable Standard.
Here is What Happens in Our Plant...
Most rugs will go through an 8-step procedure as shown below:(Certain rugs may need special attention and a modified procedure may be in order).
1. Pre-Inspection.
The rug is inspected on the back and on the front for any problems that could arise during the cleaning process.  We will also advise the customer of possible options for repair, either by hand or by machine. All rugs must be cleaned before repair.
2.  Dusting.
The rug is thoroughly 'dusted,' either by hand, special machinery or air in order to remove as much of the impacted soil as possible before washing.
3.  Washing.
The rug is thoroughly but gently cleaned with solutions specifically formulated for its particular fibers and dyes. It is during this procedure on the wash floor that treatments such as spot and odor removal are administered if needed.
4.  Rinsing.
Gallons of water are gently pushed through the rug to ensure all cleaning and treatment solutions are completely and thoroughly rinsed out of the rug after washing.
5.  Wringing.
The rug is put through the 16' automatic wringer to extract excess water.
6.  Drying.
After the wringer, the rug will be brushed to set the pile. It is then hung to dry in our temperature-controlled dry room.
7.  Post-Inspection.
After the rug has been tested and is completely dry, it will be taken down and inspected (re-cleaned if necessary), vacuumed on both sides, then rolled and put into a bin awaiting your arrival for pick up.
8. Repairs.
If a rug is in need of repairs of any type, our repair specialists are available to discuss appropriate options. Cleaning of a rug before any repair is required for the safety of our personnel. 

Cleaning area rugs in our plant as explained above assures we have full control over the entire cleaning process.  It is not possible to maintain our high standards and properly clean your area rugs in your own home or business.
There are some Exceptions!
It is Possible to Clean Certain Synthetic Area Rugs on Site in Your Home or Business!
The majority of area rugs MUST ALWAYS be cleaned in our plant but there can be an unusual situation in which it would be necessary to clean an area rug on site in a home or business.
An example might be a rug made of synthetic fibers such as nylon, olefin, polyester, etc., that is very large or has a lot of heavy furniture on it. This could possibly qualify for cleaning on location. An exception to this situation would be a rug with a natural fiber backing (such as jute).
What Types of Rugs

MUST ALWAYS
be Cleaned In Our Plant?
1. Area rugs of any fiber type that contain animal or human urine MUST be cleaned in our plant to specially treat them for odors.
This is a labor-intensive process guaranteed to remove all URINE ODOR from the rugs. (URINE STAINS, on the other hand, are permanent on certain types of rugs and carpet, although it is possible under some conditions to significantly lighten them.)
~~~
2. All natural fiber rugs such as wool, cotton, silk or sisal must be brought back to our plant for washing.
These fibers require much longer drying times and a significant amount of extra care in order to produce a quality washing without damaging the rug. Some of the risks involved could include dye migration, cellulose browning, improper drying, bacteria production, damage to floors, etc.
Additionally, since wool fiber can hold up to 30% of its weight in water and still feel dry, it is essential to make certain that the rug we return to you is completely dry to prevent any possibility of mold, mildew or dry rot from occurring. These are risks that neither the homeowner nor the business owner should assume.
~~~
3. Rugs with any kind of insect infestation such as moths, carpet beetles, etc.
Rugs such as these must be treated before, and sometimes after, cleaning. In the case of moths, cleaning will remove the live moths and larvae, but will have no effect on the eggs. They require special treatment in our plant.
ABC's FREE PICK UP and DELIVERY
Service Area has been EXTENDED!
Free pick up and delivery is now available within 60 miles of Ithaca, including the Syracuse, NY  and the Elmira/Corning area. Please call or text our office to schedule an appointment for a pick up at (607)-272-1566.  
Normal return times for cleaning area rugs in our plant are 1 week from pickup.  Extra treatments may take a little longer. Please note:  Our pick ups and deliveries are always free but discounts normally do not apply and there may be a minimum dollar amount required for your area.
Please call or text our office at 607-272-1566 if you need more information.
Please click here for our Pick Up and Delivery Policy and our Pick Up and Delivery Service Areas.
If you do not live in our service area, please feel free to call or text our office at 607-272-1566 and arrange to send us your rugs by mail or through a delivery service such as Fed Ex or UPS.
---
Top of Cleaning Area Rugs in Plant
---
"The Cleanest Clean You've Ever Seen."
by
ABC Oriental Rug & Carpet Cleaning Co.
130 Cecil Malone Drive Ithaca, NY 14850
607-272-1566