Choosing Wool Carpet or Rug Good News or Baaad?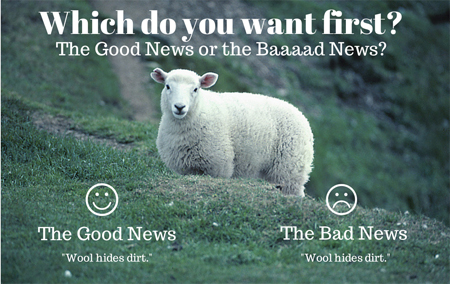 Did you know that choosing wool carpet or a wool area rug for your home is both good news...and sometimes bad?

The Good News...
The good news is that carpet and rugs made of wool, a high quality fiber, will last longer, look better, and retain their value longer; even though wool may initially be the more expensive option.
Choosing Wool --The Baaaad News!
Wool fiber, because of its physical makeup, has the characteristic of hiding dirt.  The bad news about choosing wool means  you won't see as much dirt on the fiber, and so you may not vacuum or clean often enough. This means your wool carpet or rug may prematurely wear out.
Why is That?
Most consumers base their cleaning frequencies on appearance. That can be dangerous for any carpet or rug, or any surface, for that matter. As mentioned above, wool has the unique characteristic of being able to hide dirt, especially those tiny, gritty particles that wear on the fibers.
You might compare this to putting sand on a piece of Plexiglas and walking on it. The sand will act as an abrasive, damaging the surface.

While wool fibers won't damage as quickly as other fibers, such as nylon, polyester or olefin, any type of dirt or soil on them isn't good news at all.


Why Talking to a Professional About Cleaning Wool is Good?
You should talk to a cleaning professional about cleaning based on frequency, not appearance. Get your cleaning scheduled on a regular basis, and remember that not every situation is the same. Your wool carpet or rug may or may not need as frequent a cleaning as another. That's why a professional opinion is good to have.

Yes, wool is good...or baaad...depending on how you treat it!

Talk to the Professionals at ABC!
We're here at ABC Oriental Rug and Carpet Cleaning Co. to help you with your rug and carpet cleaning needs. Just call us at (607) 272-1566 or stop in at 130 Cecil Malone Drive in Ithaca. You can also contact us here.
We'd love to answer any questions you might have about any of your textiles--rugs, carpet, and upholstered furniture. 
Our Free Pick Up and Delivery service has now been extended to the Syracuse area ( area and oriental rug pick up and delivery only).  
Our carpet and upholstered furniture cleaning services Tompkins, Cortland, and Tioga Counties and many surrounding areas.  Please call our office at (607)-272-1566 for more information.
---
Top of Choosing Wool - Good News or Baaad?
---
---
---
"The Cleanest Clean You've Ever Seen."
by
ABC Oriental Rug & Carpet Cleaning Co.
130 Cecil Malone Drive Ithaca, NY 14850
607-272-1566