Chemically Washed Rugs

Beware of Chemically Washed Rugs!

Beware of chemically washed rugs! Did you know that many wool rugs sold today have had some kind of chemical treatment applied just after they were woven? There are many reasons for this and many types of chemical solutions are used. 
When used aggressively, these solutions can cause damage to wool fibers, some of which may be irreversible. This damage may not become apparent until after the rugs have been cleaned. 
Choose an Experienced Rug Cleaner
Oriental and area rug cleaners, especially those who are approved by wool organizations such as New Zealand Wools, have the knowledge to use cleaning solutions that are safe for use with wool. 
If you take your rug to a professional rug cleaner, such as ABC Oriental Rug & Carpet Cleaning Co., you will be advised of any possible chemical treatments that may have been added to your rug and what to expect after the cleaning.
But Why Does a Rug Need to be
Chemically Washed?
The main reasons why wool rugs are chemically washed are:
To help wash away impurities.

To rinse away excess dye (over-dye).

To help to soften the colors (to give the rug a 'sheen' or to make it look older).
Since wool is a hair fiber, this chemical washing is not much different from the treatment done to hair to add highlights or more sheen or to dramatically color the hair. 
Most of the time, these types of treatments do little or no damage to the rug, but there can be collateral damage that shows up later in the rug's life when the treatments are excessive.
These chemical treatments can gradually destroy the outer cuticle layers of the wool fibers, causing the fibers to become brittle and break, become more susceptible to color fading from the sun and from some spotting chemicals, and even from foot traffic. These rugs will also be more susceptible to permanent staining. 
Some, especially those from India with thick foundation cords, may retain some of the chemicals that were used, leaving residues that can cause chemical sensitivities for their owners.
Types of Chemical Treatments
Antique Wash:  These treatments are applied to a rug to give the impression that the rug is older than it really is. The problem is that this is an aggressive treatment that eats away at the wool cuticle layers. In this attempt to recreate the patina and mellowing of colors that a true antique rug has, the original colors will actually become muted or faded. It will also make the wool more brittle. 
Luster Wash:  A luster wash is used to soften the pile to create a 'sheen.' Again, some of the outer cuticle layers of the wool fibers will be dissolved. Most rugs receive this wash before they are sold, but in countries that use this treatment aggressively, such as China and Pakistan, these treated rugs often have such a sheen that rug owners believe they have a silk rug. 
If the rug dealer is not completely honest, these chemically washed rugs will be priced much higher. You will usually see a huge difference in the look of the rug depending on which end you are looking from. One side will be noticeably lighter or darker than the other.
Tea Wash:  This is an over-dyeing process. Tea-washing can be obtained by actually using tea leaves or, as is the case for the most part today, using chemical solutions to provide a gold/brown hue to soften the colors. In some cases, only one side of the rug will be tea-washed, but you will also find ones that have been processed on both sides.
It is important for rug buyers and owners to know that this procedure is not permanent and some of this color wash may come out during cleaning. This process may leave an unsightly mottled appearance to the rug.
Aggressive Rug Aging: This is one of the newest procedures. This is an extreme process that destroys much of the wool and weakens the rug. Please continue here for information on this type of rug aging.

How Do You Know You Have a
Chemically Washed Rug?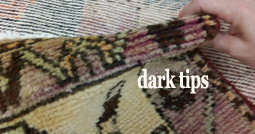 Antique Wash:  If a rug has been antique washed, there will usually be a noticeable color change from the back of the rug to the front. Look closely at the rug fibers all the way down to the foundation. If you see a color that is very strong in the middle of the fibers, you know you have a rug that has been antique washed.
Luster Wash:  Again, look closely at the base of the fibers. They will be darker than the tips. The rug, as mentioned above, will have a different look depending on which way the light hits it. Standing at one end the rug will look dark, while at the other end, much lighter.
Tea Wash:  These rugs are a little easier to spot because they will have a gold or brown tone. The fringes are another clue, because they will be beige instead of the expected white color. Looking closely at the fibers, you will find they will be darker at the tips.
ABC ORIENTAL RUG
The professionals at ABC Oriental Rug can advise you about any of the rugs brought to our plant for cleaning and how our cleaning processes will affect your chemically washed rugs.
For our 8 Step in plant cleaning process, please click here.
If you have any questions, please feel free to call our office at 607-272-1566.
You can also contact us here.
---
---
---
---
"The Cleanest Clean You've Ever Seen."
by
ABC Oriental Rug & Carpet Cleaning Co.
130 Cecil Malone Drive Ithaca, NY 14850
607-272-1566