CARPETING or WOOD FLOORING?
TIME FOR A CHANGE?
Will new wall-to-wall carpeting or wood flooring change the look and feel of your home? Are you on the fence about which to choose? Each option has its own advantages and disadvantages. Both can be very expensive undertakings, so making an informed decision is important.
Wall-to-Wall Carpets
Wall-to-wall carpets are expected, and usually warranted, to last at least 10 years, more if properly cared for with regular vacuuming and periodic professional cleaning. If it is still in good shape, you may want to wait until it is obvious that replacement is needed (because it is worn or outdated), and have it professionally cleaned before making a final decision. 
Wood Floors
Wood floors usually come with a warranty of 25-30 years or more. If you have good floors under the carpets, they may be able to be refinished as long as they haven't been damaged by moisture or are not too thin. If you already have good quality flooring in your home, you may benefit from a professional refinishing job to really make them stand out. Replacing or installing new wood over damaged floors is another option, but an even more expensive one.

Styles change over the years. Today, hardwood is quickly becoming the preferred floor treatment. This choice also gives the option of adding quality area rugs to hold groupings of furniture together and to fill a room with added color and grandeur.
SPECIAL NOTE:
If you are considering selling your home, check first with a real estate agent to see if either option will actually add to the resale value of your home.
CARPETING or WOOD FLOORING?
CONSIDER MAINTENANCE
The easiest way to determine which to choose (other than the cost involved) is to consider the maintenance of each.
Carpeting Maintenance

In comparing carpeting or wood flooring, wall-to-wall carpeting is known as the 'sink' in your home where dust and allergens become trapped rather than released into the air, which can cause eye and respiratory problems.Unfortunately, if vacuuming is not done on a regular basis, it will become saturated and will release those allergens into the air.  
A professional cleaning, usually once or twice a year, depending on the amount of traffic, will provide a deep cleaning to complement regular vacuuming and to remove dust and allergens as well as stubborn spots and spills.
Although you will always be able to have a soft, warm surface underfoot, the buildup of dirt, especially from animals and foot traffic, will probably show more quickly on a carpet than on a wood floor.  Spots and spills will be harder to remove and may require professional treatment. Liquids should be absorbed as quickly as possible so as not to weaken the latex backing.
Wood Flooring Maintenance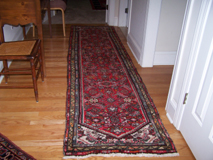 In comparing carpeting or wood flooring, the wood flooring option is relatively easy to keep clean because dust mopping and sweeping can sometimes be easier and quicker than vacuuming. It is important that the dust mopping and sweeping be done regularly. Otherwise, dust, grime, and other allergens will be kicked up into the air any time they are walked on. Additionally, dry mopping with an appropriate solution should be done every 3 to 4 weeks. They may also require a periodic polishing. 
Damage may result when moving furniture or if heavy items are dropped and may require repair by a professional. Spilled liquids should be cleaned up quickly so that the liquid will not be absorbed by the wood. 
INSTALLATION
It is important to choose the right product for your needs but to also understand that a high quality professional installation is of utmost importance.  This will ensure that your new assets will last and add to the beauty of your home for years to come.
Whichever you choose, make sure to seek out professional advice and do your own research on the types of products that are available.  If you have any questions for us, please feel free to call our ABC office at 272-1566.  
---
Top of Carpeting or Wood Flooring
---
"The Cleanest Clean You've Ever Seen."
by
ABC Oriental Rug & Carpet Cleaning Co.
130 Cecil Malone Drive Ithaca, NY 14850
607-272-1566