We Cannot Clean That Rug!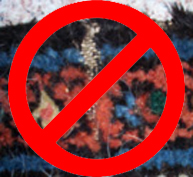 ---
"We cannot clean that rug!!"  
What do we really mean?
We do NOT mean we are NOT ABLE to clean that rug. 
 It certainly does NOT mean we DO NOT HAVE THE TECHNICAL KNOWLEDGE to clean that rug. 
 And, it does NOT mean we DO NOT HAVE THE EQUIPMENT and SUPPLIES to clean that rug.
---
SO – WHAT DO WE REALLY MEAN
WHEN WE SAY
"WE CANNOT CLEAN THAT RUG?" 

THERE ARE 2 MAIN REASONS WHY WE MAY SAY THAT:
---
                #1 - Urine Contamination:
If

the rug is saturated with urine, even a thorough cleaning will not remove the odor and nothing may remove the stain.
Especially in the case of machine made or synthetic rugs, our Special Urine Decontamination Treatment (which is guaranteed to remove the odor from handmade wool rugs), when used to remove odor from a synthetic rug, the cost may exceed the value of the rug and may not be successful.

In

rugs that are saturated with urine, and have a glued on backing, such as tufted rugs, the urine cannot be removed from the glue by any method.
If a rug is saturated with urine, we will not risk 'just cleaning it' because the odor can transfer to other customers' rugs during the cleaning process, especially in the high heat of the drying room. 
Rugs

that are saturated with urine for any length of time may develop dry rot which may cause further deterioration during the cleaning process. And urine will attract moths.
---
        #2 - Flooded Rugs that have been under water for more than 24 hours:
E

xcess water will deteriorate the foundation of a rug, particularly in woven rugs, especially if the foundation yarns are made of cotton. Wool rugs, on the other hand, can hold up to 30% of their weight in water and still feel dry, which can lead to mold and mildew, as well as dry rot.

Water can also loosen the backing in tufted rugs, causing buckling and ripples. 

Even if a previously flooded rug is dry when brought in for cleaning, dry rot may be a problem and may cause many areas of the rug to deteriorate further during cleaning.
---
WHY WE SAY "NO"
As consumers, we choose our rugs for different reasons–for their size, color, design, etc., and many of us get really attached to our favorite ones. Whether constructed of wool, cotton, nylon, polyester, olefin, acrylic or a natural or synthetic blend, our staff will treat all your rugs as if they were fine handmade treasures. 
But when a treatment or a repair exceeds the value of any rug, we feel it is our responsibility to make sure the customer is made aware of this.  It is also our responsibility to our other customers to make sure that their rugs come back to them as clean and as odor-free as possible. Heavy urine odor from a contaminated rug can quickly permeate other customers' rugs.   
So, when we say "We cannot clean that rug!" please understand that our decision is in your best interest as well as that of our other customers. It has always been our policy at ABC to make every effort to meet and to exceed the expectations of our customers and that sometimes means that we must, in all honesty, say "No, we cannot clean that rug!"
---
Top of "We Cannot Clean That Rug!
---
"The Cleanest Clean You've Ever Seen."
by
ABC Oriental Rug & Carpet Cleaning Co.
130 Cecil Malone Drive Ithaca, NY 14850
607-272-1566