CANDLE WAX REMOVAL FROM
A CARPET OR AREA RUG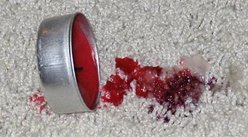 Candle wax removal from a carpet or area rug can be tricky.  The candle wax itself is not so much of a problem, but considering the high heat of a candle wax spill, the residues from the wax as well as the colors can make the job harder than expected. 
The
Composition of Candle Wax
Although wax can come from several sources (beehives, plants, animals, petroleum, etc.), the most common wax used for candles is paraffin wax, which comes from petroleum by-products.  Paraffin wax melts very slowly and can make a candle that will burn for hours and, in some cases, for days.
The Type of Fiber of the Rug or Wall-to-Wall Carpet
It is very important to consider the type of fiber that makes up the area rug or wall-to-wall carpet as well.  Since candle wax is a petroleum or oil-based product, fibers that are oil-attracting fibers, such as Olefin and Polyester, will bond very strongly and faster with the wax than other fibers.  This will make the waxy feature of candle wax removal more difficult.  At the same time, these fibers naturally repel stains, making it easier to remove any colors from the melting candle.
With Nylon fibers, the 'waxyness' will be easier to remove, but any colors will be very difficult to remove.
With Wool fibers, you may want to leave the candle wax removal to experts such as ABC Oriental Rug & Carpet Cleaning Co.
Do-It-Yourself Candle Wax Removal
The best way for a homeowner to attempt a candle wax removal is to use the following Heat Transfer Method:
Supplies Needed:
Procedure:
What NOT to Do
Other Possible Candle Wax Removal Methods
If using either or both of the above, do the following:
It may not be necessary to complete all steps but with candle wax removal, use the dry cleaning solvent first, then the POG, then follow with the dry cleaning solvent if any wax and/or color remains.  Use small amounts.
Always BLOT after each step. DO NOT scrub or brush or you may abrade the fibers permanently.
The FINAL STEP is to gently rinse the area with water and then absorb all remaining moisture as quickly as possible with absorbent material.
If Wax and Color (if any) Remains:
Especially on an Oriental rug, if you cannot successfully remove the wax, please call our ABC Oriental Rug & Carpet Cleaning Co. office at

607-272-1566

to schedule a pick up or bring your rug to our plant in Ithaca. We offer pick up and delivery services in several areas beyond Ithaca.
If the wax is on a wall-to-wall carpet, and you are in the Tompkins/Cortland area, please call our office at

607-272-1566

to schedule a spot removal as soon as possible.
You may download the ABC SPOT CLEANING GUIDE for Do-It-Yourself removal of spots and spills by clicking here.
---
Top of Candle Wax Removal From A Carpet Or Rug
---
"The Cleanest Clean You've Ever Seen."
by
ABC Oriental Rug & Carpet Cleaning Co.
130 Cecil Malone Drive Ithaca, NY 14850
607-272-1566