AFSHAR ORIENTAL RUGS

LOCATION
Afshar Oriental rugs are woven by nomadic and semi-nomadic tribes in south central Iran. They produce rugs, tapestries, and saddle bags.
The Afshar nomads and those settled in villages in and around the cities of Shiraz, Kerman, and Yazd continue to speak the well-preserved Turkish dialect of their ancestors.
HISTORY
Afshar nomads were a very prevalent Persian tribal group for centuries and could be found in many regions within the borders of Persia. These groups were a part of the Ohguz Turkmen Confederation consisting of 24 other tribes who came to Persia and Turkey by way of Iran.
Weaving has always been a major artistic outlet as well as a commercial base for these people and it is an art still passed on from one generation to the next.
The antique Afshar oriental rugs are very similar to the antique Caucasian Shirvan rugs and can be collectable.

CONSTRUCTION of
AFSHAR ORIENTAL RUGS
FOUNDATION
The warps (up and down cords) and wefts (side to side cords) that make up the foundation can be cotton or wool with a depressed warp. (Depressed warps occur when the wefts are pulled tightly from either side rather than put in with minimal tension. This will displace the warps into 2 levels).
Afshar rugs from the Kerman area especially, as well as most of the new Afshar rugs, are usually constructed on a cotton foundation. They can be stiffer than those on a wool foundation.
KNOT
The knot is the Turkish (Ghiordes) or symmetrical knot, but occasionally the Persian or asymmetrical knot can be found as used by weavers of Afshar rugs from the Kerman area.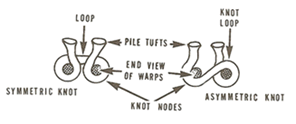 PILE
The pile is wool which varies from coarse to medium with a short pile.
ENDS
The older Afshar rugs have a wide kilim (flat woven area), often with additional decorative stitching. Newer rugs usually have plain fringe at both ends.
SIDES
Sides of Afshar rugs typically exhibit a single cord barber pole or a single-color overcasting or multiple bands of color. Occasionally double-corded sides can be found.
COLORS
Common colors are bold hues such as deep reds and rich violets, dark blues, saffron gold, ivory, burnt orange, and sienna.
Cochineal, a dye derived from an insect, is a red color with a bluish or purplish hue. In Persian rugs it is found only in Kermans and Mashads and occasionally in Afshars—all of which are made in eastern Iran.
SIZES
The Afshar rugs are usually woven in sizes approximately 5x7 or smaller due to their origins as rugs from nomadic tribes with smaller looms. They can also take on a squarish shape. Occasionally, larger sizes can be found.
DESIGN
The designs of Afshar rugs are predominately geometric. The most common design is composed of one or more large diamond-shaped medallions on a field of flowers.
Repeating patterns of either botehs or flowers and pomegranate vases, as well as stylized depictions of mosques or animals (for example morgi or hen designs) can also be found. It is thought the repeating boteh pattern actually originated with the Afshar weavers.
The designs, as well as the colors of the Afshar rugs, reflect the large amount of influences from outside regions, making them quite unique. Caucasian designs prevail and can include the tulip design, tree of life, prayer rugs, as well as repeating medallions.
A rare design is the dragon and phoenix which can be traced back to China 5000 years ago. The Afshar weavers also produce Bijar rugs.
AFSHAR RUGS TODAY
The Afshar weavers of today continue to weave tribal rugs and tapestries, though the foundations are mostly cotton and synthetic, not natural, dyes are used.
Though the rugs produced today are not of the high quality of antique Afshar rugs, they are still good examples of the tenacity of these people who have been continued to pass on the centuries-old art of their weaving through multiple generations and it has served them well.
---
---
"The Cleanest Clean You've Ever Seen."
by
ABC Oriental Rug & Carpet Cleaning Co.
130 Cecil Malone Drive Ithaca, NY 14850
607-272-1566