A HEALTHY CLEANING ENVIRONMENT
vs.
HARMFUL EVERYDAY PRODUCTS
A healthy cleaning environment should be, and is, a major concern for ABC and the cleaning industry as a whole. We became a 'green' company long before the word 'green' became a watchword. We monitor our cleaning methods and purchase and use cleaning solutions that are third-party certified as non-toxic and biodegradable.
We feel we provide the best possible cleaning and our highest priority is the health and safety of our families, our employees, and our customers. We also feel obligated to warn of the use of certain cleaning products that pose health hazards to a healthy cleaning environment and may not be understood as being harmful by the general public. 
The health hazards of 2 such products used widely today are discussed below...
DISINFECTING WIPES vs. A HEALTHY CLEANING ENVIRONMENT
One of these harmful everyday products is disinfecting wipes and they are currently in use every day and just about everywhere. Most of us believe this product to be a time saving and useful one. Because it is used by so many and fills a perceived need, we don't usually question what type of chemical ingredients may be used to make them.

But beware--This product is particularly toxic to the health of our children as well as to our own health. It can damage the indoor and outdoor environment and pollute the air.
Why Are They So Widely Used?
Cheap, convenient, and pleasant smelling disinfecting cleaning wipes have become an integral part of routine cleaning everywhere. We are led to believe that the disinfecting chemicals contained in these wipes are necessary to kill germs effectively. They are recommended for schools and sometimes even included as requirements by teachers for back-to-school supplies! Children in school may be expected to clean their desks with these wipes.
Does Routine Cleaning Have to Include Disinfection?
But the truth is, routine cleaning does not have to include disinfection to be effective. In addition, the labels on these wipes caution that they can cause skin and eye burns. Why would we want to expose our children or anyone to that kind of potential hazard?  Additionally, the active ingredients in the wipes are quite powerful and can possibly trigger allergic reactions and asthma. The active ingredient known as 'quat' (quaternary ammonium compounds) can cause reproductive problems in lab animals during intense exposure.
Disinfection Has Its Place
Disinfection has its place, of course. Its use is absolutely necessary In hospitals and when cleaning up after a sick person. (Caution: The clean up of blood and bodily fluids requires a trained adult and EPA Certified products). A necessary requirement for disinfection is to get the surface visibly wet and to allow for 'dwell time.' When children are given a wipe to clean their desk, the amount of time the chemical has to be on a surface such as a desk in order to effectively disinfect it is simply not enough. Nor is just 1 wipe enough.
Disinfecting wipes are specifically made to kill viruses and bacteria that cause disease. In a school especially, they should only be used when there is a serious risk of transmitting germ-causing disease. In those instances, the benefits must outweigh the risks and they should be in use for a short time only. For that purpose, it would be far better and safer to use disinfecting wipes with ingredients such as hydrogen peroxide or citric acid instead of quats to kill the germs.
The Problem With the Overuse of Disinfectants
It has been proven that exposure to a diverse number of bacteria can be healthy for us. Especially for children, it can strengthen immune systems. The tragic side of the overuse of disinfectants is it can lead to bacterial resistance to antibiotics and 'superbugs.'
What is the Best Way to Clean Routinely?
Routine cleaning, especially in classrooms should involve using water with soap or a green all-purpose cleaner. Wet microfiber cloths are an excellent alternative to disinfecting wipes. For convenience sake, non-disinfecting wipes can be used for normal, routine cleanup.
ANTI-BACTERIAL SOAP vs.
A HEALTHY CLEANING ENVIRONMENT
A similar caution should be heeded when using anti-microbial hand soap for everyday use. These can contain the hormone-disrupting chemicals triclosan and triclocarban.

Like antibacterial cleaners, there is no evidence to show they are more effective than plain soap and water. Proceed with caution when using any products which contain antibacterial chemicals. These can include body care products such as toothpaste, acne face wash, and deodorant.
FOR A HEALTHY CLEANING

ENVIRONMENT - ALWAY READ LABELS!
As a general precaution, always read labels and follow safety instructions when using disinfecting wipes or any other cleaning and/or disinfecting product.
If your child's school does not have a 'green cleaning plan' to minimize the use of harsh cleaning products and disinfecting chemicals, teachers and administrators should be encouraged to refer to Cleaning for Asthma-Safe Schools which has guidelines for safer cleaning and finding greener products.
THE MOST EFFECTIVE WAYS TO STOP THE SPREAD OF GERMS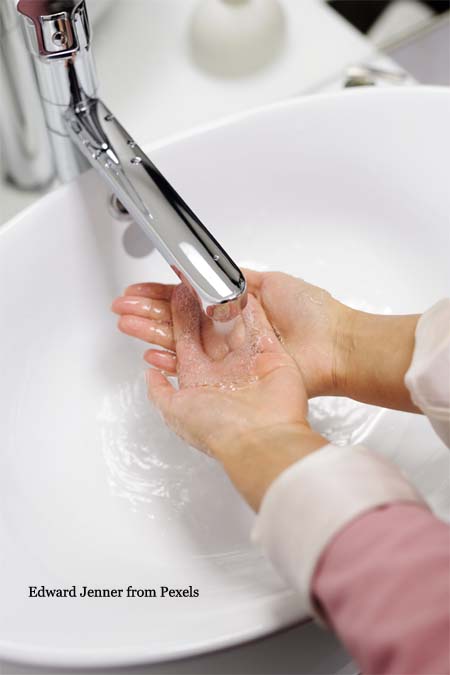 The most effective ways to stop the spread of germs and preserve a healthy cleaning environment are:
Encourage everyone to wash hands often with warm soapy water.

When on the go, have an alcohol-based hand sanitizer with you.
There are several articles on this website about using 'green' products to help with cleaning chores which may be of interest. 
---
Top of A Healthy Cleaning Environment
---
"The Cleanest Clean You've Ever Seen."
by
ABC Oriental Rug & Carpet Cleaning Co.
130 Cecil Malone Drive Ithaca, NY 14850
607-272-1566