DIY SPOT REMOVAL
The need for DIY spot removal on carpets and rugs reflects the truth found in Murphy's Law of Cleaning which states "Just after a professional cleaning, a guest will spill a glass of wine, a child will spill fruit juice, or the puppy will pee!" It happens all the time. What is a homeowner to do? Try to remove the offending material by do-it-yourself methods or call the professionals back in?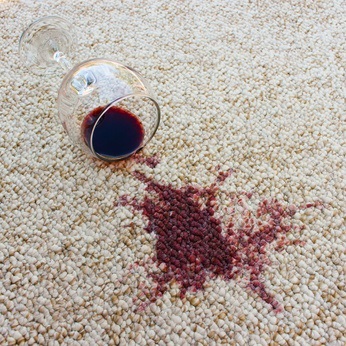 DIY Spot Removal - Does it Work?
The answer is… Do-It-Yourself spot removal methods can work, but the spot or spill must be addressed as soon as possible and it is essential that clear and concise information must be available on how to proceed without causing more damage. 
DIY Spot Removal
from Area Rugs and Carpets
The removal of spots and spills from textile fibers such as rugs and carpets is quite different than removal from hard surfaces such as wood, tile, granite, etc. Whether the textile has had stain protection applied, how the dyes used in the textile react to certain cleaning agents, how long the spot or spill has been on the textile, how big an area is affected, etc., all determine whether or not the outcome of Do-It-Yourself methods.
Carpet and Rug Fibers Can be Permanently Damaged from DIY Spot Removal
Unlike most hard surfaces, carpet or rug fibers can be permanently damaged by scrubbing or adding more liquid and not drying the area. The techniques involved in DIY spot removal require patience and attention to detail.
When a homeowner does not have knowledge of the type of fiber in a carpet or rug and how it will react to certain chemicals or how the ingredients in the spotting material may react with the fiber, the results can potentially be much worse than just an ugly looking spot.
Here are the Rules…
There are some fundamental rules to apply when DIY spot removal methods are in use: 
REMOVE ANY SOLID MATERIALS CAREFULLY with a rounded tablespoon, a spatula or the edge of a dull knife.
BLOT. BLOT. BLOT.

This is the most important step. Always use clean, white, absorbent materials such as microfiber towels, paper towels, etc. 
                The reason blotting is so important is because a carpet and rug fiber                         acts like a wick and liquids will be drawn up to the top of the                                     fibers. If the liquid can be transferred past the tips of the fibers                                 onto absorbent material, the chances are the spot will not                                           become a permanent stain.
DO NOT OVERWET

. Always use small amounts of any cleaning solution and blot frequently.

DO NOT RUB

.
                In between applications of any cleaning solution(s), blot the area with                     a dry cloth, then with a wet cleaning cloth and then blot it dry                                   again. The idea is to remove as much as the spot and cleaning                                  solution as possible and then blot thoroughly to dry the area.
WORK FROM THE OUTER EDGE TO THE CENTER

to prevent rings and to keep the spot or spill from spreading into more of the area.

START WITH THE FIRST STEP

and treat the area until no more of the spot can be drawn up into the absorbent material. If, after applying the first solution and thoroughly blotting, some of the spot is still visible, start with the solution in the second step and follow the same procedure. If spots and spills are addressed as soon as possible, it may not be necessary to complete an entire series of steps.

The

FINAL STEP

, after blotting with a dry cloth, then a wet cloth and then with a dry one, is to place a good amount of absorbent material on top of the area. Then place a heavy object on the material (one that does not have color and won't bleed back into the area). Leave for 24 hours, replacing the absorbent material periodically.
THE ABC SPOT CLEANING GUIDE FOR CARPETS & RUGS

The steps and solutions mentioned above for DIY spot removal can be found on our ABC Spot Cleaning Guide for Carpets and Rugs. Directions for mixing and using just a few of the 7 ordinary household ingredients are included in the Guide, which can be downloaded here.
CAUTION: NEVER MIX AMMONIA AND BLEACH OR ACIDS OR ANY PRODUCT CONTAINING EITHER OF THESE! For more information, please see What's in Your Green Cleaning Arsenal and Chlorine Bleach-Health Hazards of Mixing with Some other Common Household Products.
ABC RESPONSIBLE CARE
SPOTTING SOLUTION
We also sell our ABC Responsible Care Spotting Solution. We recommend you use the same procedures as outlined above when spotting with it. This is a neutral solution, unlike many over-the-counter spotting chemicals, and cannot cause damage to your textile. If it does not work successfully on your specific spot, you can use the Guide for further help.
DIY Spot Removal from Hard Surfaces
If you would like more information on this subject, please read our article Green Cleaning Solutions. In that article you will find a large list of items that can be cleaned successfully using different combinations of vinegar and baking soda and other easily obtainable household ingredients. 
HOW CAN ABC HELP?
As always, if you have any questions about removing any spots, please feel free to all our office at 607-272-1566. You may also contact us here.
Your first paragraph ...
"The Cleanest Clean You've Ever Seen."
by
ABC Oriental Rug & Carpet Cleaning Co.
130 Cecil Malone Drive Ithaca, NY 14850
607-272-1566