RUG CARE BETWEEN CLEANINGS
8 ESSENTIAL TIPS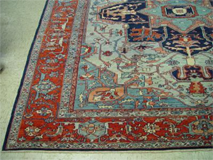 Proper rug care between cleanings will extend the life of your area rugs.  Outlined below are 8 essential tips to help you care for your area rugs between cleanings:
#1-Padding
(Underlayment or Cushion)
Make sure to always place a high quality pad under all rugs. This is a very important part of area rug care between cleanings.  Also be careful to choose the type of pad that is suitable for the type of surface on which the rug will be displayed. The pad will aid in the prevention of premature wear or damage caused by regular traffic. At ABC, we sell rug pads specifically for rugs on hardwood, carpeting,  and tile floors.  We can recommend and sell you a proper pad for your rug.
#2-Spotting
Proper rug care between cleanings includes addressing any spills as soon as possible with a white cotton towel or other absorbent material. Absorb or tamp as much of the liquid up as possible moving from the outside of the spill to the center.
Once you are sure no more of the spill can be soaked up, use a gentle, preferably neutral, detergent solution to attempt a spot removal. Please be sure to download our ABC Spotting Guide to learn now to remove most spots with ordinary household solutions. You can find information here as well.
Do not use any over-the-counter or super market cleaners or spotting agents on your rugs as they can loosen dyes, remove dyes, or, in some cases, severely damage the fiber. If you have any questions, Please CALL OUR OFFICE at 272-1566 FOR FREE GUIDANCE or you can contact us here.
#3-Vacuuming
Vacuuming on a consistent basis will aid in the longevity of all your area rugs, both natural and synthetic fibers. Wool rugs especially, due to the composition of the outer layer of the wool fiber, trap large amounts of dry particulate matter. This abrasive and damaging matter can be removed by vacuuming. In fact, up to 80% of dry particulate matter can be removed from a rug through regular vacuuming. During ABC area and oriental rug cleaning in our cleaning plant, the rugs are thoroughly vacuumed and dusted both before and after cleaning.
Be sure to keep vacuums away from fringes, as, over time, the brush rolls can 'chew' up the fringe. Please note: When vacuuming oriental rugs and other area rugs with fringe, vacuum from side to side (opposite the fringes). This will save the fringes from being pulled up into the vacuum which can damage the fringes and even the vacuum. If you use a vacuum hand tool, you can cover the attachment with an old nylon stocking and vacuum carefully without damaging the fringes.
We have fringe rakes for sale in our plant, which can be used to remove soil from the fringes and also straighten them (without having to bend over!)
#4-Rotation of Rugs
An often forgotten rug care between cleanings task is that area rugs should be rotated periodically to balance out sun fading and to keep the traffic pattern distributed to all areas of the rug. Rugs under furniture can be an attraction for moths as well.
#5-Check for Moths
Although moths can feed on mixtures of natural and synthetic fibers, they cannot feed on materials made solely of synthetic fibers. Moths have been found infesting synthetic fibers which have pollen, hair, dead insects and dried animal remains on them.  Be sure to check the back and front of your rug, especially if the rug is under furniture.
#6-Placement of Plants or Flowerpots
This tip not only applies to rug care between cleanings but should be followed at all times.  Live plants and flowers requiring water should never be placed directly on any rug. Dampness from the bottom of the pots will cause mildew and dry rot, gradually destroying the fibers and foundation of the rug and resulting in drastic damage to the rug.
Plants should be in a stand, preferably on wheels, with space between the pot and the rug, allowing air to circulate. Use a container under the flowerpot to avoid water dripping onto the rug.
#7-Storage of Synthetic Rugs
After going through a professional cleaning, synthetic rugs can be stored anywhere household furnishings can be stored but should be wrapped in paper or plastic before storage.
#8-Storage of Wool Rugs
Never store wool rugs in plastic.  Wool is a fiber that needs to 'breathe,' but wool must also be protected from liquid or insect damage while in storage.  Always have your wool and oriental rugs cleaned before storing. 
We recommend storing your wool and oriental rugs in Tyvek, the same product that is used in construction for wrapping homes.   The best place to store a wool rug is in an environment which is similar to the one you live in.  It is also a good idea to periodically unwrap and unroll a rug that is in storage to check its condition.  We keep Tyvek in stock for wrapping wool rugs.
Need More Information on Rug Care Between Cleanings?
Please call our office at 272-1566 if you have any questions about the proper care of rugs between cleanings. 
Remember that area rugs, especially oriental rugs, should be professionally cleaned at least every 3 to 5 years, more if they are subject to heavy traffic, spills, etc. 
Our certified rug cleaning plant is located in Ithaca, NY.  We offer a pick up and delivery service to surrounding areas, including Syracuse, NY.
---
Top of Rug Care Between Cleanings
---
---
---