ABC Oriental Rug & Carpet Cleaning Blog
Welcome to ABC's Oriental Rug & Carpet Cleaning Blog! Informative information will be posted for you on cleaning in general, area and oriental rug cleaning and repair, wall-to-wall carpet cleaning, upholstery cleaning, tile and grout cleaning and more. If you are not sure what RSS and blogging is all about, please click on the question mark just above the buttons on the left.
To subscribe to ABC's Blog (no e-mail necessary), right-click on the orange RSS button and then paste the URL into your RSS reader.
-OR-
Click on the Google, My Yahoo!, My MSN or Bloglines button if you keep a personalized home page at any of those.
We sincerely hope you will find the content in our ABC Blog to be of value and we look forward to bringing this information to you on a regular basis.
US Carpet Manufacture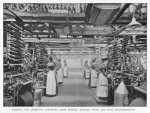 US carpet manufacture has an interesting history. Starting in the NE in 1791, the shift from the North to the South happened around 1950. Find out the how and why and more...